CFMOTO 650 NK 2023: Dynamic driving and affordable price
Made in China – Imported by Quebecers!
CF MOTO is a Chinese manufacturer of all-terrain vehicles (ATVs), motorcycles and quads. Founded in 1989 by Lai Guigui, the company is headquartered in Hangzhou, China. Since its establishment, CFMOTO has grown to become one of the world's leading motor vehicle manufacturers, exporting its products to more than 70 countries around the world.
In Canada, it is a company located in the St-Benoît-Labre Industrial Park, in Quebec, which imports these machines. For almost 20 years, Canada Moteurs Importation Inc. has joined forces with several distributors to share their passion for motorsports thanks to its founders Carl Patoine and Hélène Binet.
Engine performance
Engine power is sufficient for recreational driving. If you like sportier driving, it will give you that, but in a reasonable way.
Smooth acceleration curves are ideal for maintaining a smooth and stable ride, minimizing suspension and tire disruption, and providing better grip and traction. With smoother acceleration curves, the driving experience is also more comfortable and safer for your "Backseat".
Type: Liquid-cooled parallel twin, 4-stroke, DOHC
Displacement: 649cc
Bore and stroke: 83 x 60 mm
Maximum power: 61 HP(ps)/8750 rpm
Maximum torque: 56 N-m/7000 rpm
Compression: 11.3:1
There is Sport mode and Economy mode. In my opinion, when driving, the difference between the two modes is not significant enough to notice it. However, fuel economy enthusiasts will be delighted to see their fuel consumption level on the screen when they are in Eco mode.
As for the sound, if you don't like noisy motorcycles, you will be delighted: the sound of this motorcycle is very discreet.
Design and aesthetics
The design of the CFMOTO 650NK is bold and contemporary, with aggressive lines that give it a sporty look. Its athletic silhouette is amplified with its streamlined fuel tank and angular lines.
It has several eye-catching elements, but one that I particularly noticed is the original shape of the muffler cover. From my first stops, people came to tell me that my bike was beautiful! Even I, who is rather a fan of sports motorcycles and who often has my eye on fairing kits, I find its look particularly attractive. The "naked bike" style highlights the different mechanical components.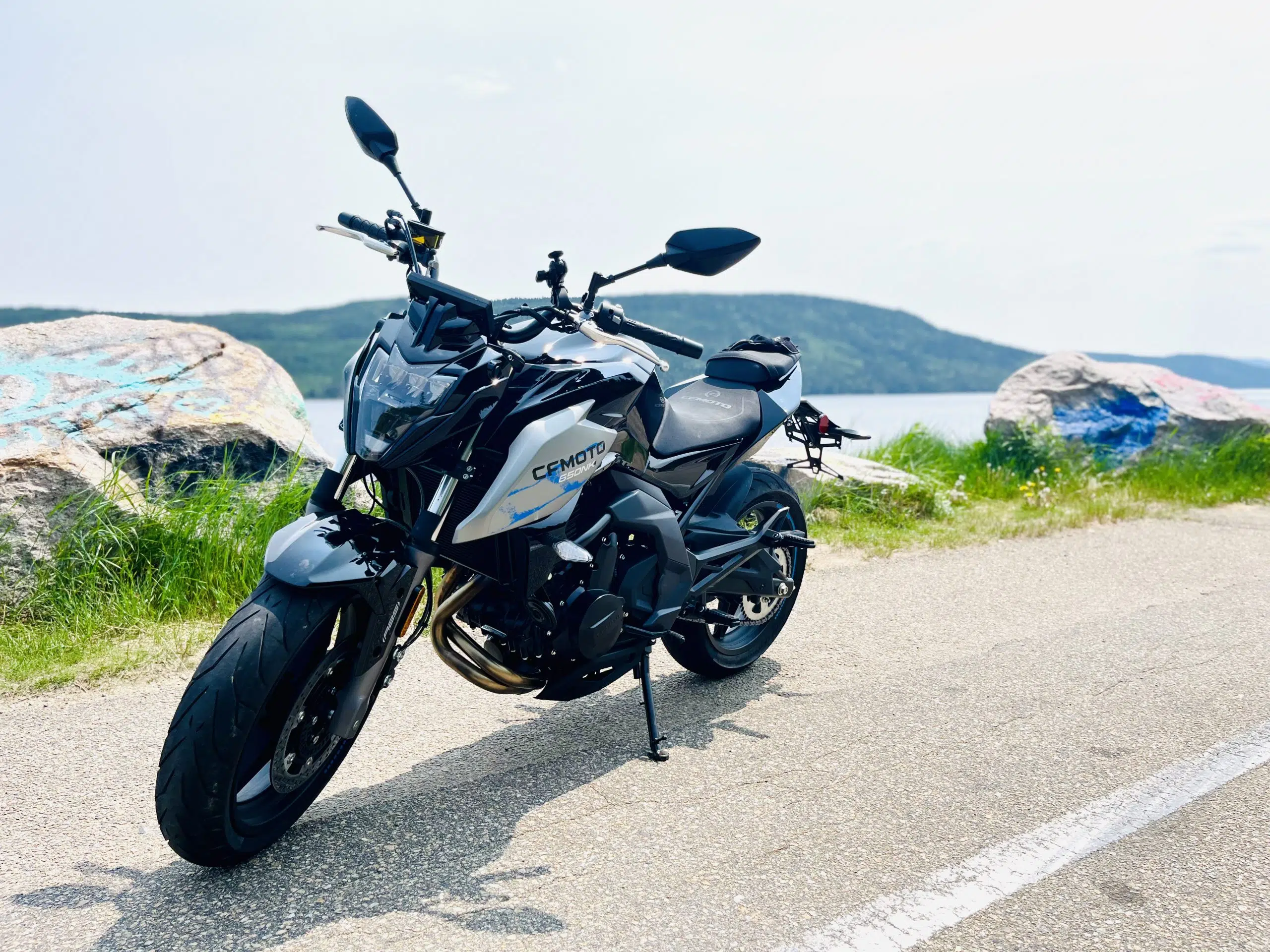 Special mention for the square shape of the hull which covers its exhaust pipe.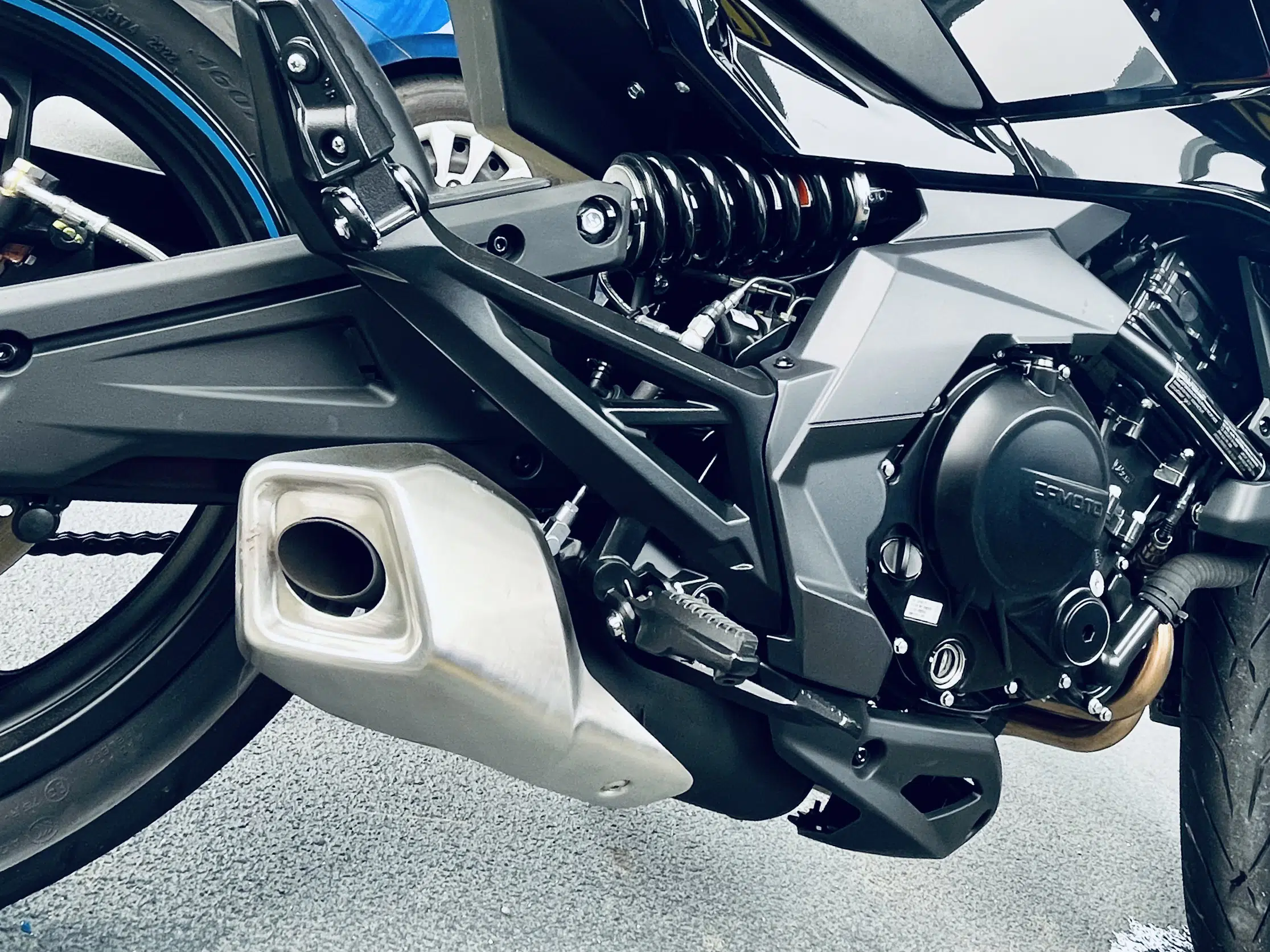 Its dashboard, modern and readable, displays essential information: speed, engine speed, fuel level, etc. (The fuel level is very useful: if in doubt, I encourage you to add fuel.)😅
Autonomy
Speaking of gasoline… The CFMOTO 650 NK is equipped with a tank of approximately 17 liters. Fuel consumption can vary depending on many factors, but on average it is known that it can travel around 200 to 300 km on a full tank of gas.
I tested this information, despite myself: I confirmed that after 269 km, she was very thirsty and that I was very eager to arrive in Saguenay.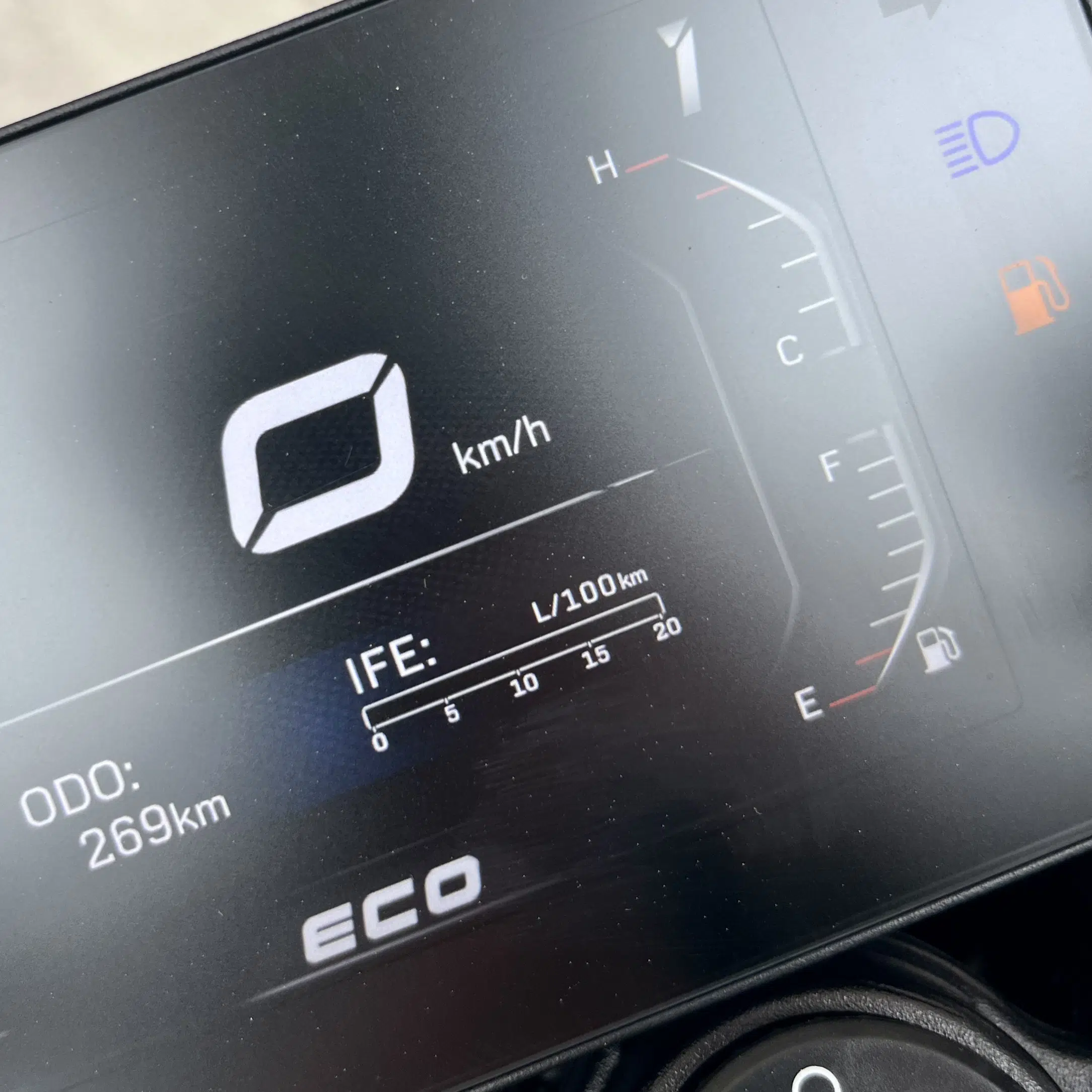 (Note: For those who don't know the region, L'Étape is the only gas station between Quebec and Saguenay. After L'Étape, the next gas station is more than 85 km away.)
Maneuverability and road holding
She is very malleable and very agile. Its lightness makes it very easy to handle in turns and curves. For beginner riders, this motorcycle offers excellent stability and offers greater confidence when learning due to the riding position and its weight. Both in a parking lot and on the road, it responds very well to different maneuvers.
Comfort and ergonomics
This motorcycle offers an upright and relaxed riding position, making it suitable for urban driving and long road trips. The saddle cushion is very comfortable. In the city, this upright posture allows for good visibility in the distance, but in slow-moving traffic and in traffic jams, I quickly felt the heat on my legs.
At 5′ 4", both feet are fully anchored to the ground when stationary. Especially when we're starting out, we like to know that our legs can hold the motorcycle well in the event of an imbalance. In addition, it is easy to raise the motorcycle. In this case, the challenge is rather to lower the stand: it is located just under the pedal. (It sounds silly, but it's quite an adaptation to make a "C" with your shin to manipulate the stand.) So I confirm what my colleague also noticed in her test of the 2022 model.
When my feet are on the pegs, I have about a 75 degree angle at the knees, which I only started to feel after 4 hours of continuous driving. Be careful to maintain the natural curve of your back: I noticed a slight tendency to "round" the back, which can cause some pain in the long run (coach's word… ;-))
The handlebars are rather wide for me, but still very comfortable and quite useful for certain techniques during sharp "lean angle" turns.
I would describe this motorcycle as a balance between comfort and reasonable performance, ideal for recreational motorcyclists who want to enjoy pleasant rides while admiring the scenery and savoring the feeling of freedom of the wind.
Its power is sufficient for occasional sporty driving. If you like to use "lean angle" techniques, you will appreciate the shape of its fuel tank which offers a good grip for the thigh.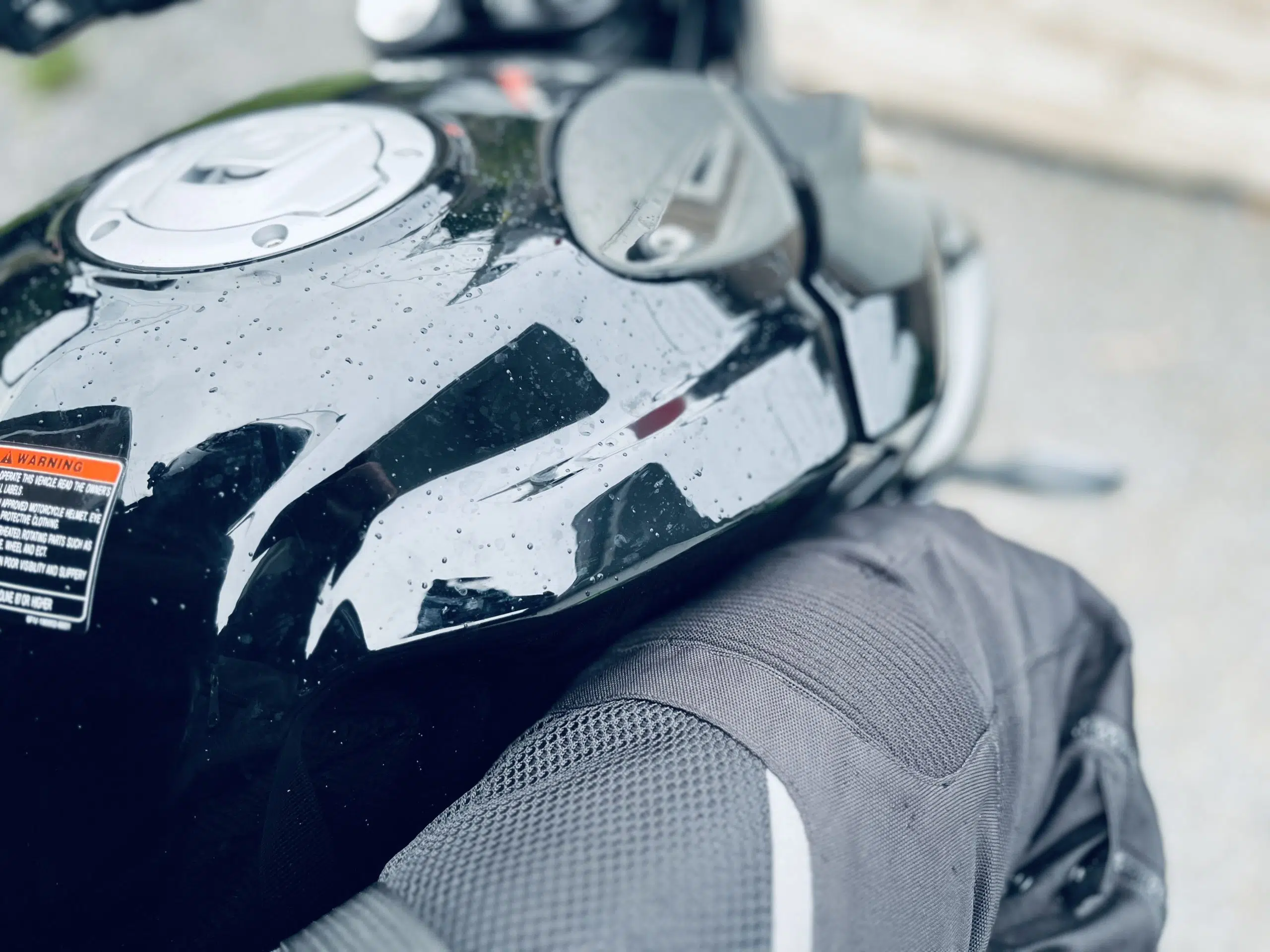 Suspension and braking system
The suspension and braking system is proportional to the engine power. The motorcycle is equipped with an anti-lock braking system (ABS) which helps improve safety by preventing the wheel from locking during sudden braking, to maintain stability and reduce the risk of loss of control.
Travel:

Front: 3.5 x 17 MT;
Rear: 4.5 x 17 MT

Tire:

Front: 120/70 ZR17 M/C, Pirelli GT;
Rear:160/60 ZR17 M/C, Pirelli GT

Suspension:

Front: KYB vertical suspension, adjustable damping;
Rear: Offset rear suspension, adjustable spring preload

Brake:

Front: Double Ø300 mm disc with 2-piston J. Juan caliper;
Rear: Ø240 mm disc with J. Juan single-piston caliper
What is a KYB suspension?
KYB is a renowned brand in the field of motorcycle and automobile suspensions, and its products are renowned for their reliability and efficiency.
The CFMoto 650 NK's KYB suspension is adjustable, allowing riders to adjust the firmness and responsiveness of the suspension to suit their preferences and riding conditions. The KYB suspension promises better road grip, better shock absorption and greater cornering stability.
Equipment and features
On-screen GPS navigator with the CF Moto app – if like me, you need a GPS to get out of your parking lot, you'll be happy to know that you don't need to install a support cellular.
Directly on the screen you can see the navigator which is easily activated with a button on the handlebars. You will need to download the mobile application first and link your motorcycle to be able to use it.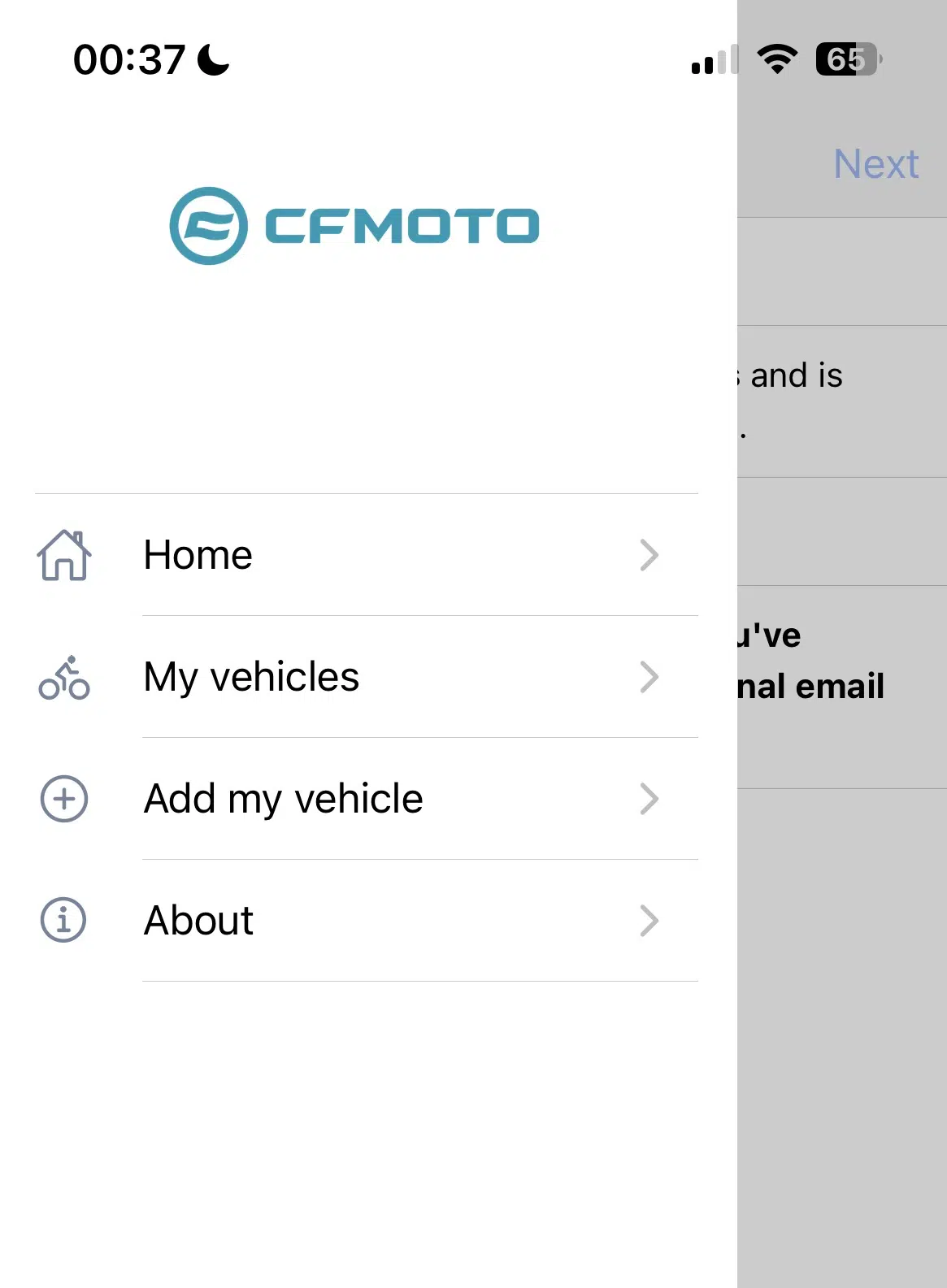 Speaking of the screen… This one is really modern. A large 5-inch color TFT (Thin-Film Transistor) screen. In the blink of an eye, you can see all the necessary information safely. You can easily distinguish Sport mode (red) and Eco mode (white), while driving safely.
Setting the time is done very instinctively. Even if your technological strengths are limited like my sense of direction, you will know how to activate the functions easily. You can even connect your phone with Bluetooth!
No storage space: I wanted to bring my coat liner in the back seat, but that wasn't really an option. If you want to bring anything, you must bring a backpack or a leg bag.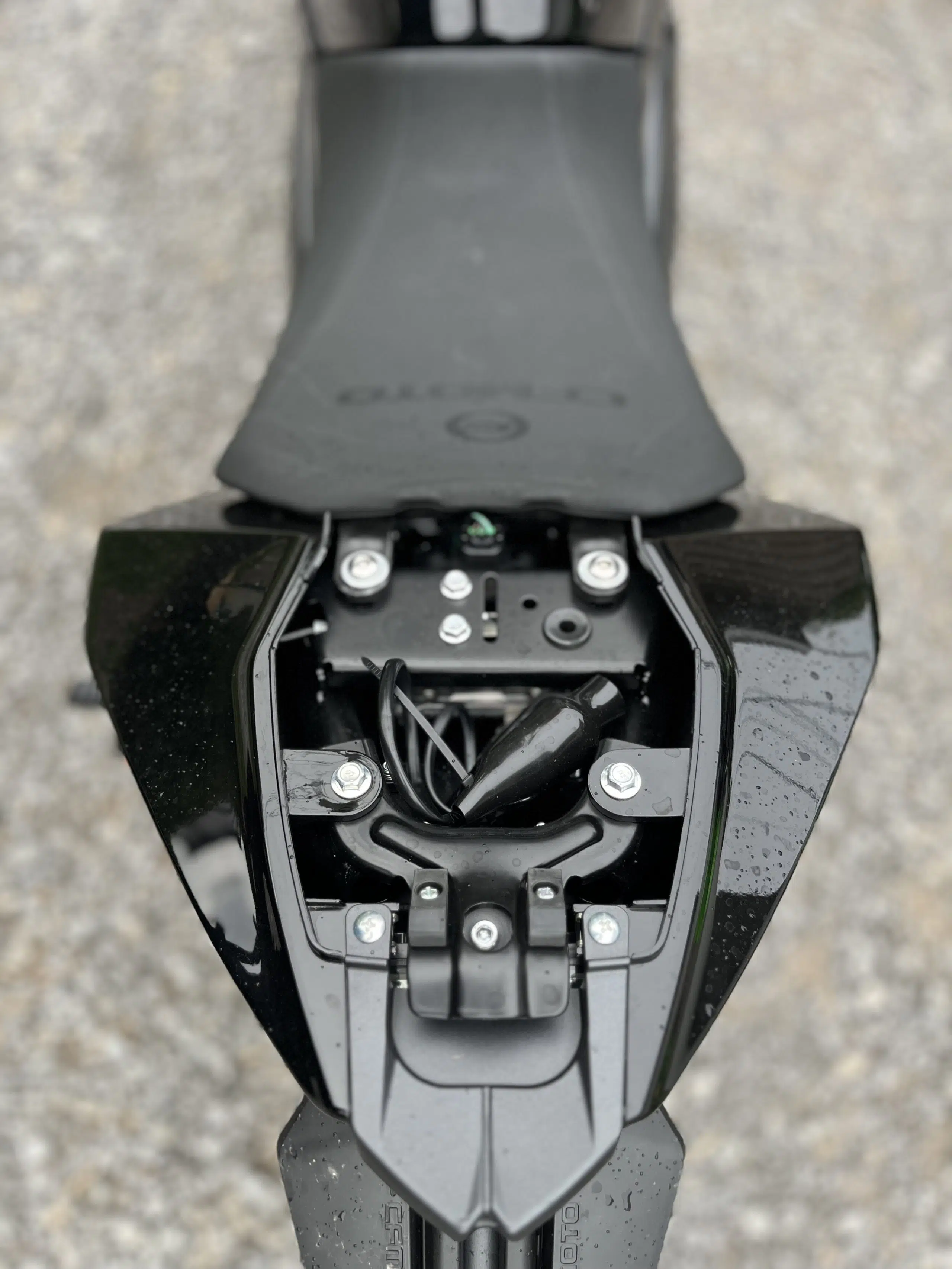 Value for money and competition
The CFMOTO 650 NK 2023 offers excellent value for money, on sale starting at $7,599.
For comparison, here are some popular 2023 models that are comparable to the CF MOTO 650 NK.
Suzuki SV650A – Starting at $8,999
Yamaha MT-07 – Starting at $9999
Kawasaki Z650 – Starting at $9,499
If you already have your driving license in 2023, a promotion is currently worth checking out: up to $400 off for you!
CF Moto offers what they call THE INDUSTRY'S ONLY 5-YEAR WARRANTY: The standard CF MOTO Canada 5-year warranty includes 12 months of limited manufacturer's warranty, as well as 48 months of limited powertrain warranty.
Conclusion and recommendation regarding the CF MOTO 650 NK
In summary, you will definitely like the CF MOTO 650 NK if you are an urban rider, beginner, or casual sport driving enthusiast. If your driving style is more conservative, this motorcycle will definitely help you gain confidence in your abilities. A nice balance between comfort and occasional performance, to enjoy the landscapes in complete safety.
I had the pleasure of riding this motorcycle thanks to SM Sport Québec and its team, but you can find your nearest dealership here.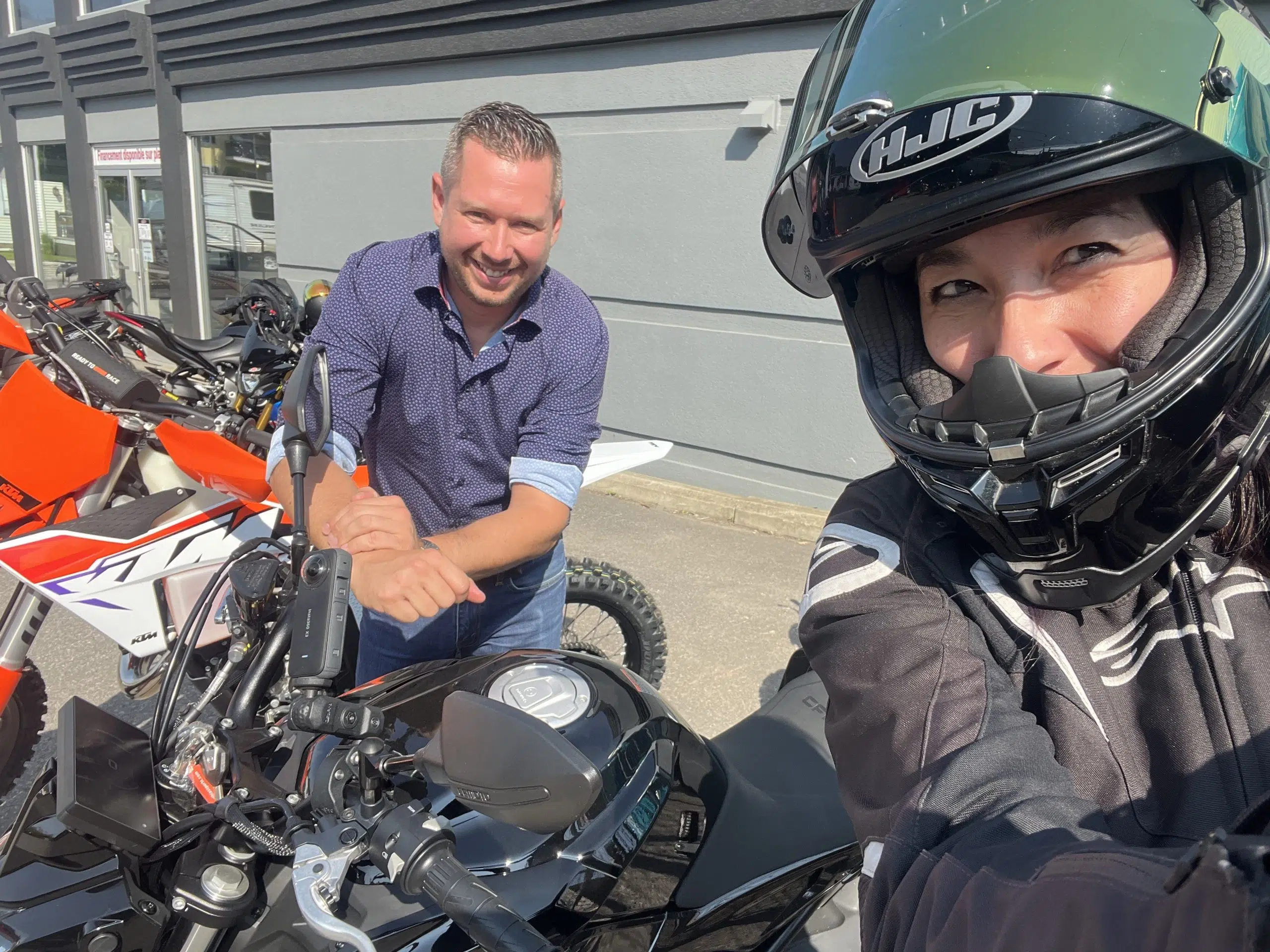 CATHY
Tik Tok: @cathylam.moto