The SCOTT DS-I DRYO suit for women is a versatile suit
This winter, for my snowmobile season, I had the great opportunity to try the SCOTT sport-touring suit, courtesy of the team at Importation Thibault and SCOTT Canada motorsports, whom I thank greatly.
I tried it during my various snowmobile outings, both on the trail and off-trail, and outside during weekends at the cottage. In this article, I will give you my impressions and comments about this suit.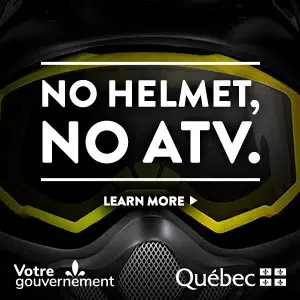 Features of the SCOTT DS-I DRYO suit
First, this suit is ideal for cold days. It is also ideal for women who are looking for extra insulation when doing their winter activities. The outer fabric is made of 98% polyamide and 2% polyester.
The lining and insulation are made of 100% polyester. This suit has a DRYOsphere double layer membrane that is directly laminated, breathable, windproof and waterproof. Also, each of the zippers is WateR treated, which means they are waterproof.💧
They can also be easily manipulated with gloves. In addition, the DS-I DRYO suit is available in three different colors: Majolica Blue/Light Blue, Black/Mixed Grey and Cloud Blue/Night Blue. Available sizes range from XS to 2XL.
Insulation
In terms of insulation, there is a thermal lining of 100 g for the body, 80 g for the sleeves and 40 g for the hood. In addition, there is a thermal padding at the knees and on the buttocks. This suit has a breathable mesh lining with direct ventilation, so you can adapt your suit to any winter temperature.
The nylon is reinforced and ultra resistant from the foot to the knees. There's a snow gaiter with lace loop on each leg to secure each of your boots. There are two highly visible reflective strips on the back of the sleeves.
For each hand, there is a snow cuff with thumb hole. The collar is high, flexible and adjustable. In addition, the cuffs, waist and inner straps are adjustable. There is an anodized buckle to attach the kill switch which is very useful for your safety.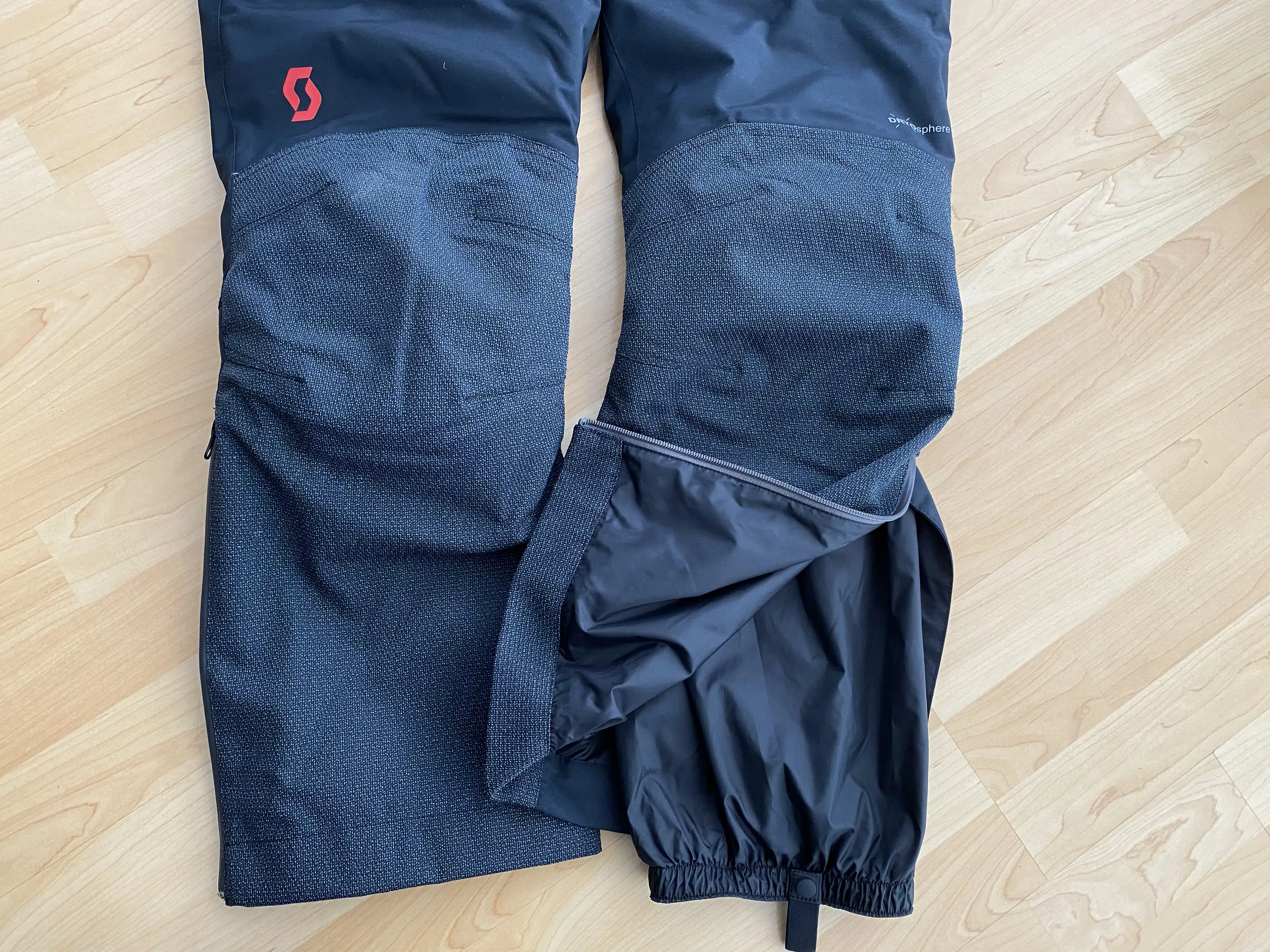 The suit has five pockets in total. There are two large outside pockets on the hips with fleece interior. Another outside pocket is located on the chest, under the zipper of the collar.
The last two pockets are on the inside of the suit: one is insulated with a zipper, so you can put your mobile device in it, while the other is a larger mesh pocket with a cloth to wipe your glasses or phone screen.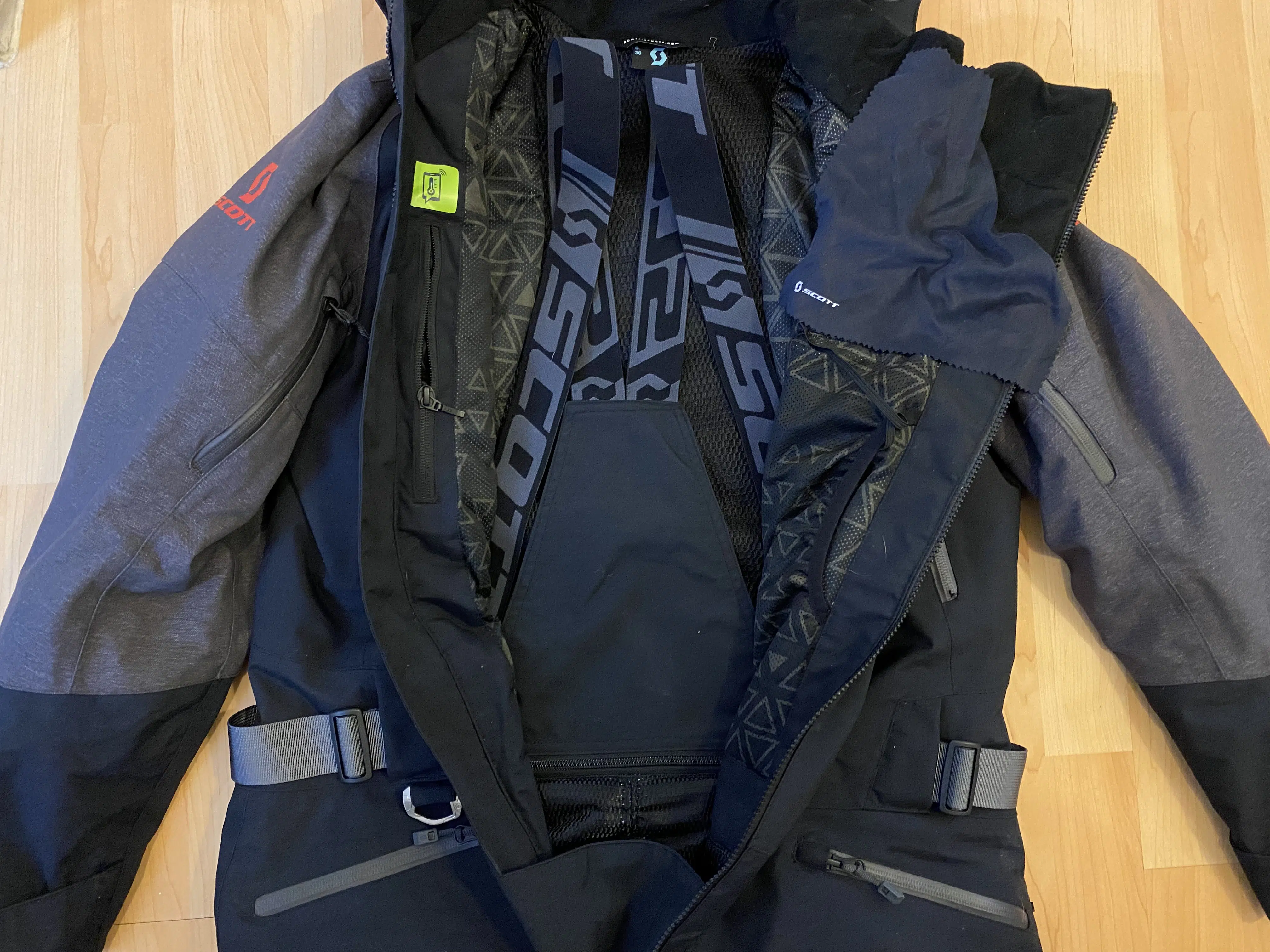 As far as vents go, there are eight in total, making it easier to adapt to any temperature. Each of the ventilation hatches has a mesh panel. There are two hatches on the back, two on the thighs, two on the arms and two on the front of the suit.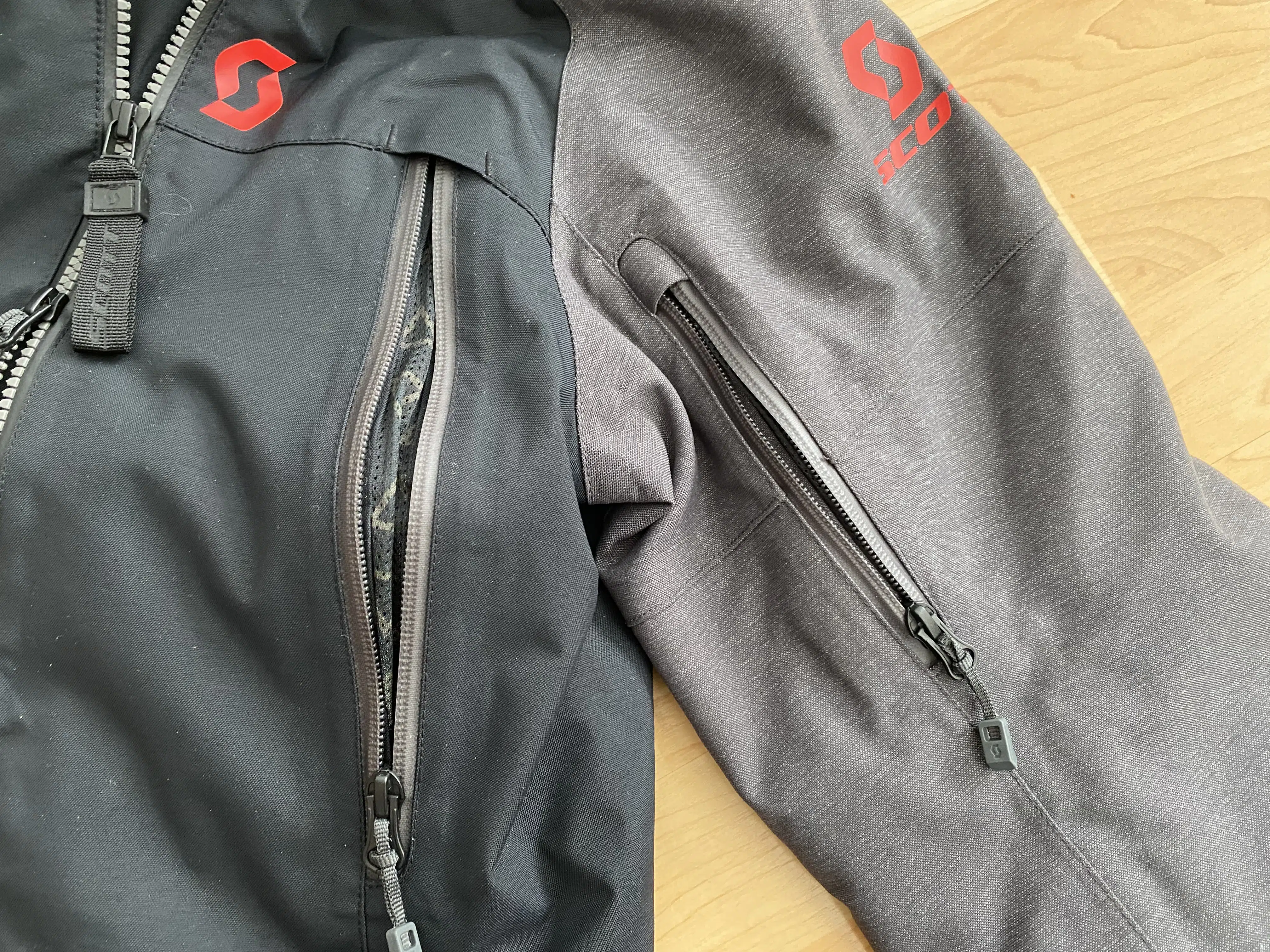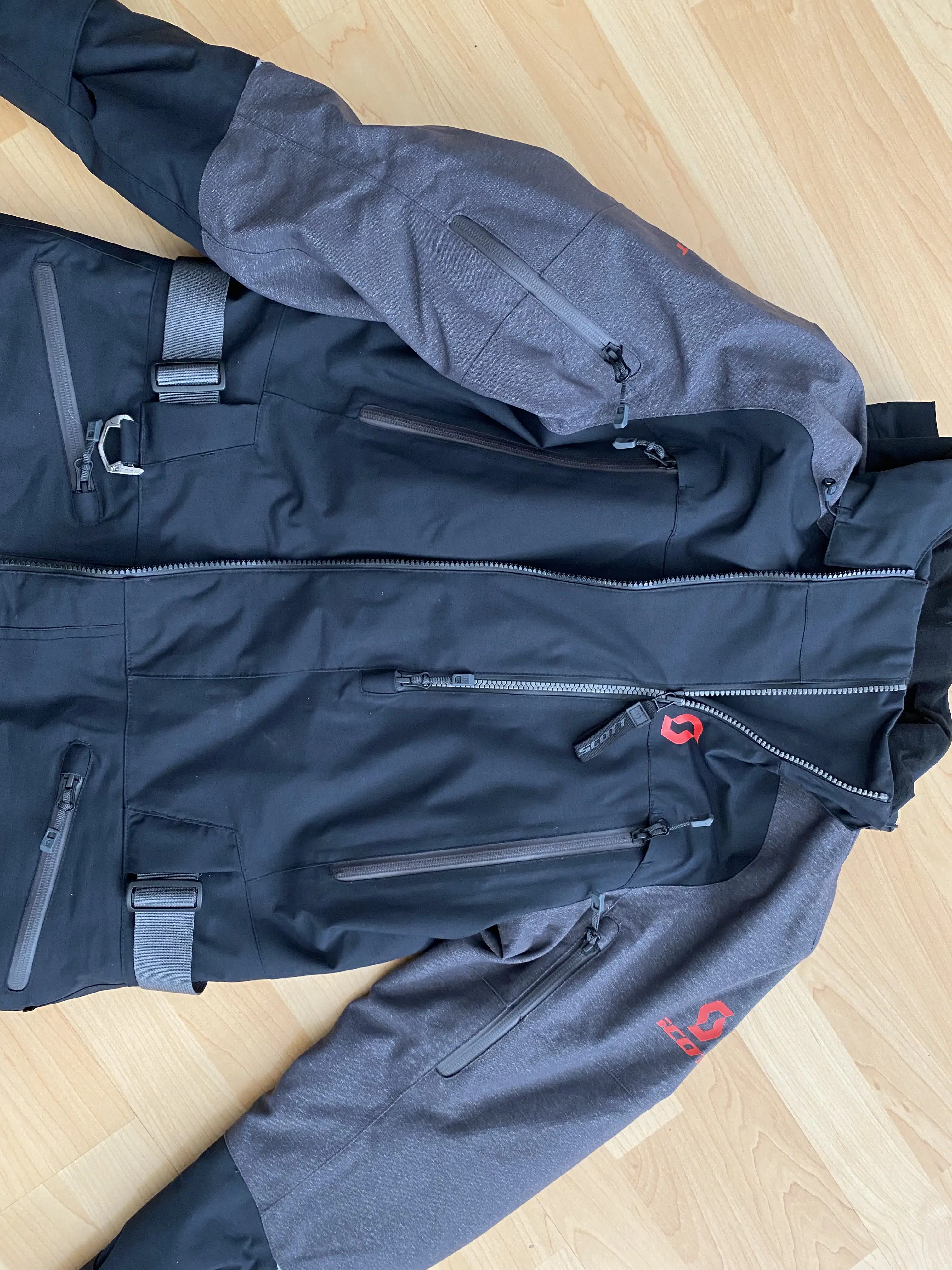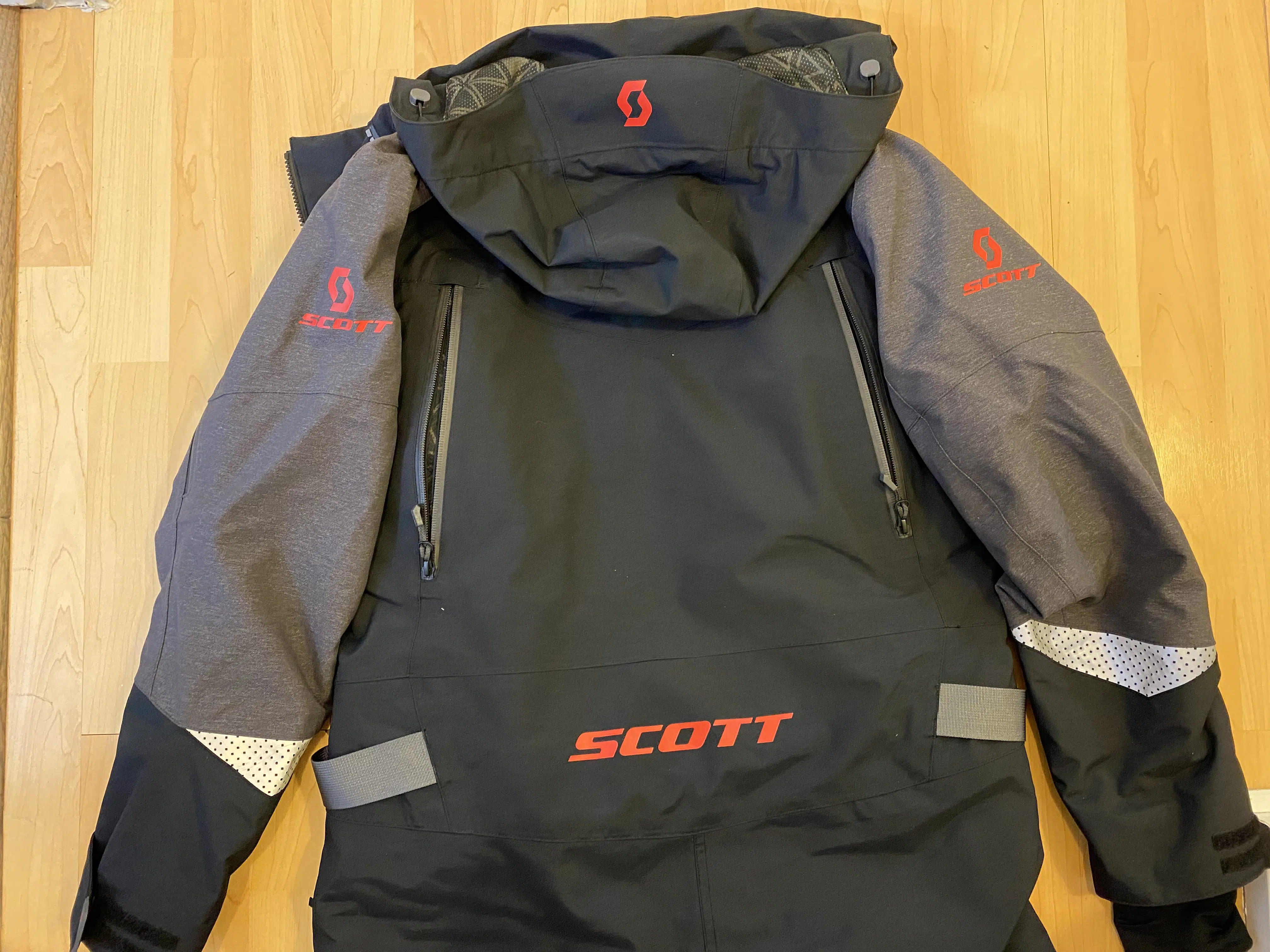 DRYOsphere Technology
The SCOTT DS-I DRYO suit is made with DRYOsphere technology. This technology provides protection from the elements by forming a barrier that is waterproof, windproof and breathable.
This technology acts as a shield against wind and water while allowing moisture to evaporate. It keeps you dry, warm and comfortable in all conditions and all day long.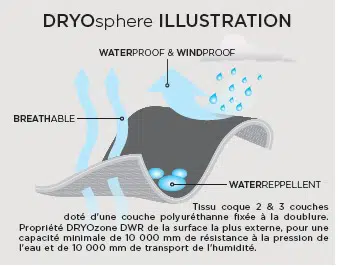 My impressions on the SCOTT DS-I DRYO suit
I tested the suit during my snowmobile outings on the trail when it was really cold. This suit with DRYOsphere technology keeps us warm and dry all day long. I'm not afraid to use it and recommend it on days when temperatures approach -35 degrees Celsius.
I'm more of an off-road snowmobile enthusiast, so I've tested the SCOTT suit a lot more on these outings. People who go off-trail will agree with me that it is a very physical sport. We spend a lot of energy and it's not long before we get hot.
The number of ventilation hatches is great, as we can wear this suit in different situations. Personally, I open my two back vents and I'm in business, as they say.
The DRYOsphere technology, once again, allows us to evacuate the humidity we produce during our physical efforts. When we're off-roading, we're often in the mountains away from vehicles. It's even more important to stay dry all day. With this suit, we stay dry and warm in the mountains. Plus, it keeps you warm when you get back to the vehicles. It's great.
On my last off-road trip, I tested the waterproofness of the suit. I had a slight mishap: I fell in the water. 😲 I can confirm that I stayed dry for the rest of my day.💯  I also didn't feel cold at all on the mountain and on the way back to the vehicles. WOW! It's great, because you never know what can happen to you in the mountains; you're never safe from a mishap.
The suit being highly adjustable, it allows you to maneuver your snowmobile easily. The movements are not limited and we don't feel encumbered in our suit. A little plus too: the snow gaiter keeps your boots dry all day long, no snow gets in. For an off-road enthusiast like me, it's great because we often ride in several feet of snow. Moreover, the circuit breaker attachment is super practical, easy to use and rigid.
The pockets are really big, which is very practical. The interior phone pocket keeps your mobile devices dry and warm while snowmobiling. It's wonderful. The cloth in the other inside pocket is useful for wiping your snow-filled goggles. Really handy!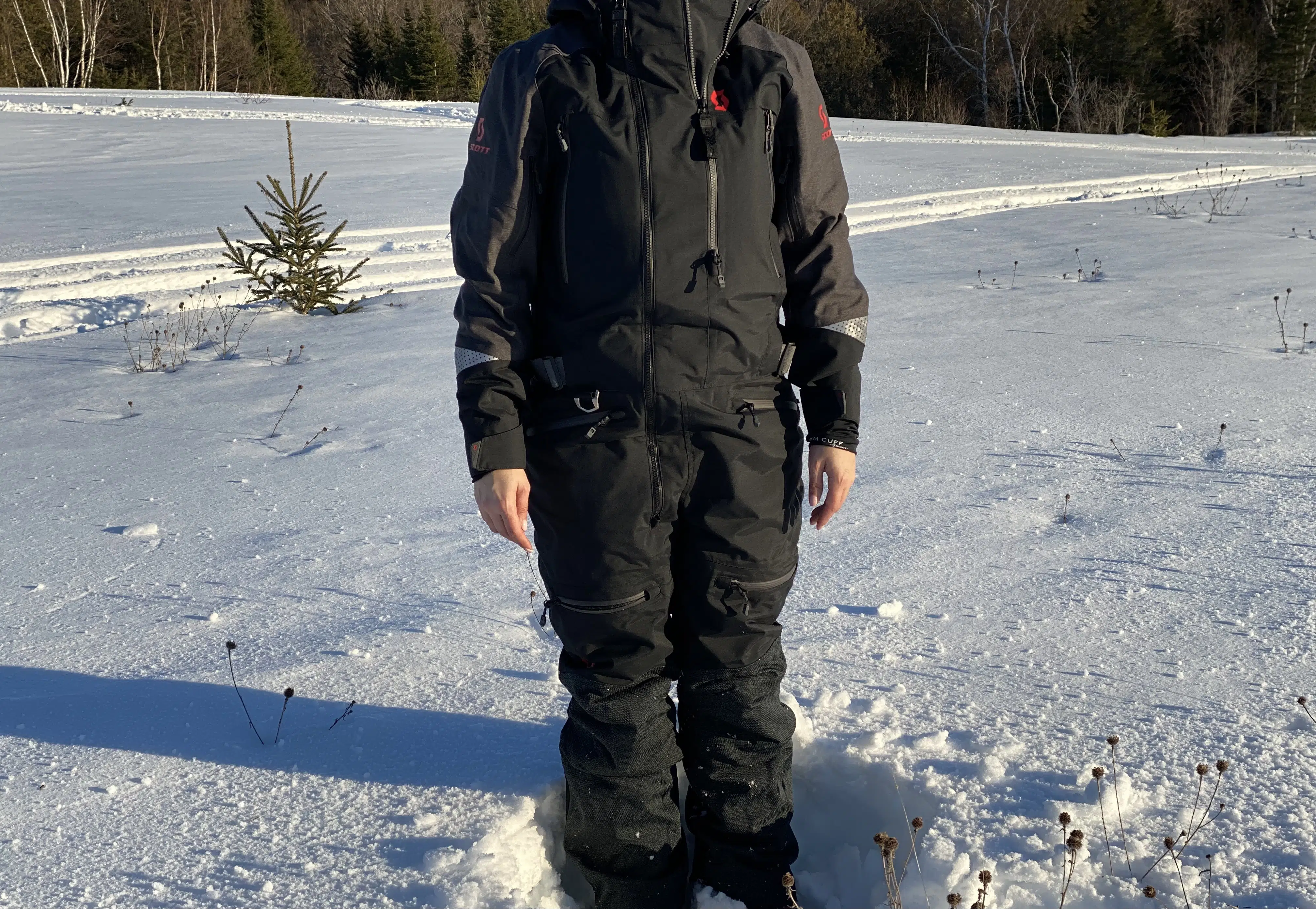 In summary
I have nothing but positive things to say about this set. I loved this SCOTT suit. It is easily customizable, adapting to all winter conditions. It is effective on both colder and colder days. The SCOTT DS-I DRYO suit is part of the sport-touring line; however, it can be used for both trail and off-road. It is a very good value for money.
The DRYOsphere technology keeps us warm and dry all day long. This package is waterproof, windproof and moisture wicking. It's very interesting. I would recommend the SCOTT DS-I DRYO suit to all snowmobile enthusiasts whether on the trail or off. I would also recommend it to anyone who enjoys winter sports.
I would like to once again take the time to thank the entire team at Importation Thibault and SCOTT Canada motorsports. They gave me the chance to test this wonderful SCOTT DS-I DRYO suit.
See you soon,
Myriam C.