This Boot is Just What the Market Needed
For starters, this boot catches the eye with its sleek design and selection of bright and bold colours.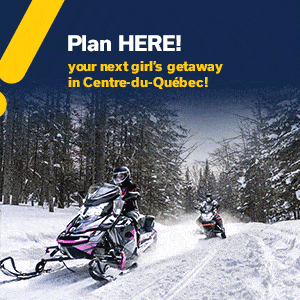 It is clear from the boots' features that the designers really considered the strain and pressure we place on our feet while riding when they created this boot. Leatt has brought us a boot that not only provides protection and comfort, but enhances one's riding skills; after all, moto boots are undoubtedly one of the most important pieces of protective equipment that we invest in as riders!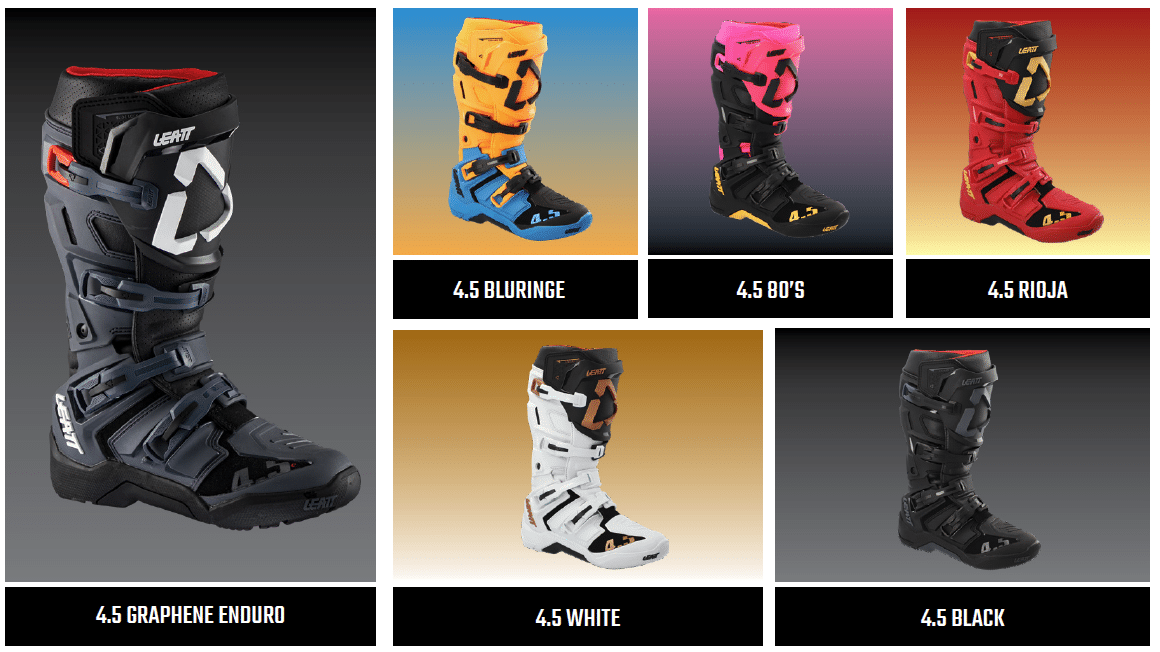 At $299.99 USD ($ 459.99 CAD), the 4.5 boots offer advanced technology at an affordable cost.
Comfort, Style and Protection
The design of the boot provides with outstanding comfort, even if you have a wider foot. The 4.5 is equipped with an impressive Slide Lock system for closure, providing a one-way slide for a great seal at the top of the boot and around your leg braces or knee pads. It is also equipped with polymer composite buckles with an overlock system and stainless steel base. To finish, the toe box was designed to have a low profile for easy gear shifting that prevents the rider from needing to change the height of the gear shifter with new boots.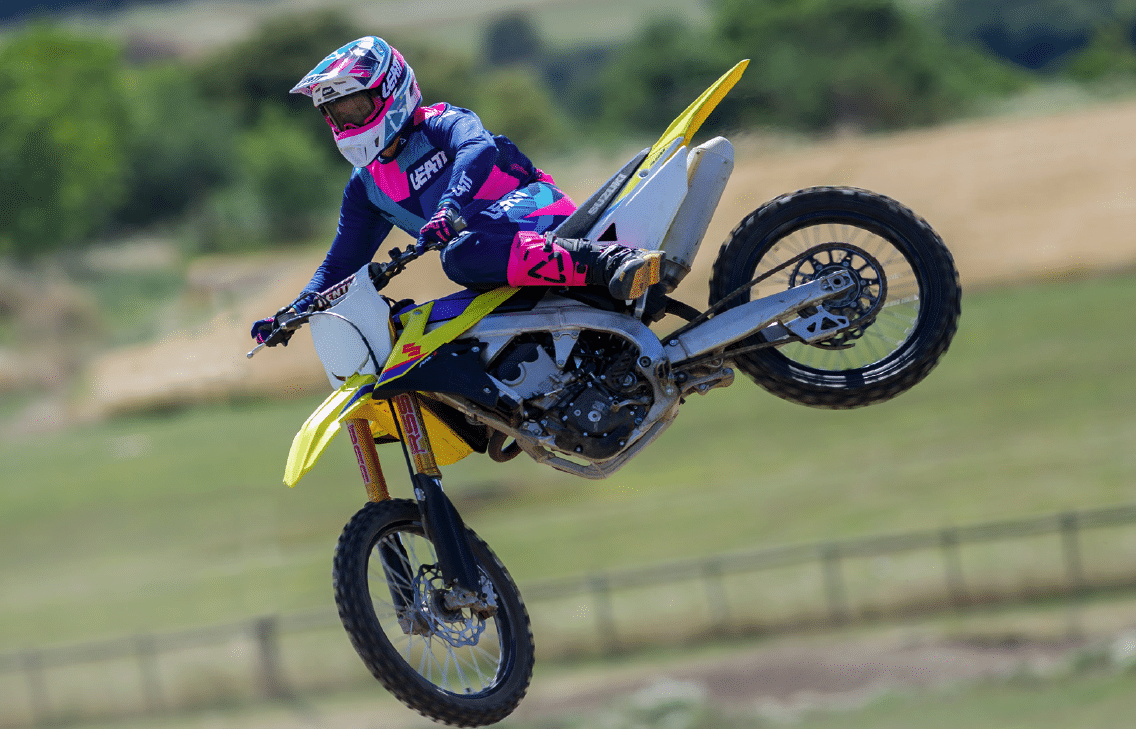 The sole of the boot features DualZone hardness to provide durability and comfort when placed on the foot pegs. To improve stability and avoid the heel lifting, the boot contains a 3D-molded inner liner made of breathable mesh and anti-slip reinforcement. The grip on these boots offers amazing stability, and the ankle support was really well thought out.
There are over 24 bones that give structure and mobility to the foot and ankle. Off-Road riders put a lot of punishment through their feet. From absorbing landings on big jumps, to catching your foot in a rut, on a log or root, your feet sustain a great deal of punishment, so its super important to protect them whilst maintaining great comfort and feel when riding a dirtbike. – Leatt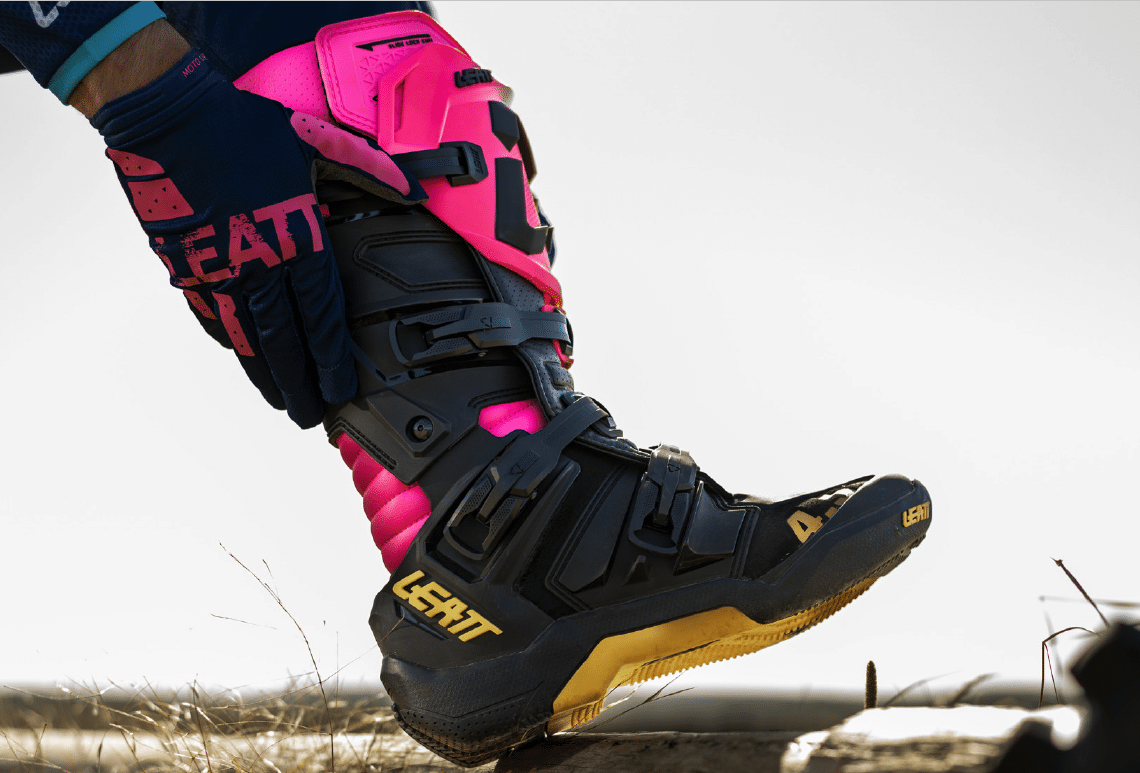 What are You Waiting For?
From the moment you slip your foot into this boot, you will experience not only comfort, but protection. With its very secure fit, you will find confidence in not only yourself but your riding capabilities. If you are looking for a boot that is comfortable, provides stability, catches the eye and is affordable – look no further because this moto boot was made just for you!
Photos: Leatt
Happy riding, moto babes!