The 2022 Ryker Rally 900: for an adrenaline rush
A choice needs to be made
Lately, I've had the opportunity to try the brand-new 2022 Ryker Rally, and no need to tell you that I was running on adrenaline.
In Can-Am's three-wheel vehicles range, a choice needs to be made: you either choose comfort and drive a Spyder, or you choose to focus on performance with the Ryker Rally…
Adrenaline down to your toes!
With Can-Am's 2022 Ryker Rally 900, you won't regret your choice if you are looking for power, a sport mode, and adrenaline! I've had shivers down my spine more than once!
Just like the standard Ryker, the Ryker Rally has really good roadholding abilities.
Its sport mode took me aback right away. I was pleasantly surprised by the reaction of this vehicle.
In the blink of an eye, by twisting the throttle grip, I quickly realized I had to firmly hold my handlebars! At stops signs or when the traffic lights turned green, the tires would squeal and here I was speeding off!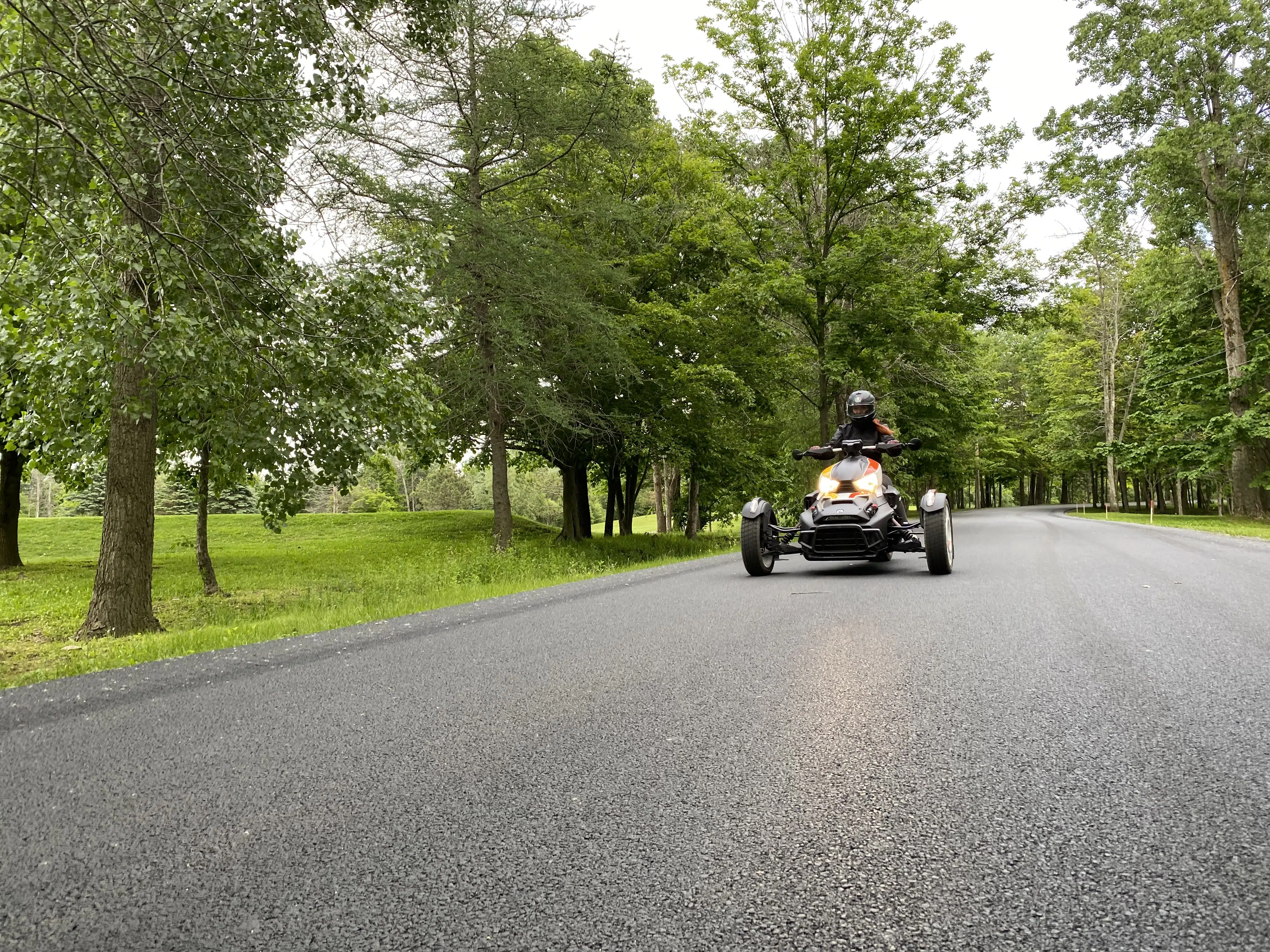 A surprising vehicle!
First, let's talk about the style!
The model I tried captured my attention right away. With its white, yellow and orange panels (Heritage White IV), its sporty style is turning heads!
I found myself admiring it at length and in more details! This beautiful vehicle is originally fitted with a solo seat embellished with a red topstitch for a nice quality finish.
Its white and reinforced aluminum rims are just as impressive, which gives the Ryker Rally its sporty style. Let's not forget to mention its very pretty, tiny and round rear-view mirrors, even though they are less convenient in terms of visibility!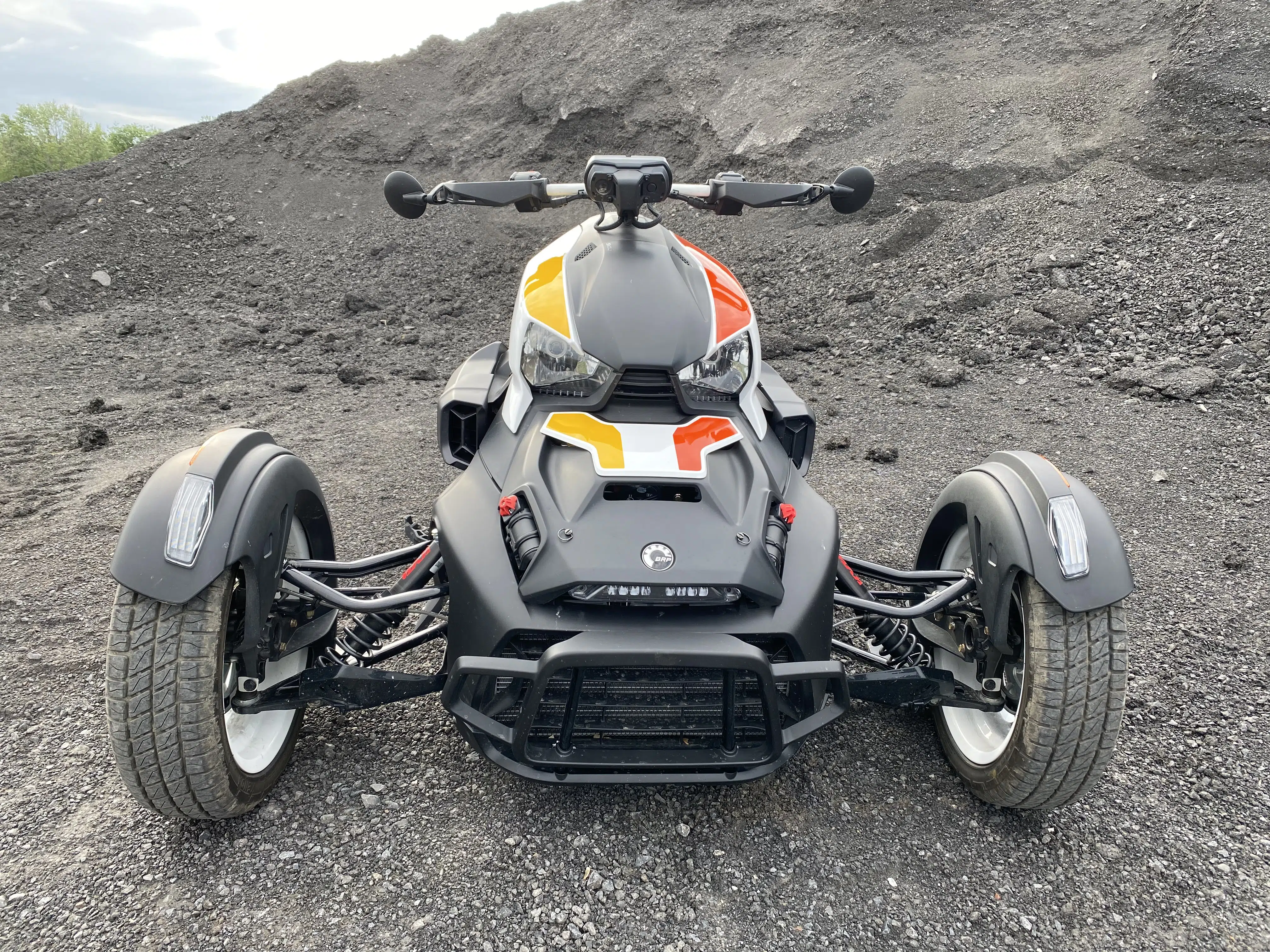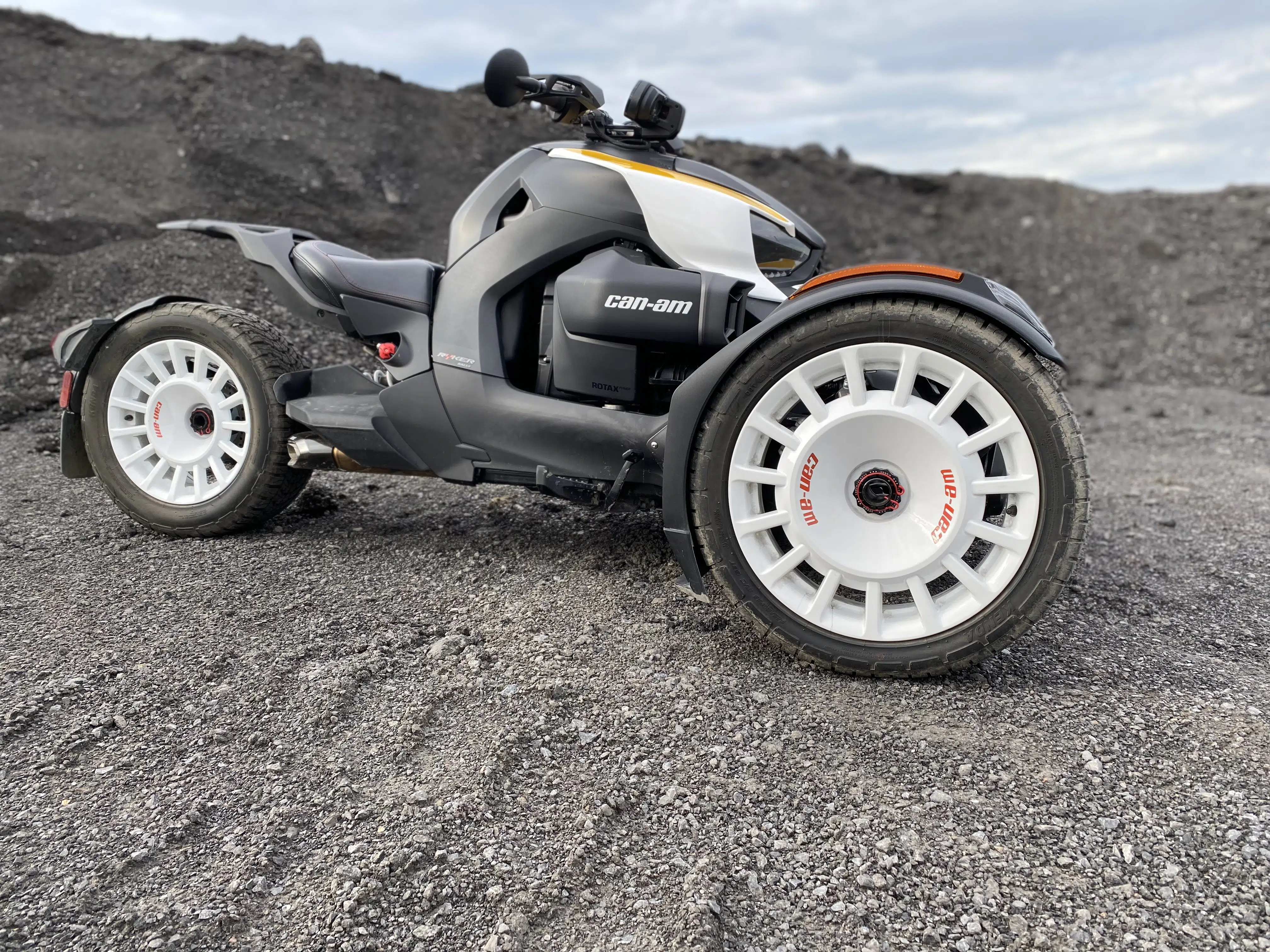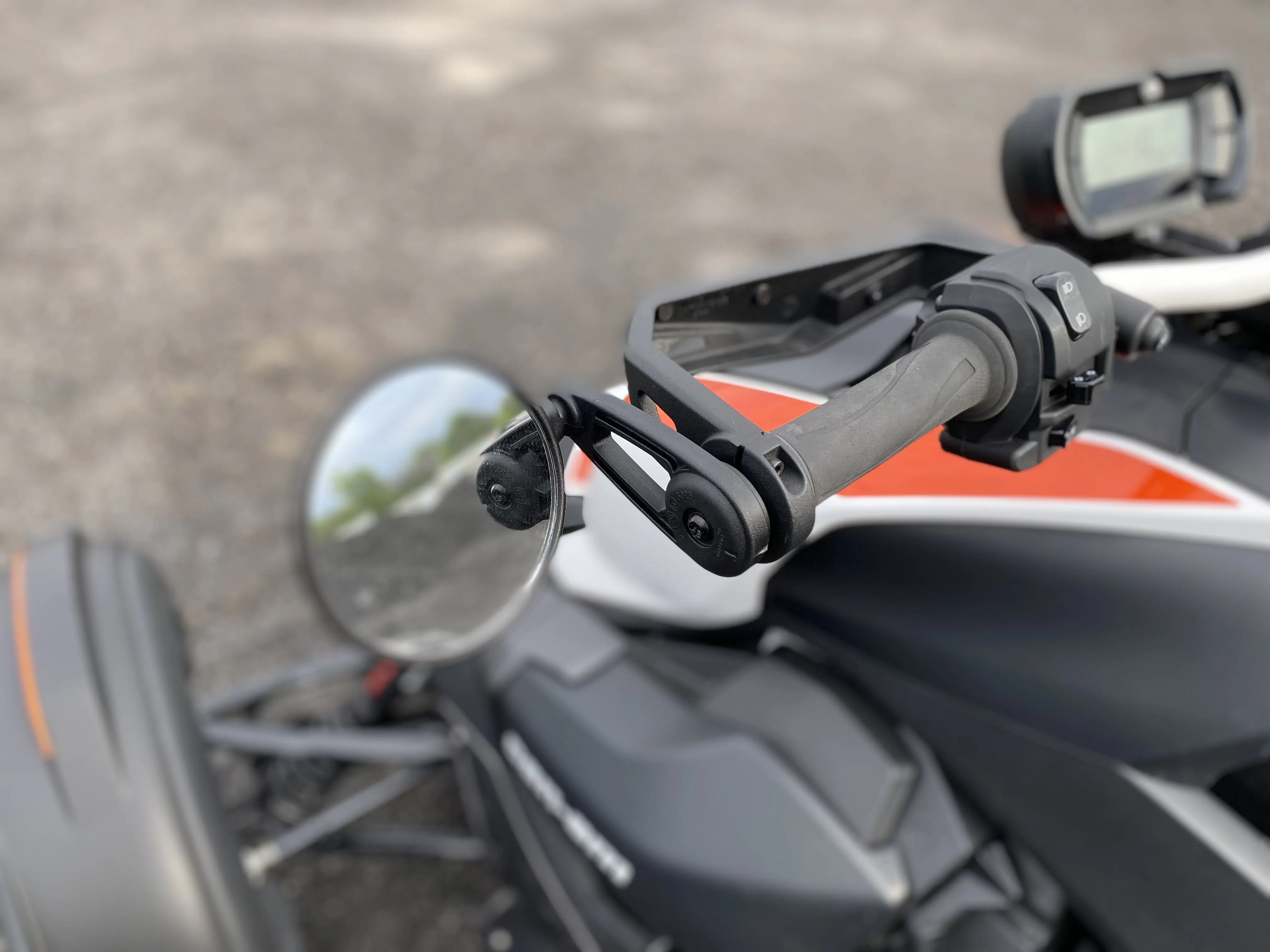 Moreover, this model is fitted with a gorgeous bumper (front grill protection) and is also equipped with an aluminum skid plate under the vehicle to provide more protection and thus achieve greater sustainability.
This model is available in 15 colors and color combinations. It is safe to say that Can-Am has thought of everything to reach the perfect aesthetic. With such a broad choice of colors, it is guaranteed to please everyone!
The aluminum hand guards add to its sporty style and the 4,5 inches digital display allows you to see all the controls and functions of the Ryker.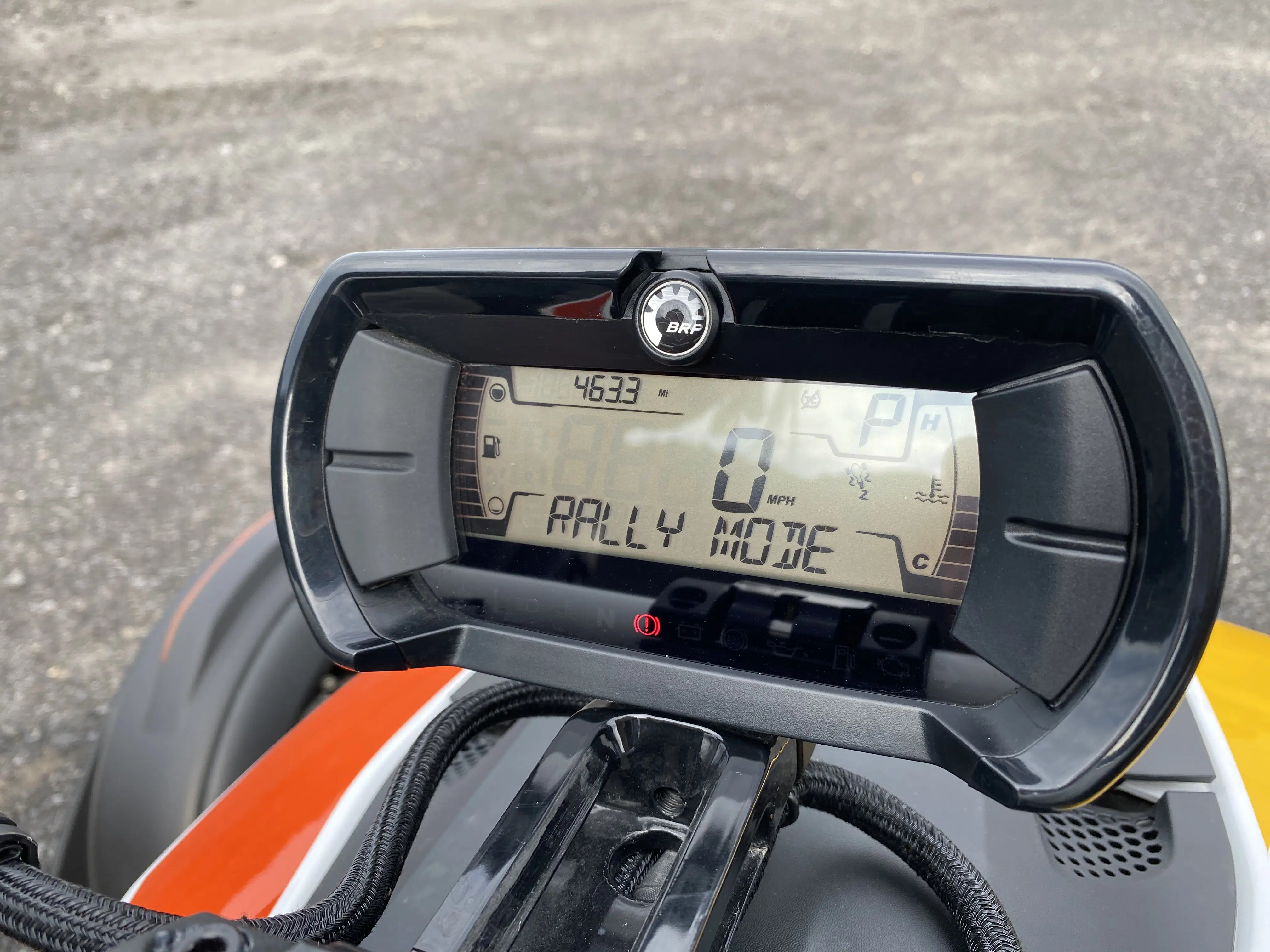 This beautiful vehicle is at the top-end of Can-Am's three-wheel vehicles range.
The Ryker Rally is fitted with aesthetic parts, but also with performance parts that are useful and high-quality.
I'm talking about a quiet Akrapovic that hums just as you wish, added suspension for more comfort, cruise control, anti-slip foot pegs larger than the ones on the standard Ryker, back mud flaps, a rear wing with a MAX Mount Structure, KYB shocks and an auxiliary LED lights bar for a better night vision.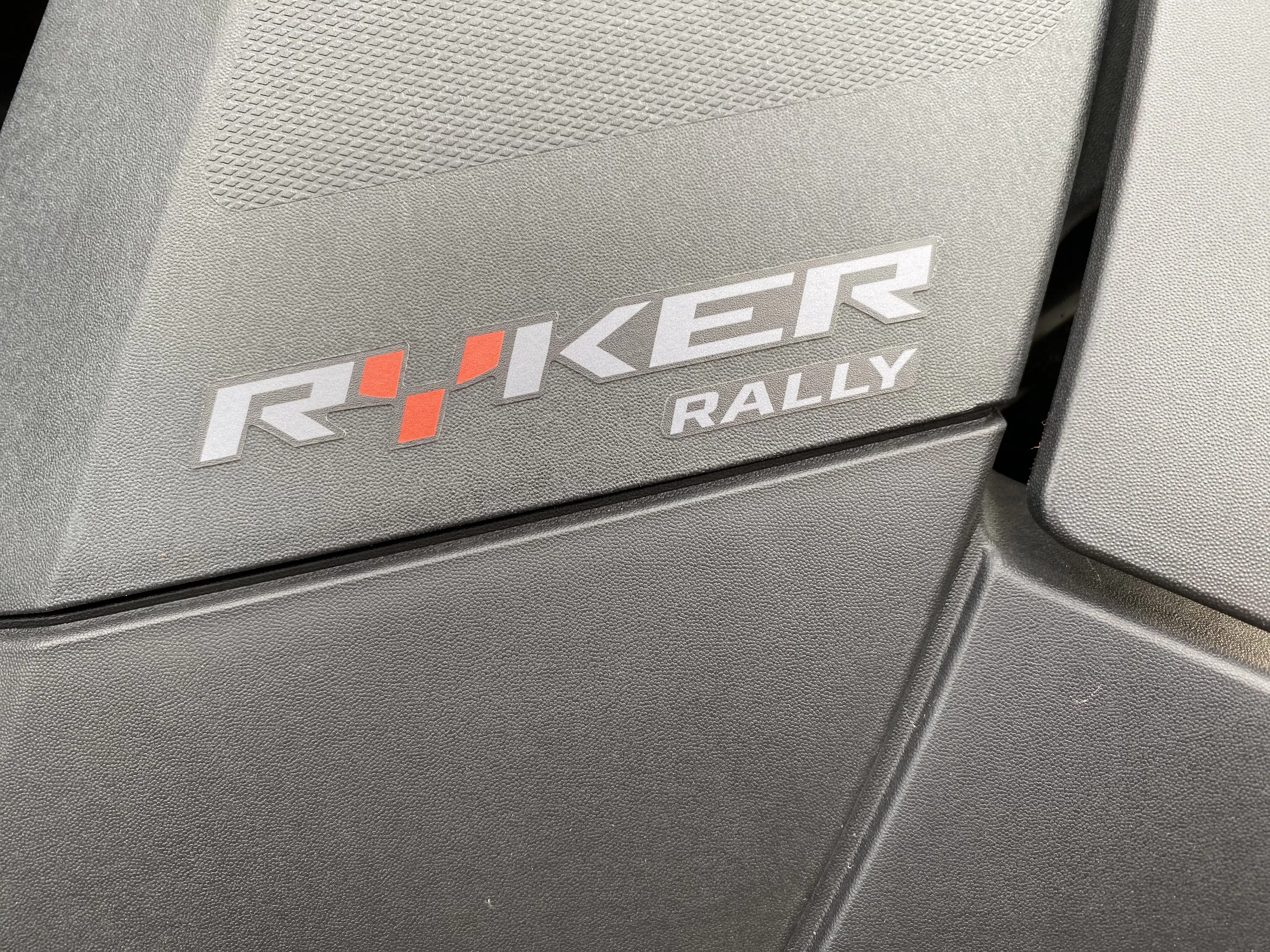 Its equipment
Three driving modes
The driving modes are: ECO, Rally and cruise control.
I'm personally not a fan of cruise control, and I find the adjustment to be a little complex.
To switch it on, I have to press the button of this function, reach the desired speed, lift my foot off the accelerator and then press the cruise control button once again: a pretty long procedure to reach a level comfortable enough for long drives.
Nevertheless, many people love this function which still adds to the joy of driving.
The engine and transmission
Equipped with a high-quality Rotax 900 ACE in-line 3 cylinders engine, the Ryker Rally offers nice power and good sport performances for all types of driving!
With a torque over 58.3 ft-lb at 6,500 RPM and 82 hp, you'll be surprised to see what the Rally can give you! Moreover, with its silent Akrapovic, let me tell you the sound the Ryker makes is impressive and reaches another level!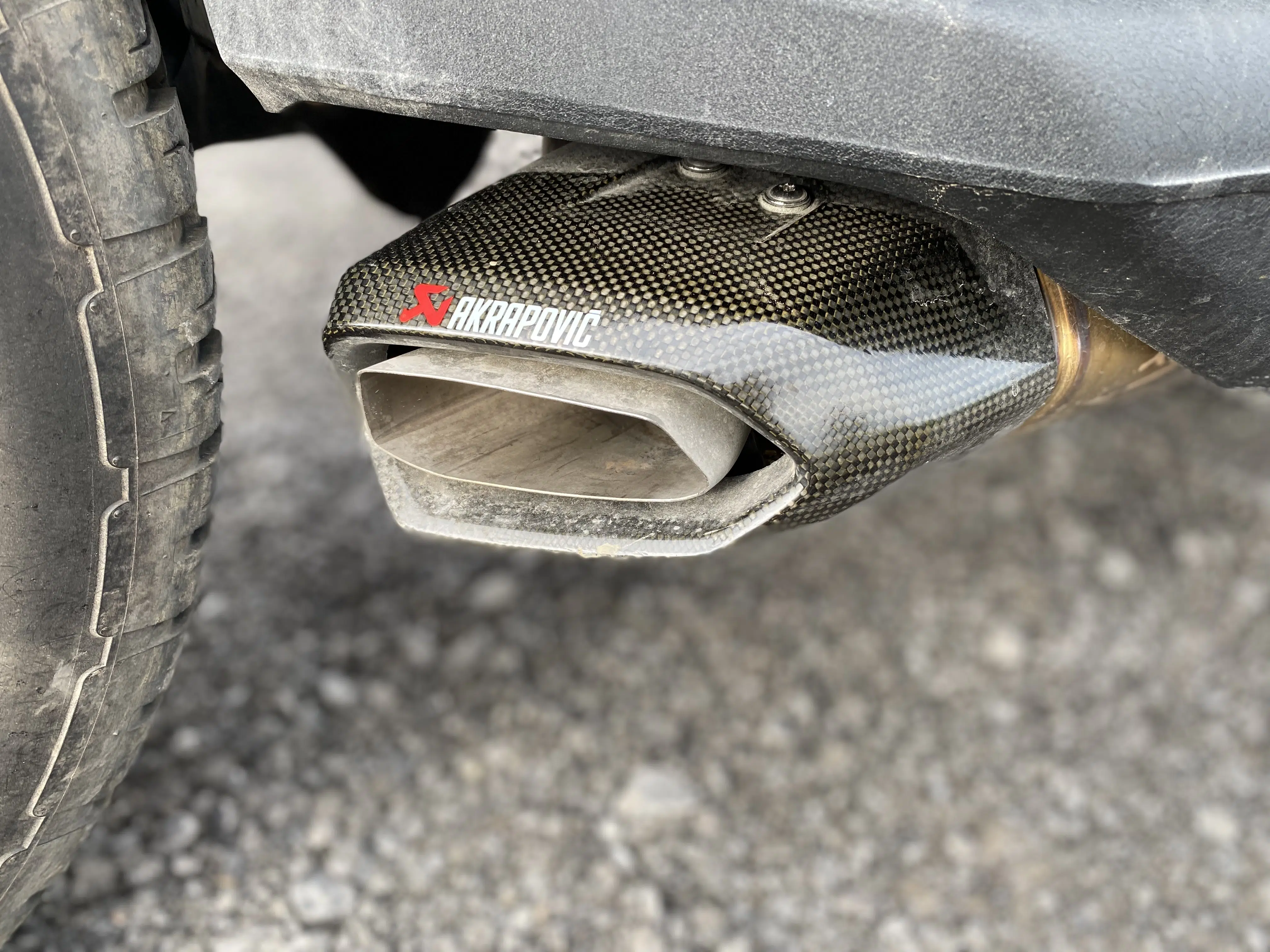 The Ryker also has an automatic transmission (CVT) with reverse function.
The suspension
The added suspension and its performances represent the main upgrade on the 2022 Can-Am Ryker Rally.
The Sachs shock absorbers on the standard Ryker are replaced with KYB HPG with remote reservoir, which add a setting enabling it to absorb compression on top of the spring preload setting.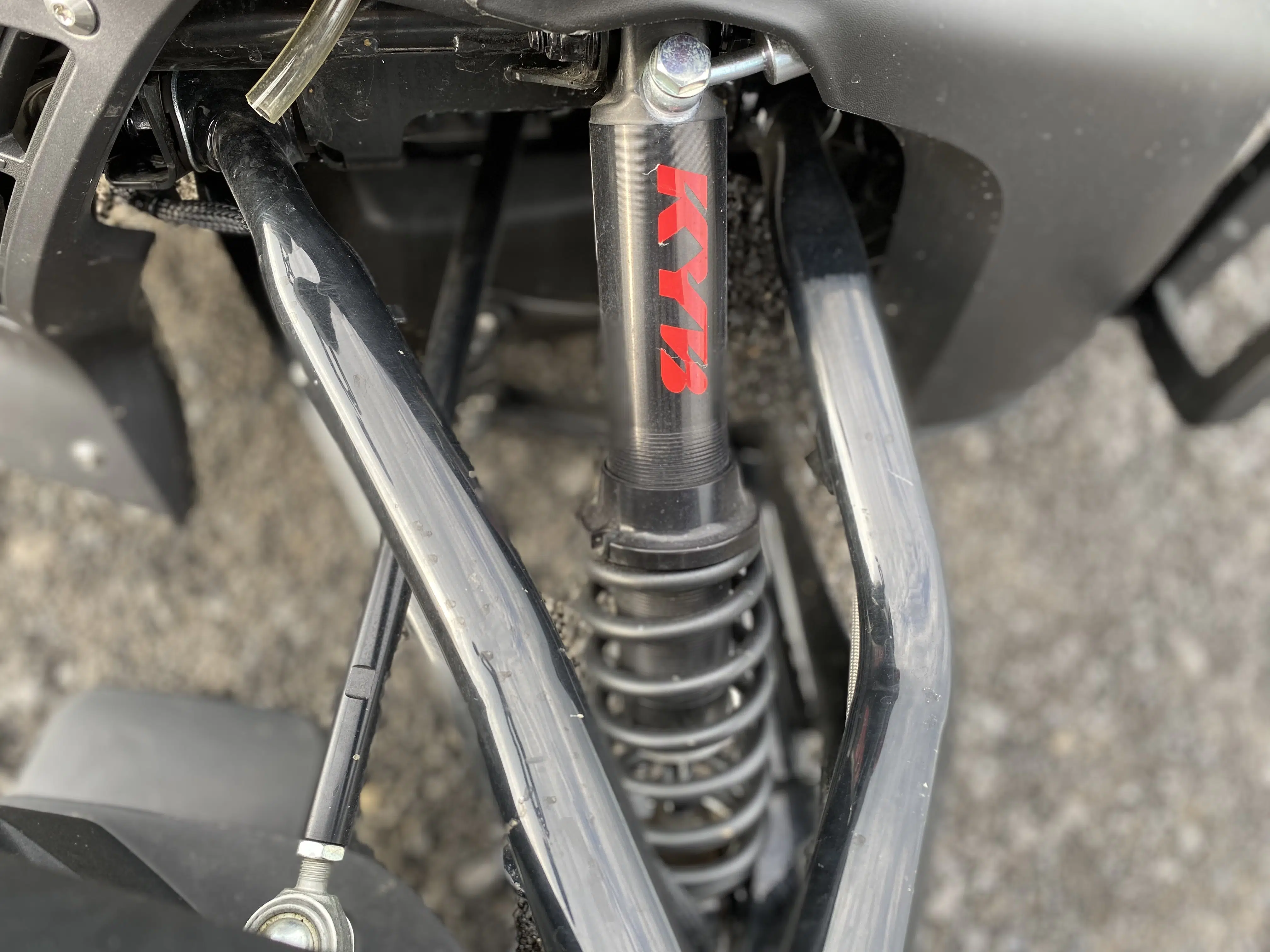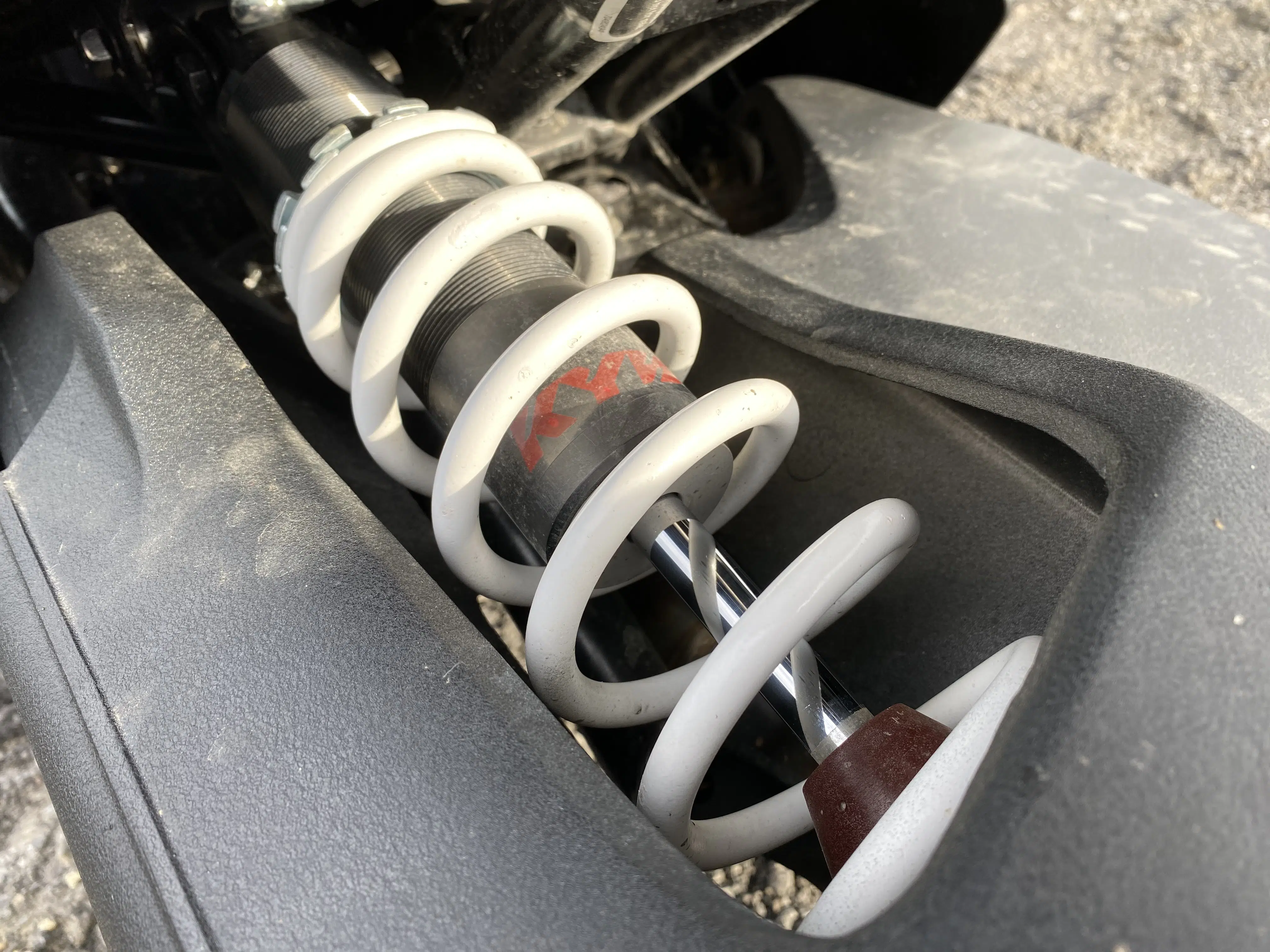 2 inches were added at the front of the suspension travel and 1,4 inches at the back to absorb road bumps better.
With more than 7 inches of suspension travel at both ends, the Ryker Rally has a ground clearance of around 5 inches, 4,8 inches to be more precise, which is about one inch bigger than the regular Ryker.
It also has two A-shaped arms at the front and a third adjustment added to the rear shock.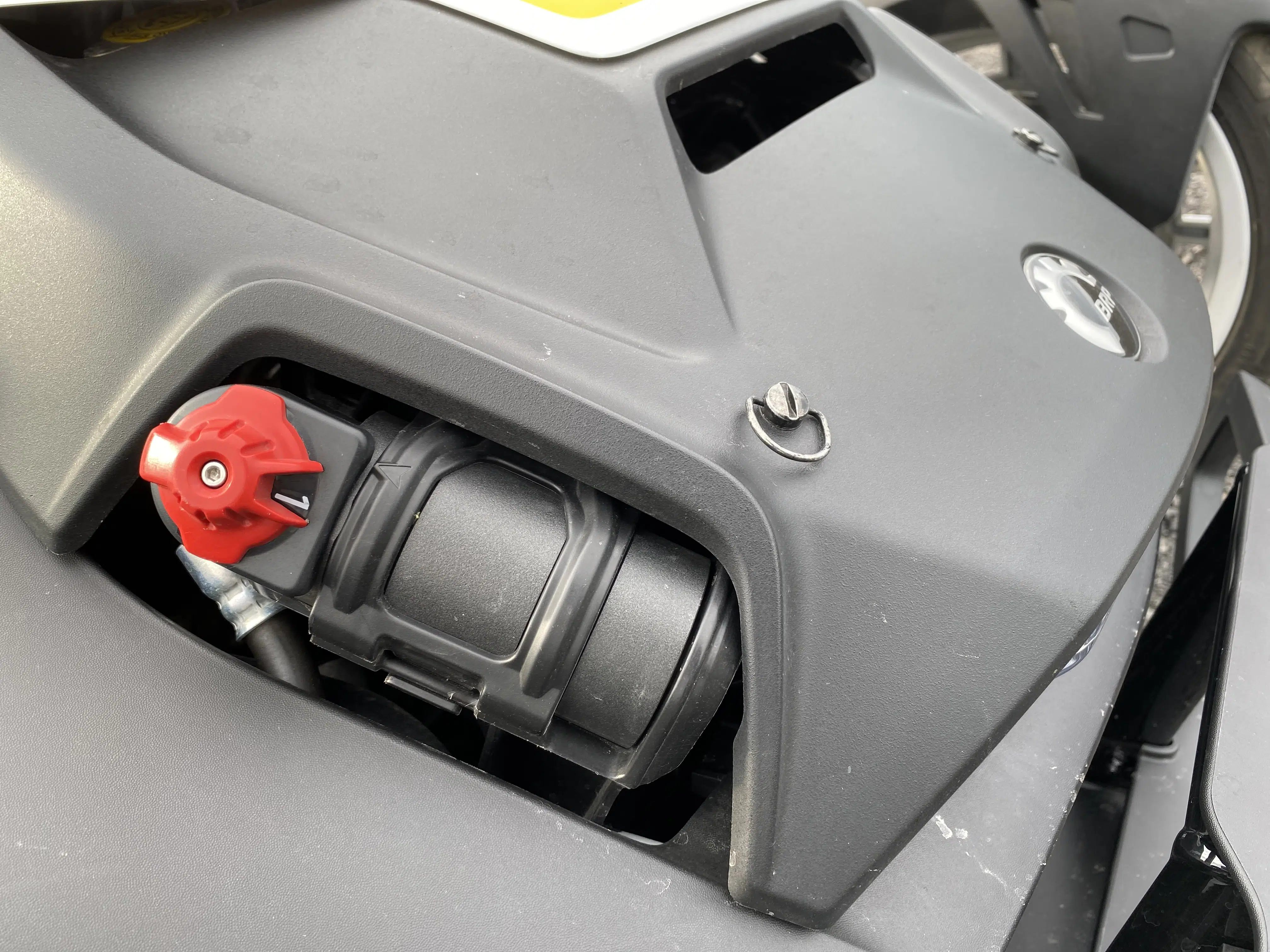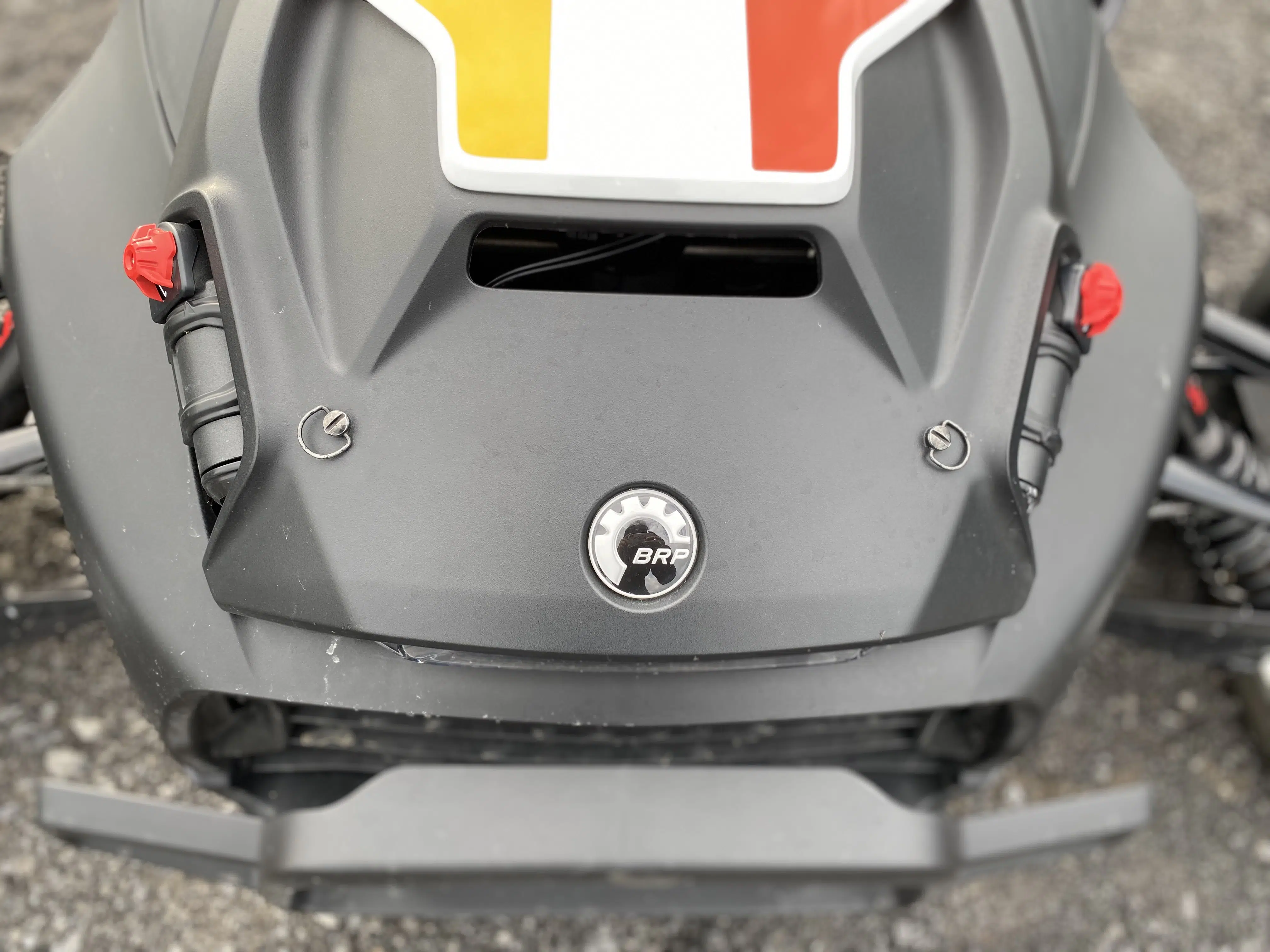 Cargo space
On the 2022 Ryker Rally 900, only the glove box offers a storage: it represents around 1,85 gallons (7 L) and offers an extremely handy USB port.
This model is really made to explore its performance and does not make comfort nor cargo space a priority. This vehicle puts the emphasis on the pleasure of driving!
The pleasure of driving
In town, on the highway or on dirt roads, the Ryker Rally 900 is very pleasant to drive: it is no secret that with its three wheels, the Ryker is a very stable vehicle.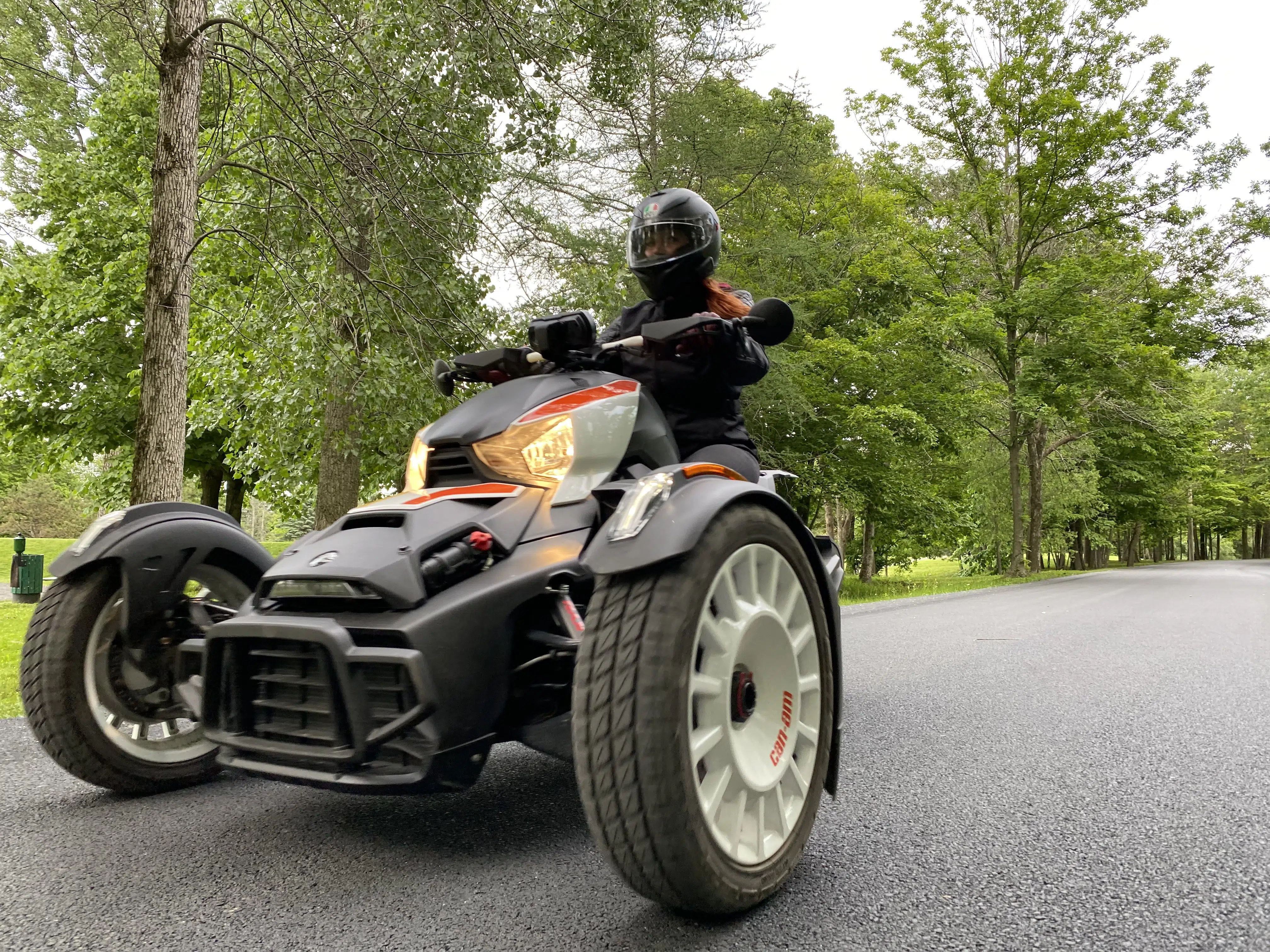 Its automatic transmission also allows the driver not to worry about gear changes.
In terms of comfort, I will add that the Ryker isn't the most comfortable engine for long rides. However, you can still change the seat and add equipment among many choices available!
Rally mode "on": ready or not, here I come!
The REAL fun started when I found a dirt road! The Ryker's ECO mode enables it to stabilize in case of sideslips.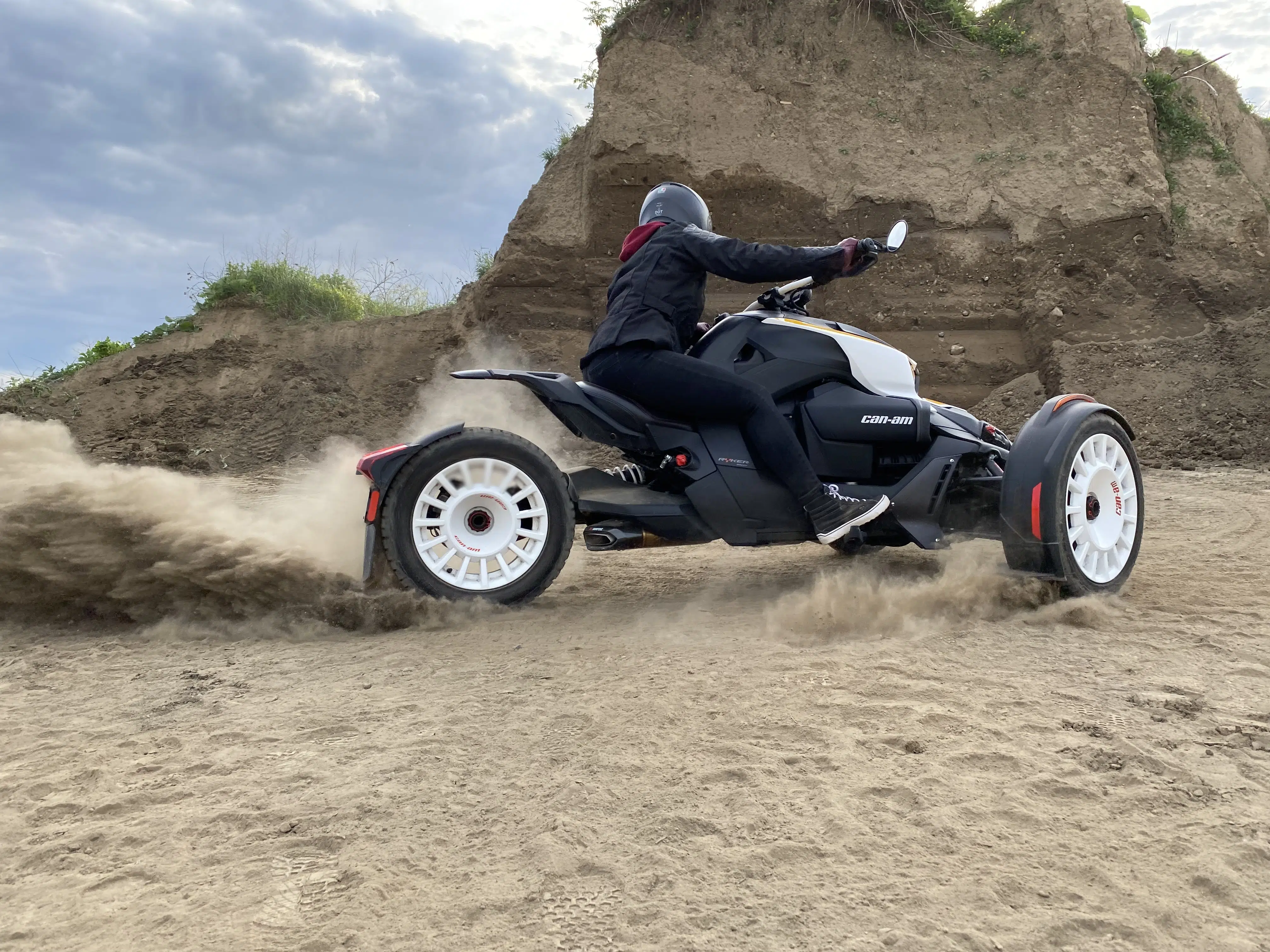 The Rally mode, however, enables you to skid and to have fun safely.
With this mode, the Ryker becomes a brand-new vehicle. The moment I turn the throttle grip, it drifts off the road and I get a shot of adrenaline.
I did a couple of "donuts" and many skids to test the reactions of the vehicle. But obviously, my main goal was to have fun!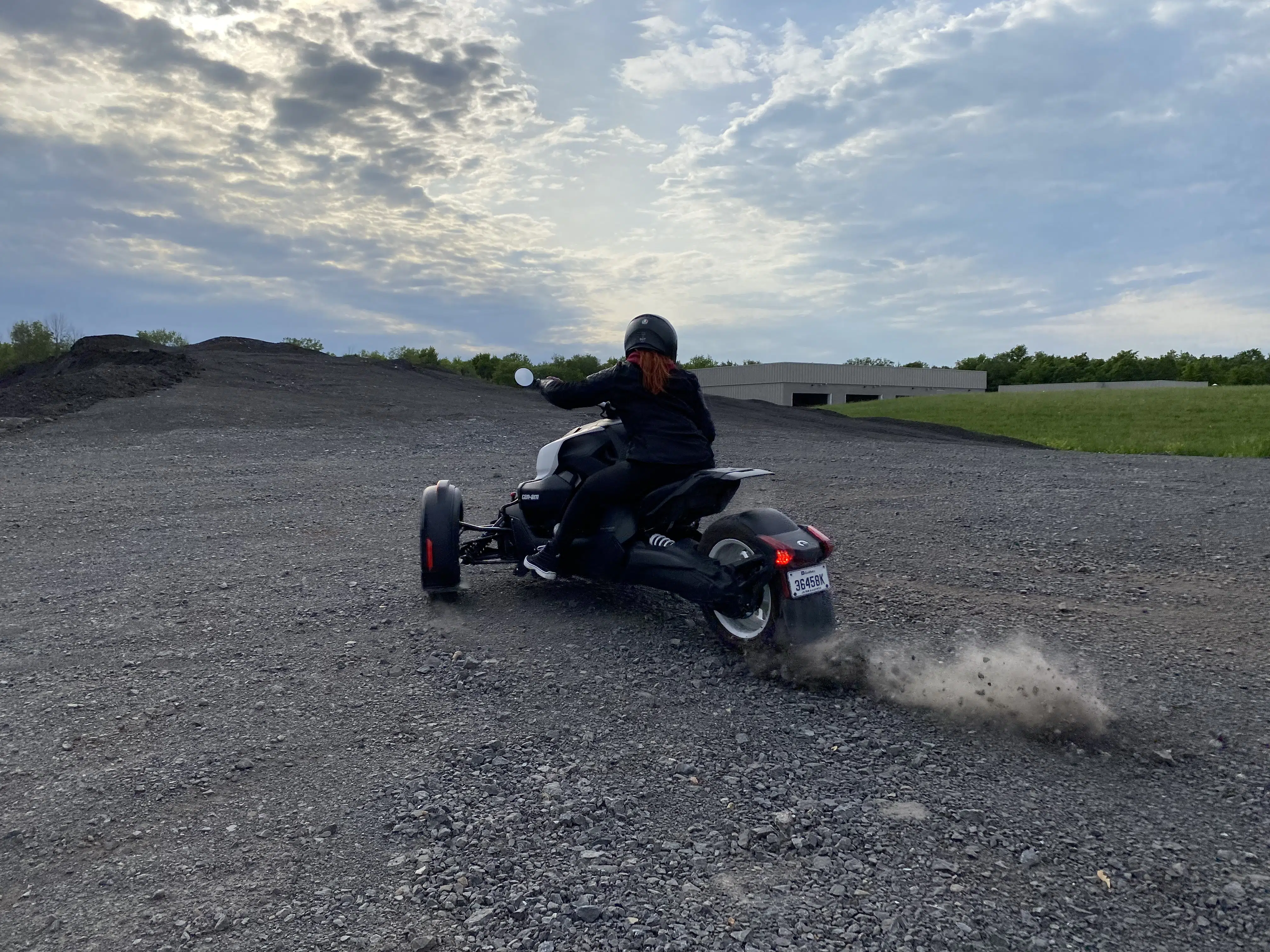 A little tip: hold on tight to your handlebars, because in no time at all, the Ryker speeds up and you won't even have time to see it!
Basically, I love that the Ryker offers the ECO and Rally modes: the first is perfect for longer drives, and the second is essential to let loose a little!
My verdict!
I really liked the 2022 Ryker Rally 900. Its sport mode is very impressive, and this vehicle is made to be pushed to its maximum. It offers a high-quality design and is fitted with basic accessories dedicated to performance!
My rating:
Style: 10/10
Performance: 9/10
Driving experience: 8/10
Equipment: 8/10
Comfort: 7/10
I would like to thank Can-Am On-Road for this amazing test as well as Chicks and Machines for the beautiful opportunity. For further information on the 2022 Ryker Rally 900, go visit: https://can-am.brp.com/on-road/ca/fr/