Train with a Canadian champion on a simulator!
You would like to have a better position on your motorcycle, improve your lap time, and correct the bad habits that make you slower or could bring you to crash? Stop looking further, I found the experience that you need!
Sebastien Tremblay, owner of S.T. Motosport in St-Eustache, began his racing career in 2008 as an amateur and was promoted to the Pro category of CSBK (Canadian Superbike national series) in 2010.
In 2021, Sebastien was named Canadian Grand Champion of CSBK. From then on, he received a huge demand to train on the track, but was still forced to take care of his motorcycle mechanics garage full time, which made it difficult to free himself up to be a private instructor.
Courses on the Calabogie Motorsports track in Ontario are available with him, but the cost being relatively expensive (around $2500 for a day to cover travel and all other expenses), makes this option not accessible to everyone.
It is with this in mind that Sebastien had the idea of having a simulator in his shop to facilitate his availability to coach at a more affordable price.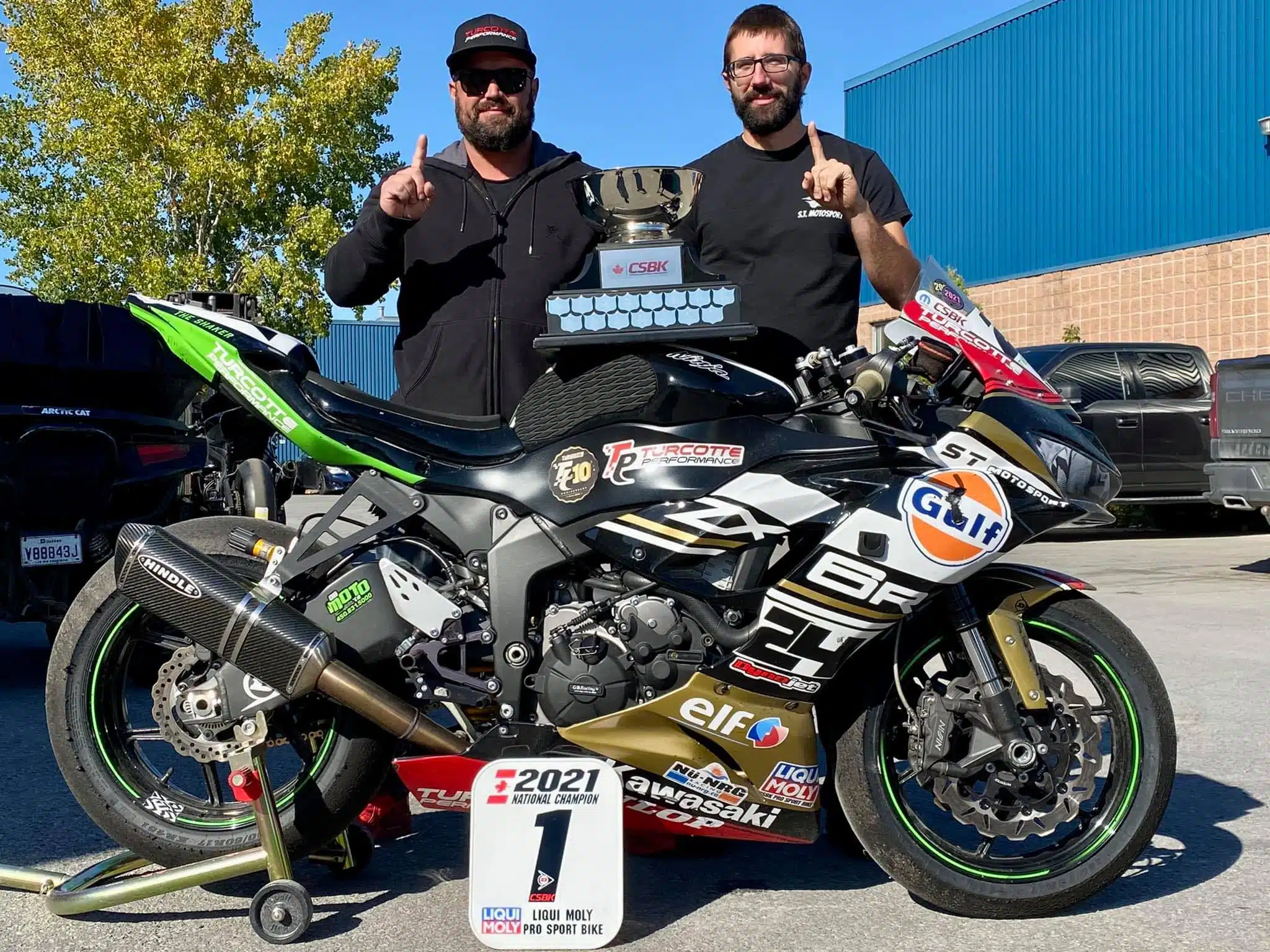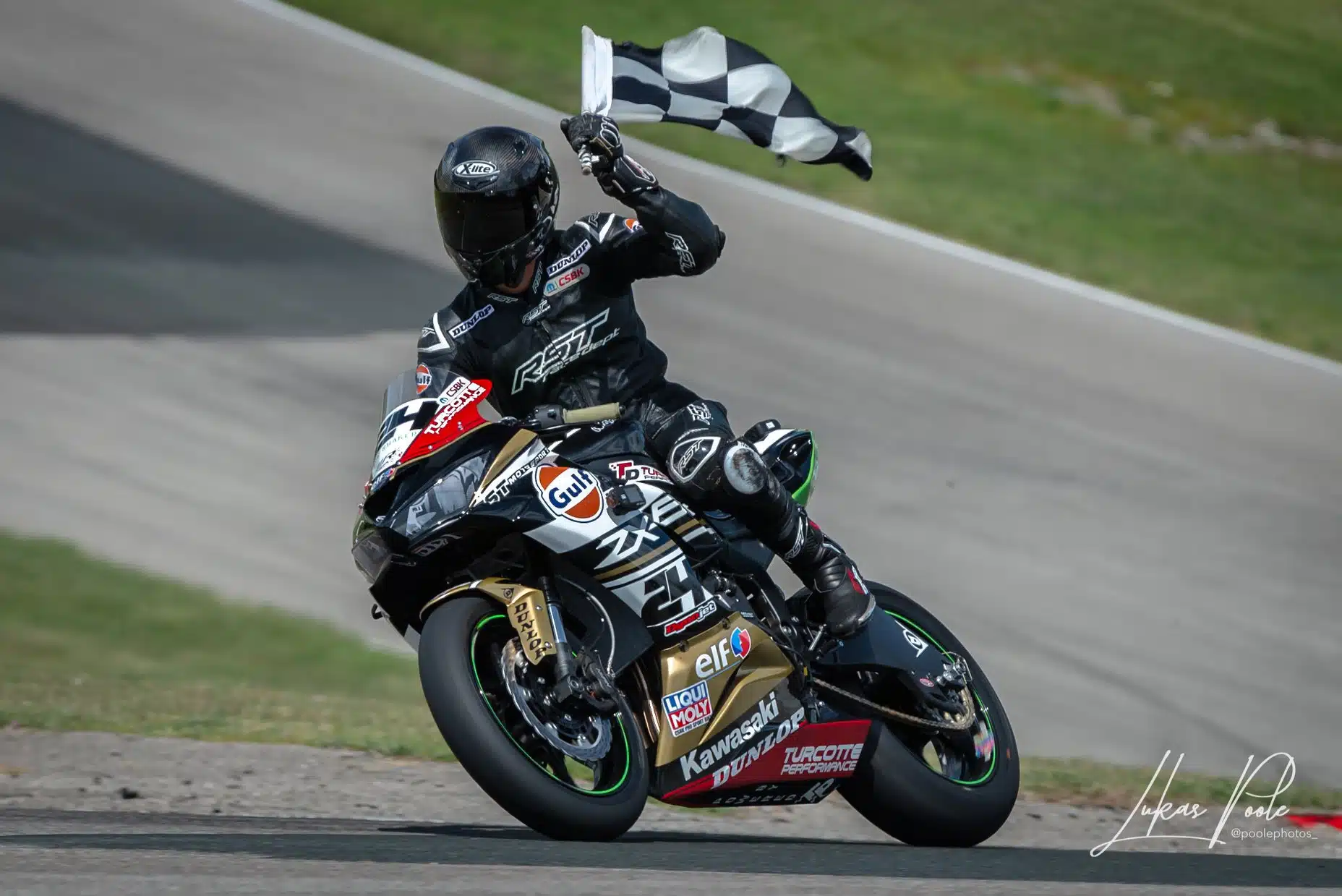 Moto Trainer is an Italian company that designed this training platform. Unsatisfied with the way the company uses this learning tool, Sebastien reviewed and customized the way of using it by creating his own formula.
The company has manufactured 210 simulators and Sebastien is the only one in Canada to use it for coaching, the others use it as an attraction or a video game in events.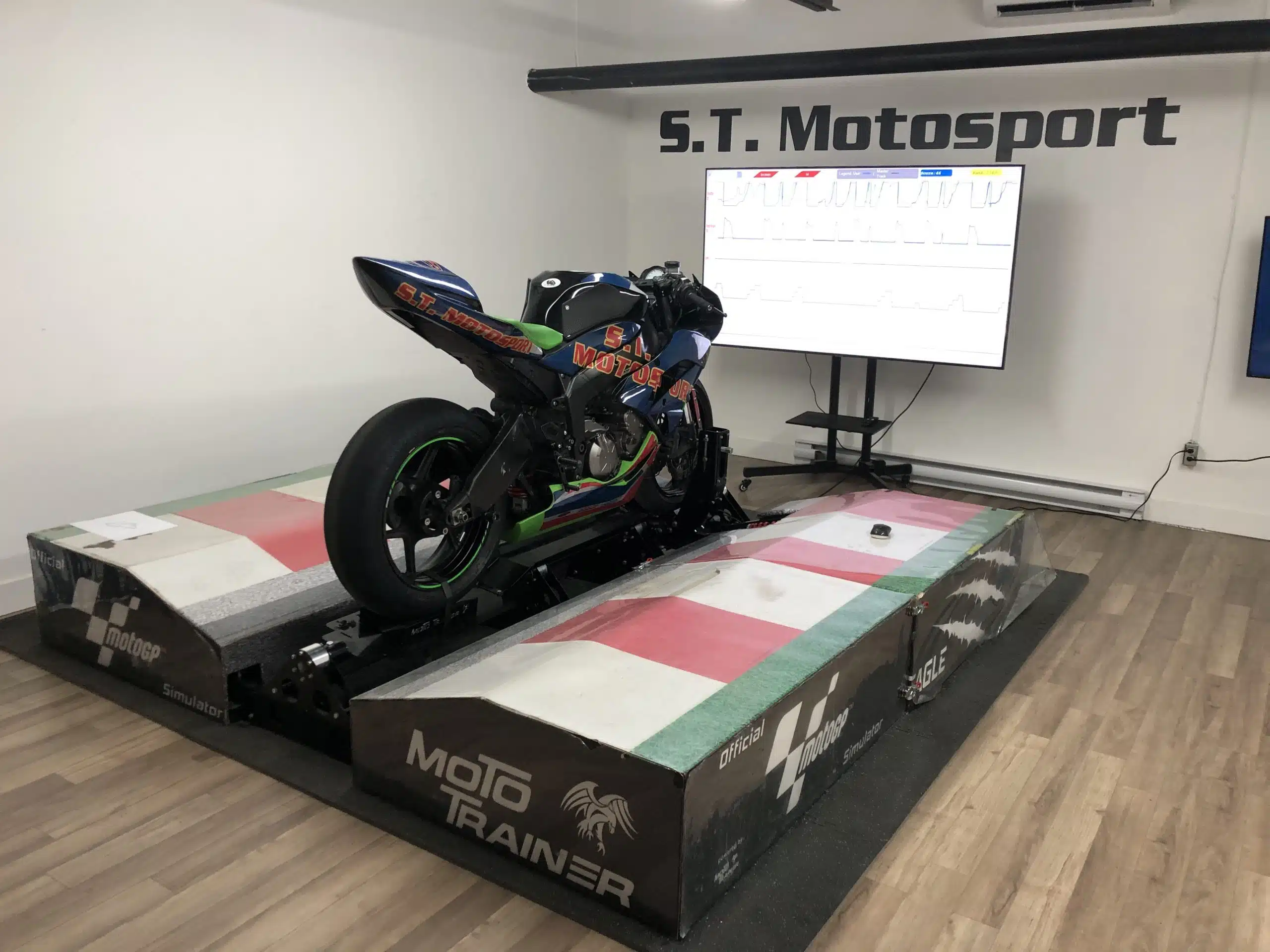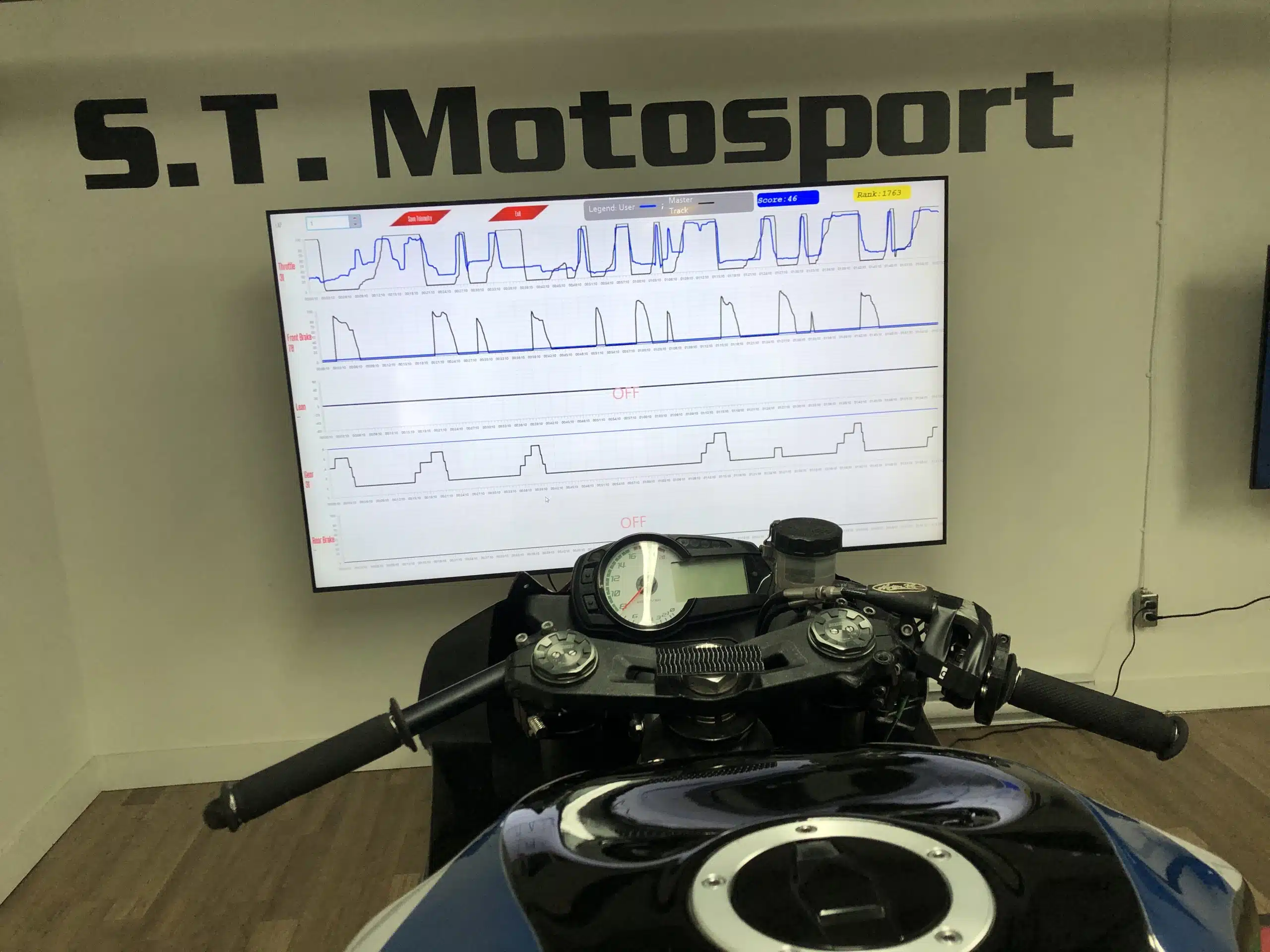 The benefits of training on the simulator vs the track
It is easier to concentrate on all the little details to improve and work on, because we can keep the focus, while on track there are several elements that can distract us. The fact that Sebastien is next to us allows him to correct us more easily since he can see what we are doing a lot better.
At the track, he would often be either in front or behind us, so he couldn't give a feedback as good and precise of what he observed. On the simulator, we can push our limits much further without the risk of crashing. So it's easier to work on the small details on the Moto Trainer and then apply it on the track.
What can you expect from training on the simulator?
This helps to raise awareness of the control of the motorcycle commonly called " motorcycle awareness". So being aware that each of our movements, our position, our throttle control, etc. has a direct impact on the control of your motorcycle.
Course 1
Step 1: Warming up to get use to the simulator.
Step 2: Leg positioning.
Step 3: Practice transitioning of the position on the motorcycle from left to right.
Step 4: How to hold the throttle and maintain control of the motorcycle.
Step 5: Practice throttle control.
Sebastien adapts according to the experience and learning speed of each rider. Whether you are a beginner or a professional rider, there is always room for improving ourselves and every little detail you work on will make a big difference on the track once implemented. Sometimes going back to the basics is the best way to go further.
Does it have a real impact on the track?
Absolutely, after working on bike awareness, the rider will be more confident and will control better his bike on the track. Which can lead to better lap time than before.
A great success story following a training on the simulator.
Marc Labossiere was racing as a CSBK amateur and managed to obtain his Pro license following Sebastien's full program, as well as several other sessions to fine-tune the details that make all the difference to climb on the podiums.
"The simulator allowed me to correct small details which resulted in a better overall position, better control of the stability of the bike when I move on my motorcycle. It all brings me a habit that allows me to focus on more important things: speed, curves entry, my breaking markers, as well as my confidence to gas earlier in turns."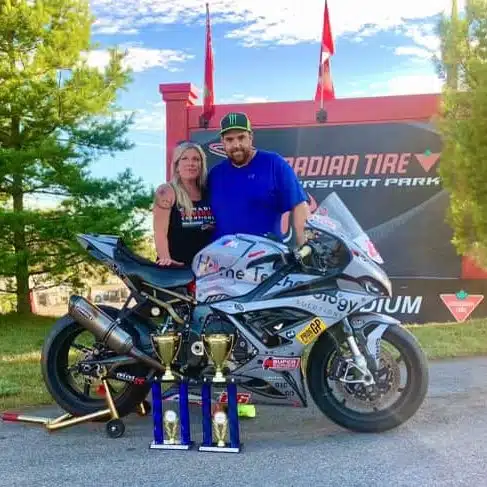 How it works
The simulator comes pretty close to reality. Which means when we lean while releasing the throttle to take a turn, the bike on the simulator will also lean. If we turn the throttle, the bike will come up. The more we are advanced in our learning, the more we can add levels of difficulty by integrating the brakes and activating the gear change during the training.
There are four difficulty levels in the software settings: Beginner, Intermediate, Expert and Pilot. This adds a challenge in addition to those mentioned above.
Beginner: no crash regardless of the mistakes made by the student.
Intermediate: crash following a 3 second mistake.
Expert: crash following a 2 second mistake.
Pilot: crash following a 1 second mistake.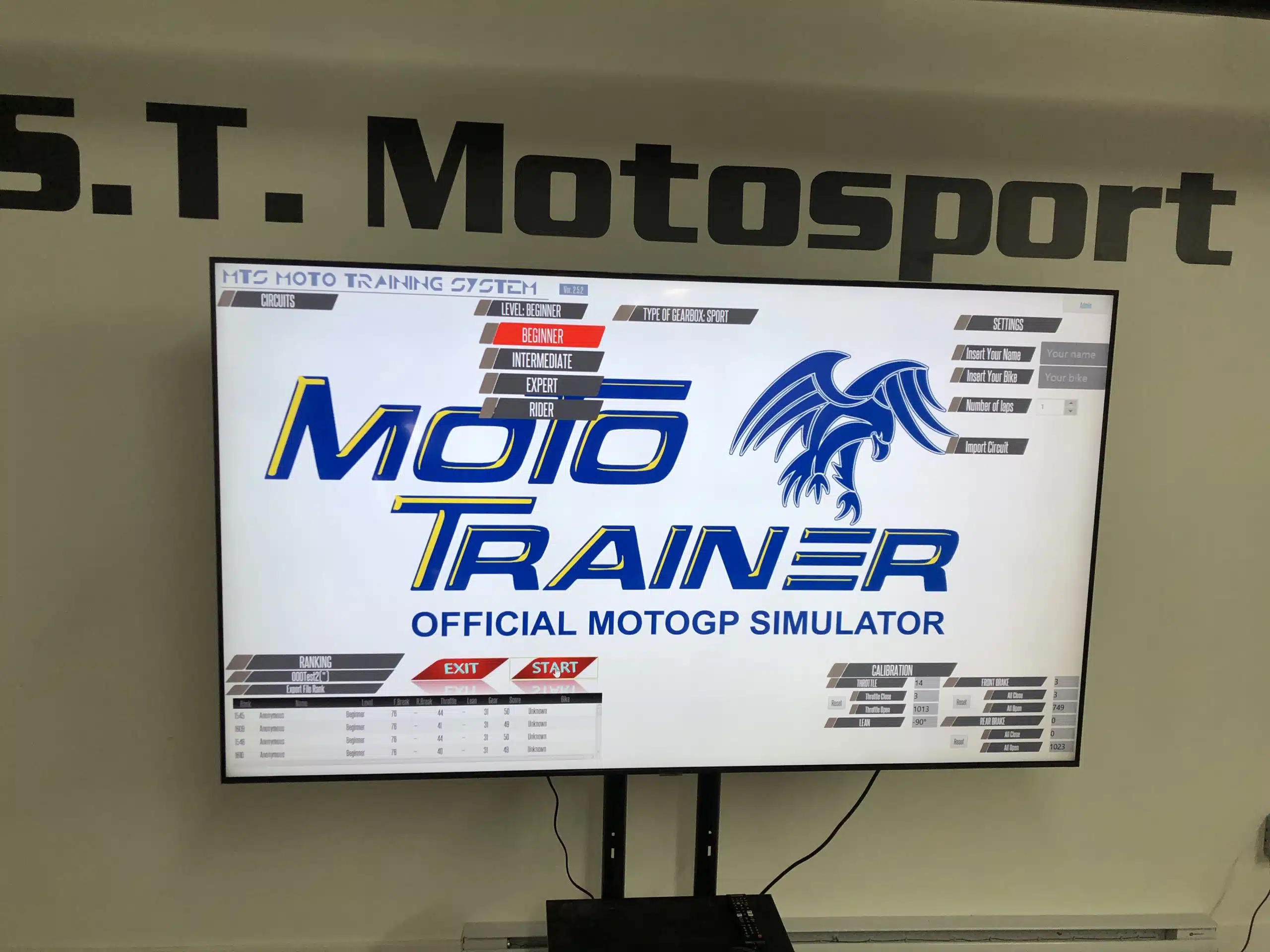 Here is an example of Sebastien Tremblay in Pilot mode with all controls activated.
Cost and packages
1 lap $20
2 laps $30
Private session 1h $250
Private session (2 people) 1h $280 for both
Group session (6 people) 3h $180/person
1 hour rental $100*
Packages are available when purchasing multiple courses.
For the group classes, it is important to ensure that every participant's weight is similar by more or less 40 lbs. in order to have a more efficient session. In normal times, the simulator must be adjusted to the weight of each student. However, in order to save time during the session, an average weight will be calculated for the group and the simulator will be adjusted once.
It is possible to rent the simulator for a one-day event for $2000.
*The series of lessons must have been completed first and the pilot is practicing alone or with up to 3 people without feedback from an instructor.
Please note that the prices are subject to change.
How to register
To register, it's simple: you can
What is the next step for the company?
The next step is to grow the business. Sebastien would like to dedicate himself full-time to giving courses on the Moto Trainer while his employees run the motorcycle mechanics shop. Eventually, the goal would be having one or more instructors to coach on the simulator.
My experience on the simulator in a 1h private session
First of all, it was with a big smile that Sebastien welcomed me to his garage located at 110 Daoust Street in St-Eustache. Then I put on my leather suit, as well as my gloves and my track boots in order to recreate the realism when I ride my motorcycle. Note that this step is not mandatory, but wearing gloves and boots is strongly suggested.
We started with a warm-up so that I familiarized myself with the operation of the simulator and so he could make his observations. We then proceeded with the steps of course 1 mentioned above. The techniques are dissected one by one and very well explained by Sebastien.
Like dance choreography, we start with the first step, then the following ones to integrate them all and manage them all at the same time in a more fluid way. Sebastien is an excellent pedagogue and explains very clearly the reasons behind every detail so that we can fully understand what it is for and what will happen if we do not apply the techniques.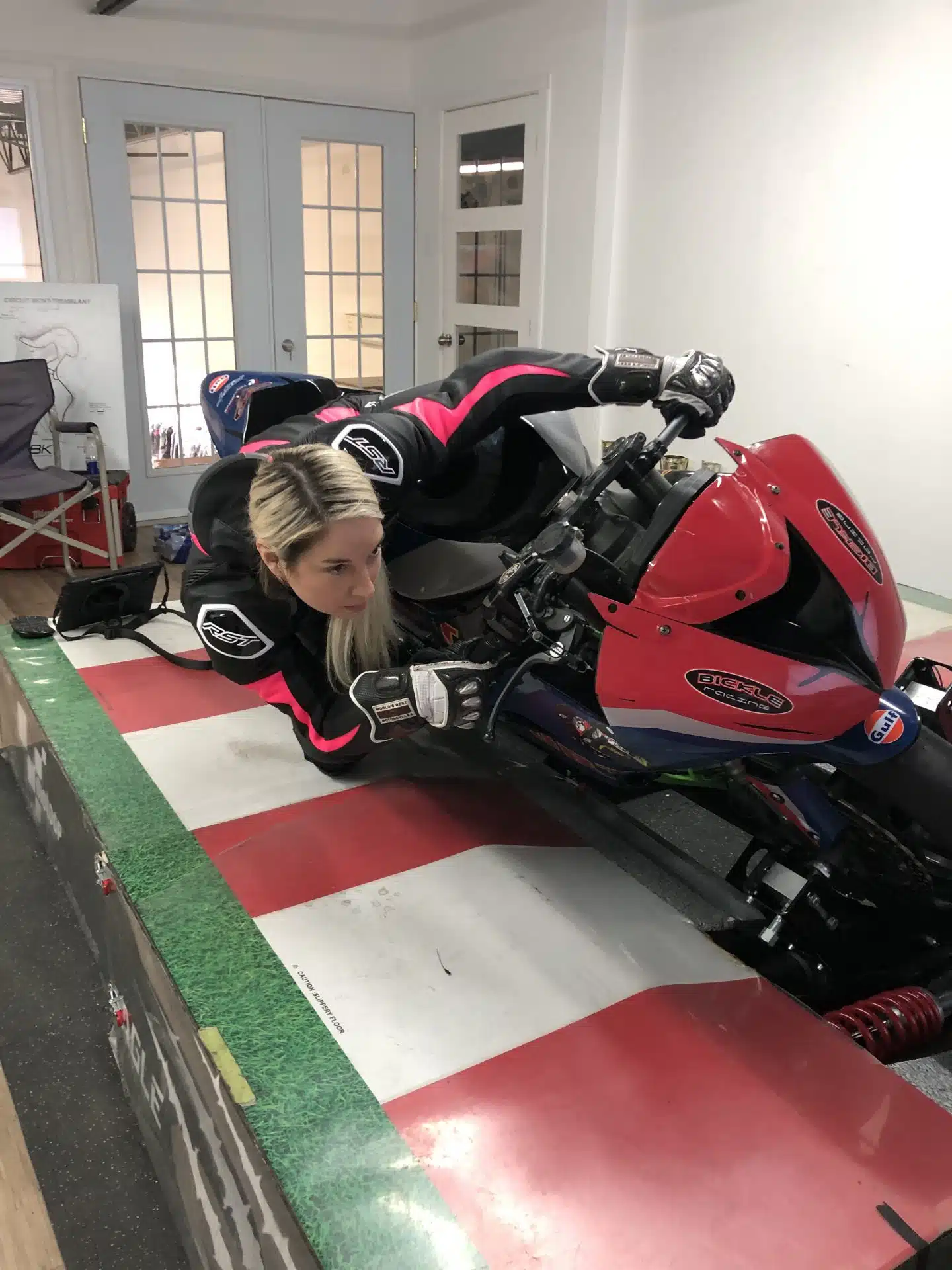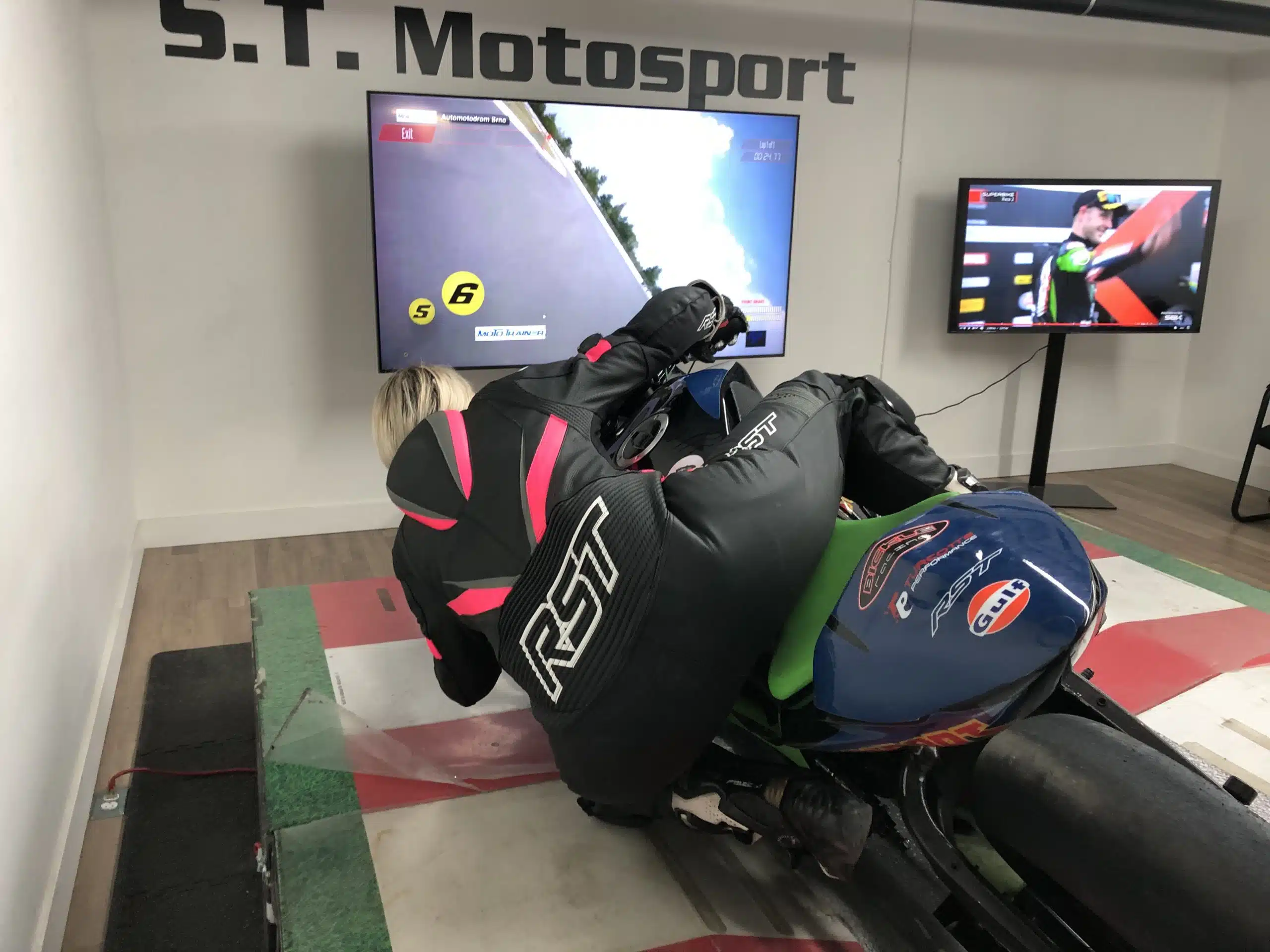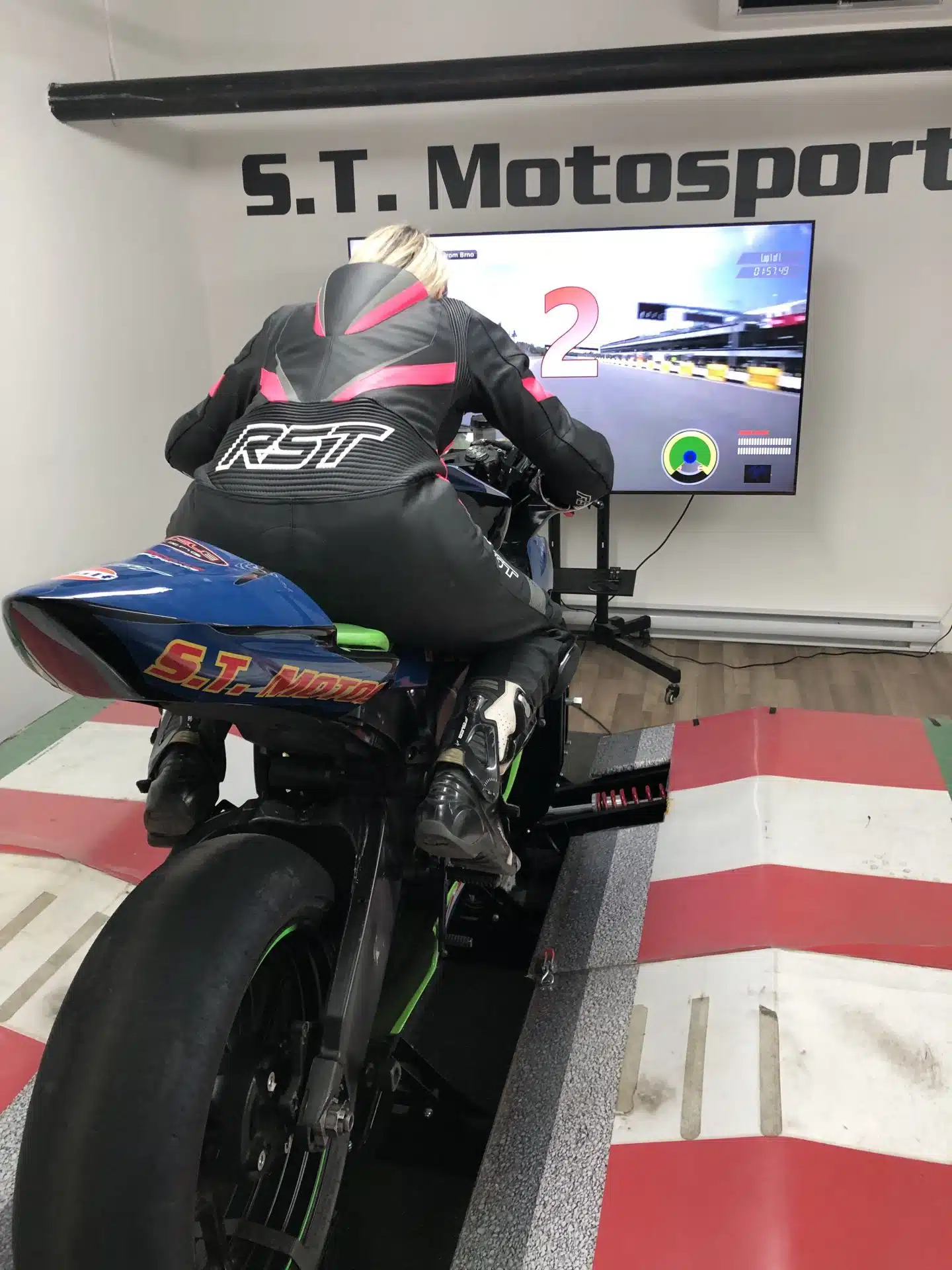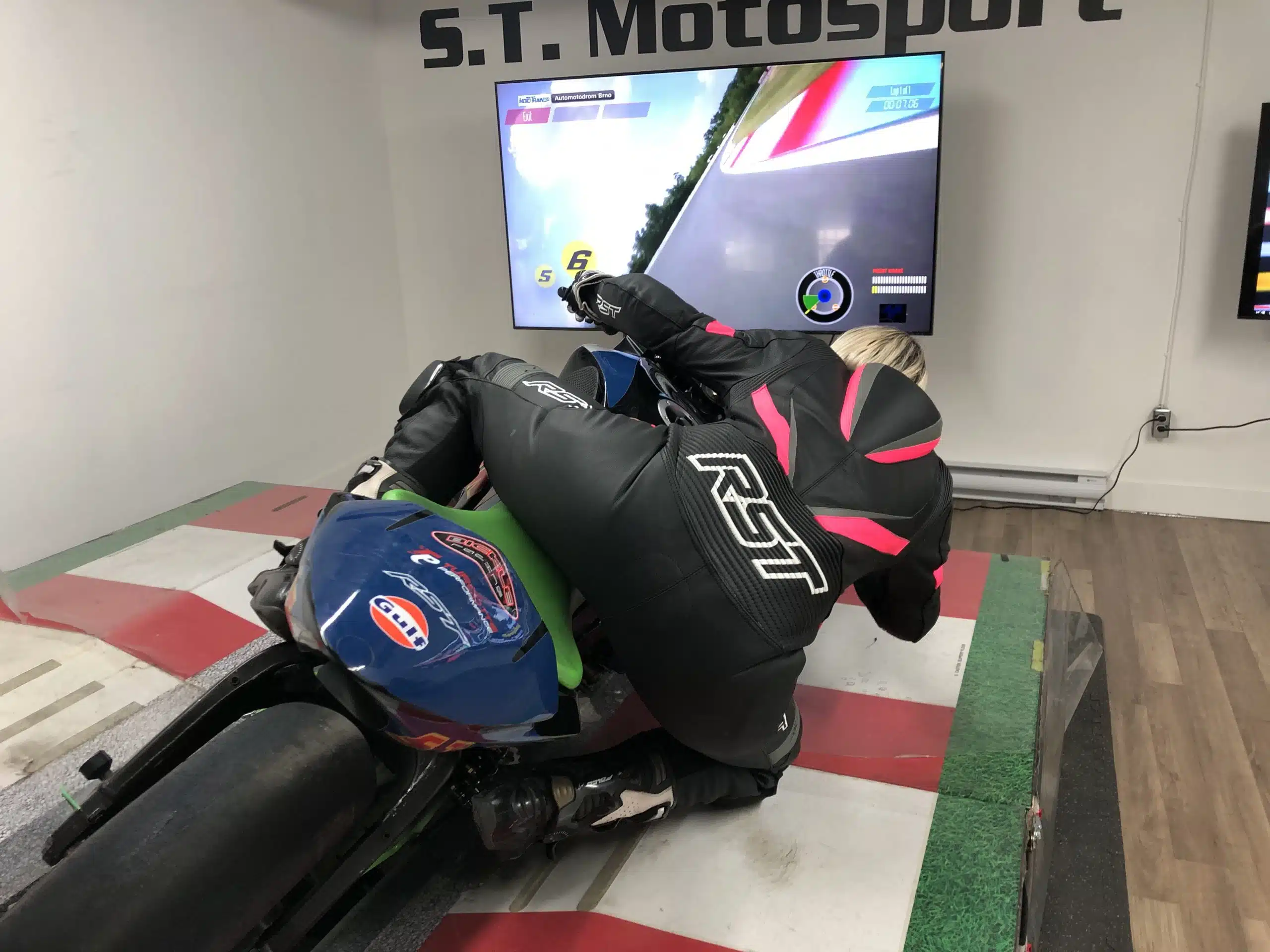 In conclusion
I really loved my experience and I feel privileged to have had a Canadian Pro CSBK champion as an instructor. It is a great advantage to be able to benefit from the knowledge of an experienced person like Sebastien Tremblay.
I have already started applying the techniques learned during my first class on the road and I am really looking forward to doing the same on my next time at the track. I highly recommend this course on the Moto Training simulator with Sebastien, whether you have just had your motorcycle license, whether you are doing trackdays or whether you are racing professionally. Everyone can benefit from it.
I got hooked, I think I am going to take more classes, a session goes by so quickly and I want more!