Discovering the snowy trails of Central Quebec! – Part 2
I had the incredible chance to discover Central Quebec during a winter quad roadtrip, something totally new for me, but so exciting! You can read the first part of our adventures in this article!
Here is the conclusion to my trip that tought me to enjoy winter!
St-Ferdinand here we come!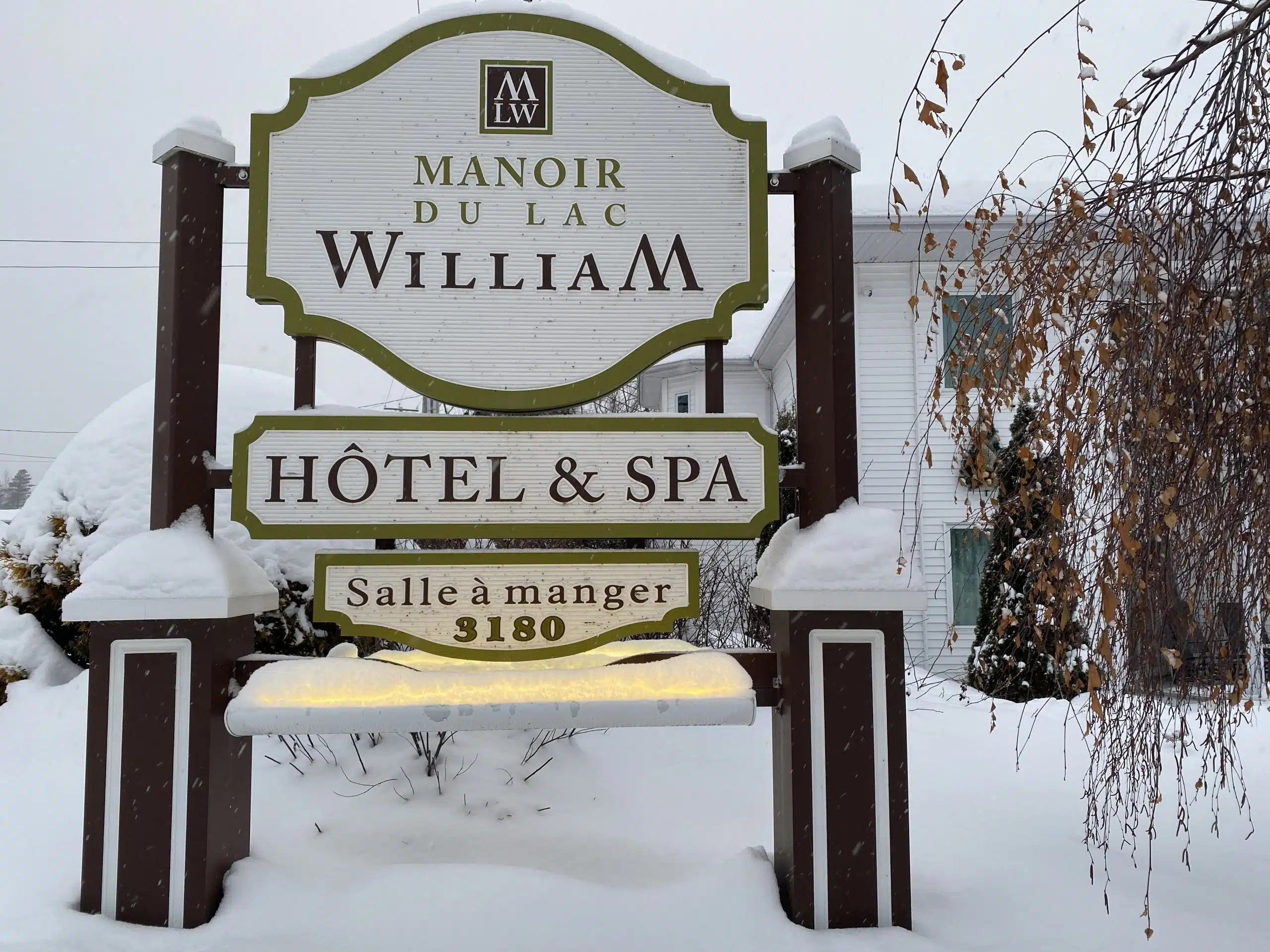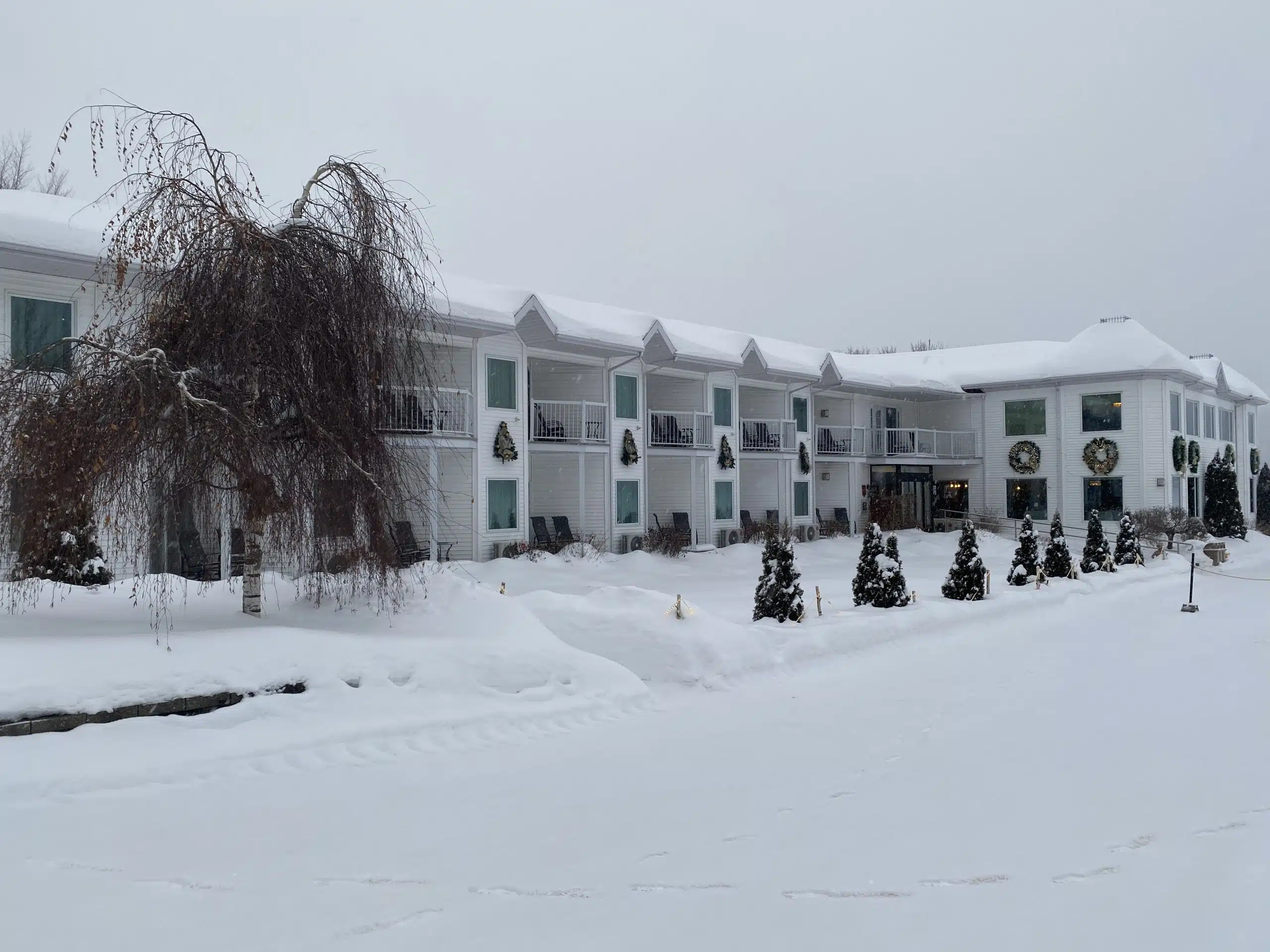 We arrived at the Manoir du Lac William around 6:00 pm. We had a big day. We are tired and a bit frozen. Our arrival at the Manoir is greatly appreciated!
A strong point of this place is that it offers snowmobilers and quad riders the possibility to store their vehicles in a heated garage. This service is very much appreciated by these users. Let's just say that we were happy to be able to leave our vehicles safely inside for the night!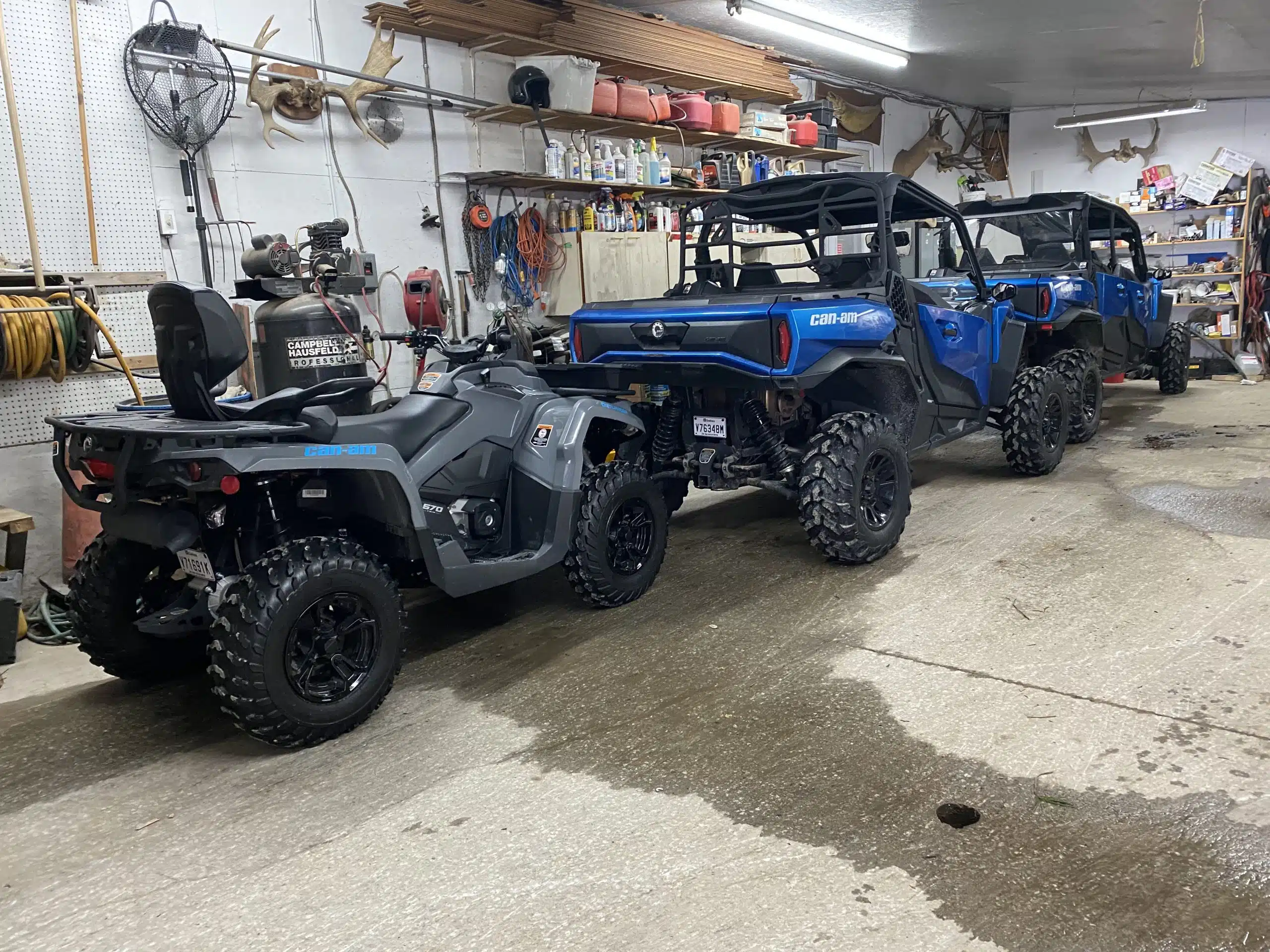 William Lake Manor lives up to its reputation. This manor has been in the Lessard family since 1922. Marcel Lessard, the owner and founder, has an eye for detail and has the well-being of his clients at heart. In fact, his motto is:
"Every guest must arrive happy at the manor and be sad to leave!"
We discover our rooms, which are warm, peaceful and very spacious.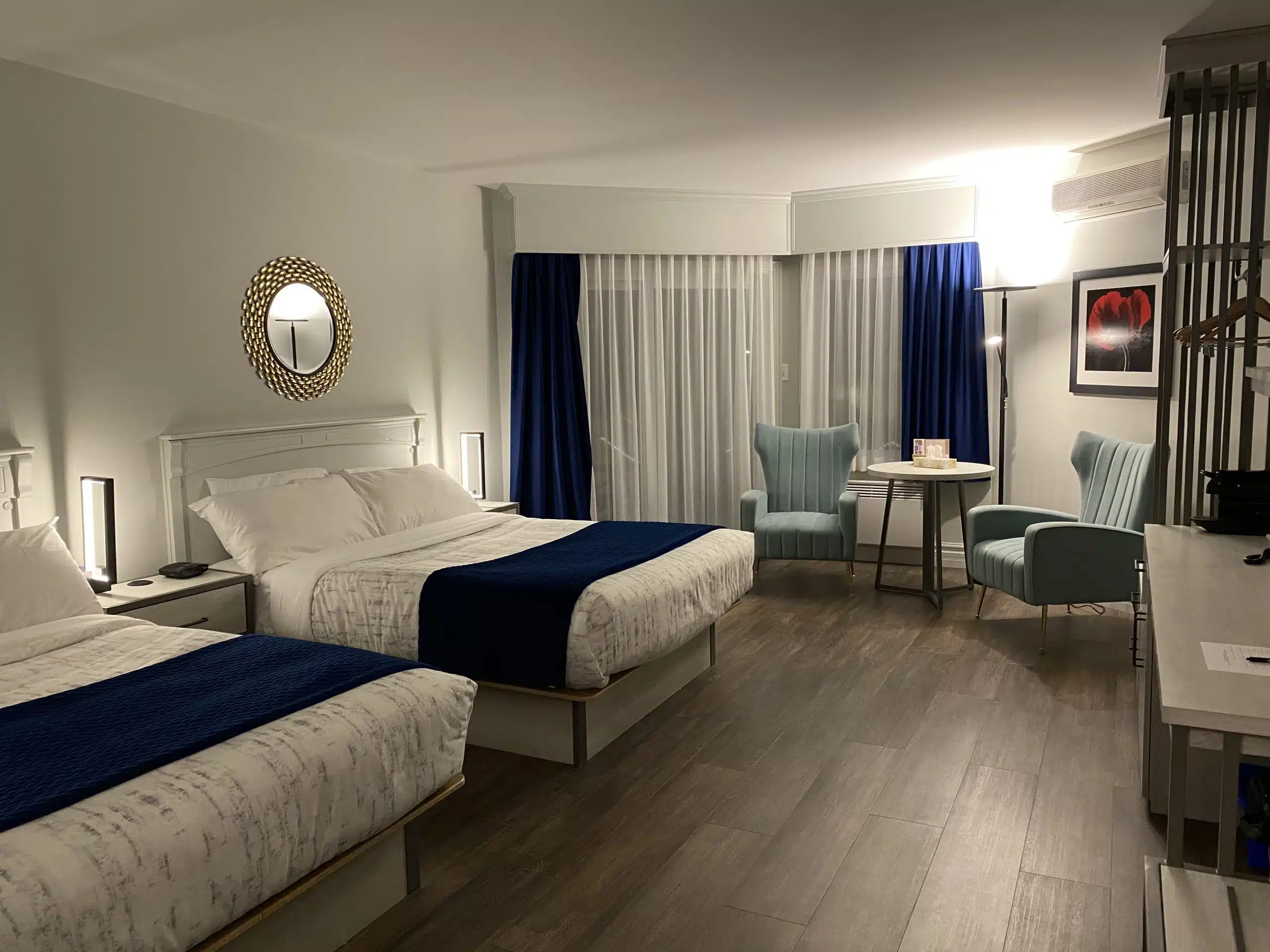 Once settled in our rooms, we decide to visit the pool and the outdoor spas to relax a bit before our dinner! The warm water feels very nice after a long day of quad riding and we take the time to talk about the fun moments we just lived on the trails.
The spas are classy and clean. It was hard to leave them, but the supper bell was ringing; it was time to go fill our stomachs.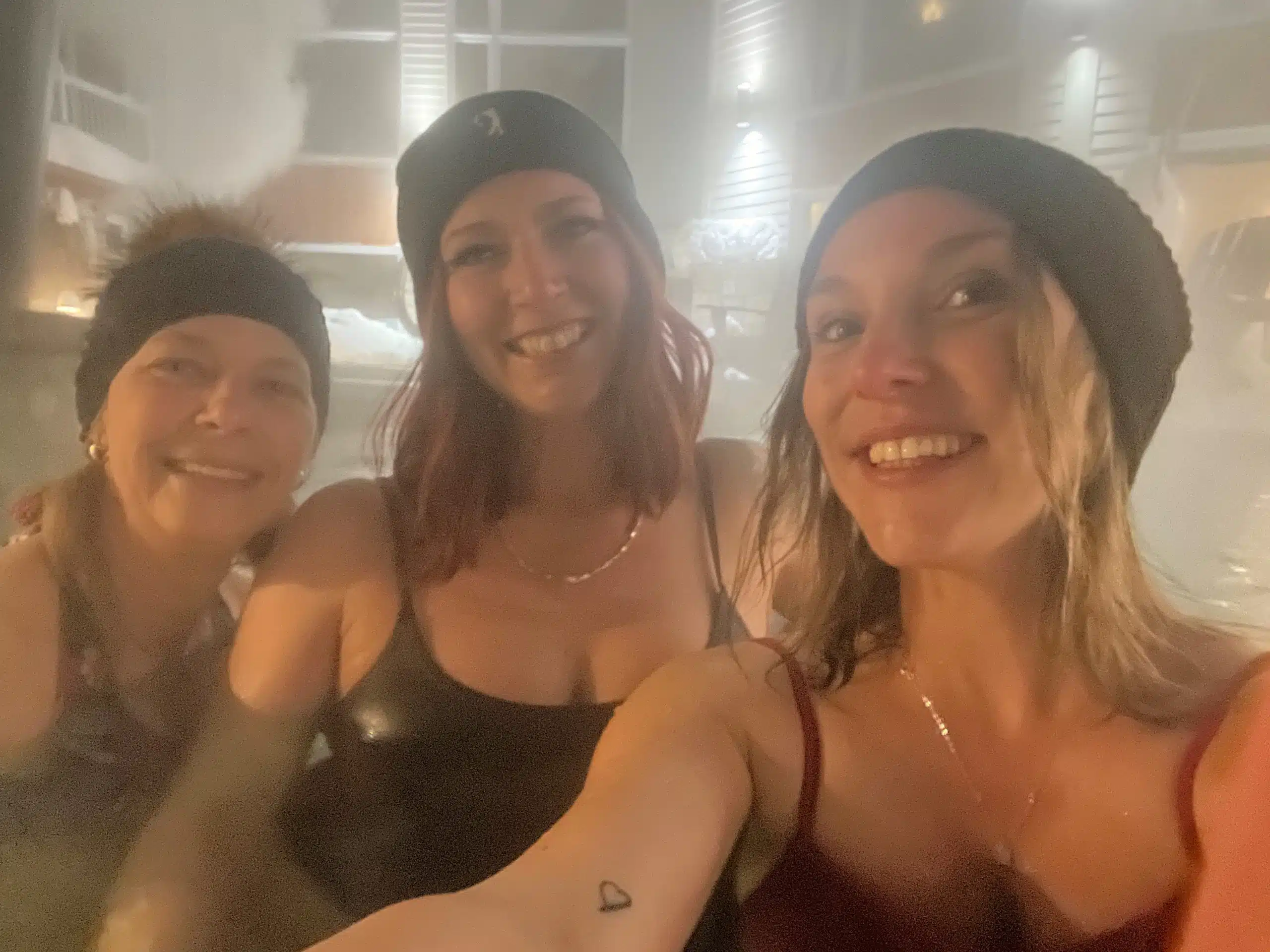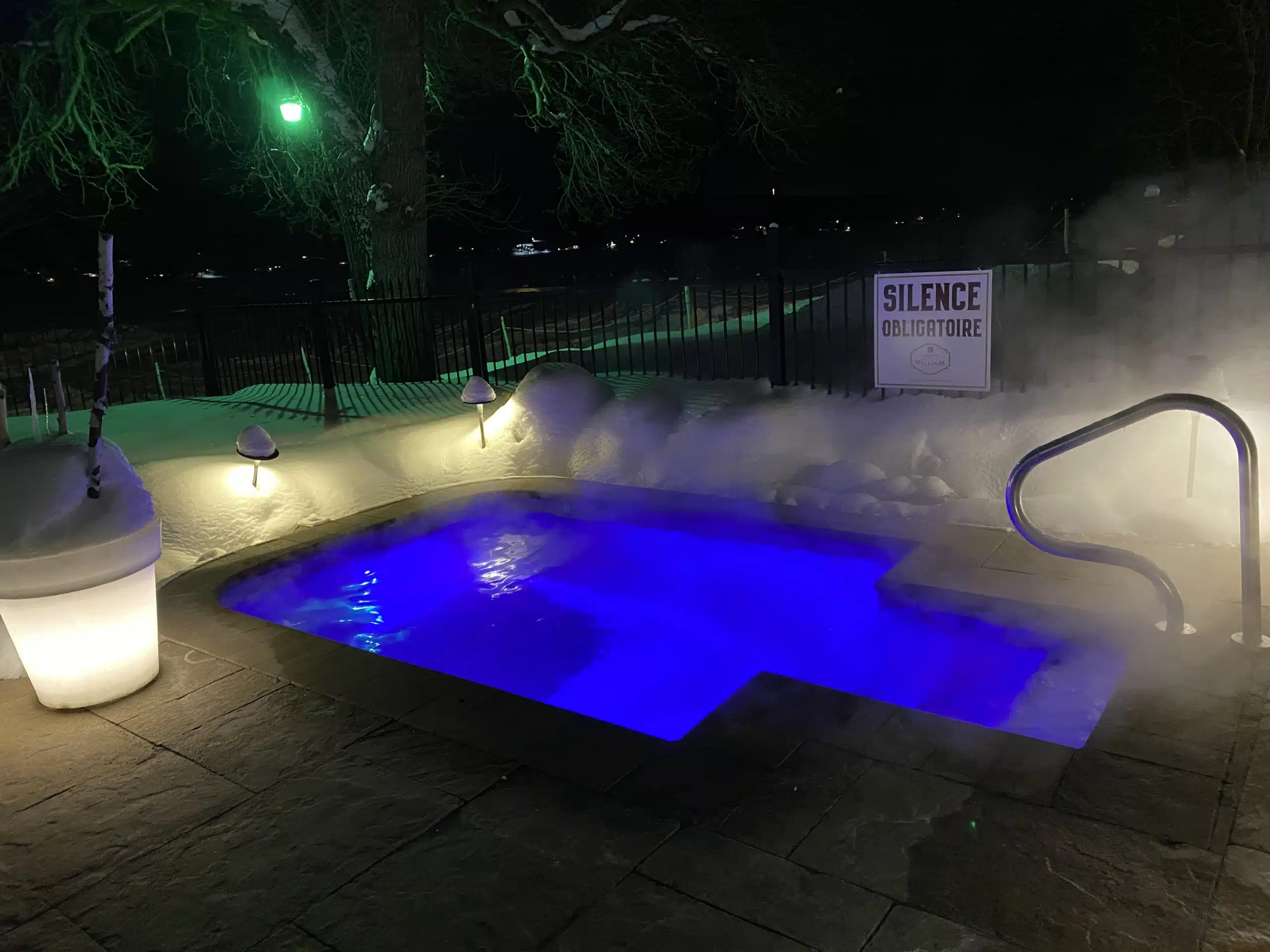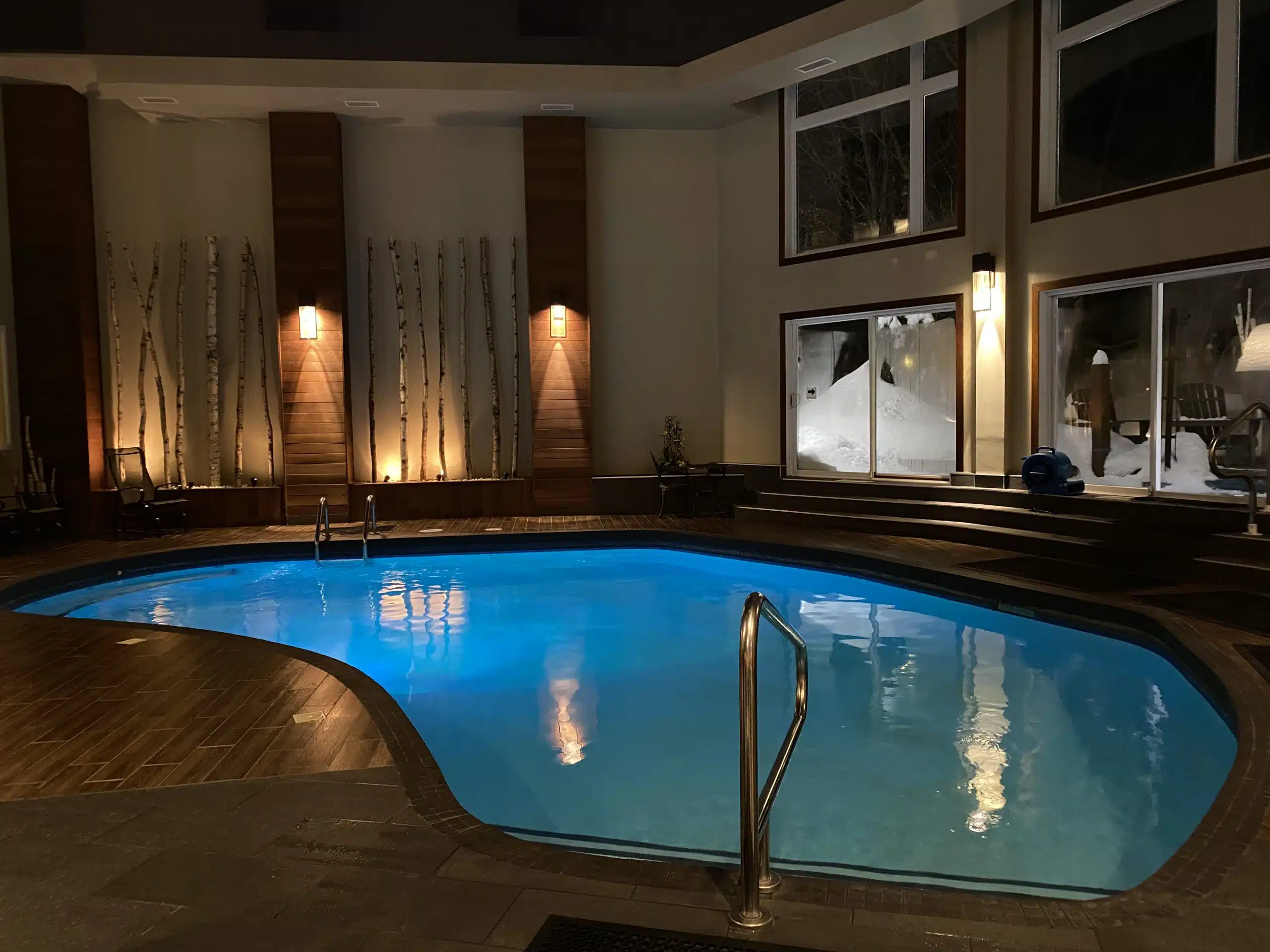 After enjoying the hot tubs, we head to the restaurant where a French chef, Sébastien Gadeau, known for his gastronomy, is waiting for us to make us discover an unforgettable culinary experience. During his professional career, he has been awarded several Michelin stars. Does this give you an idea of the quality of the dishes served?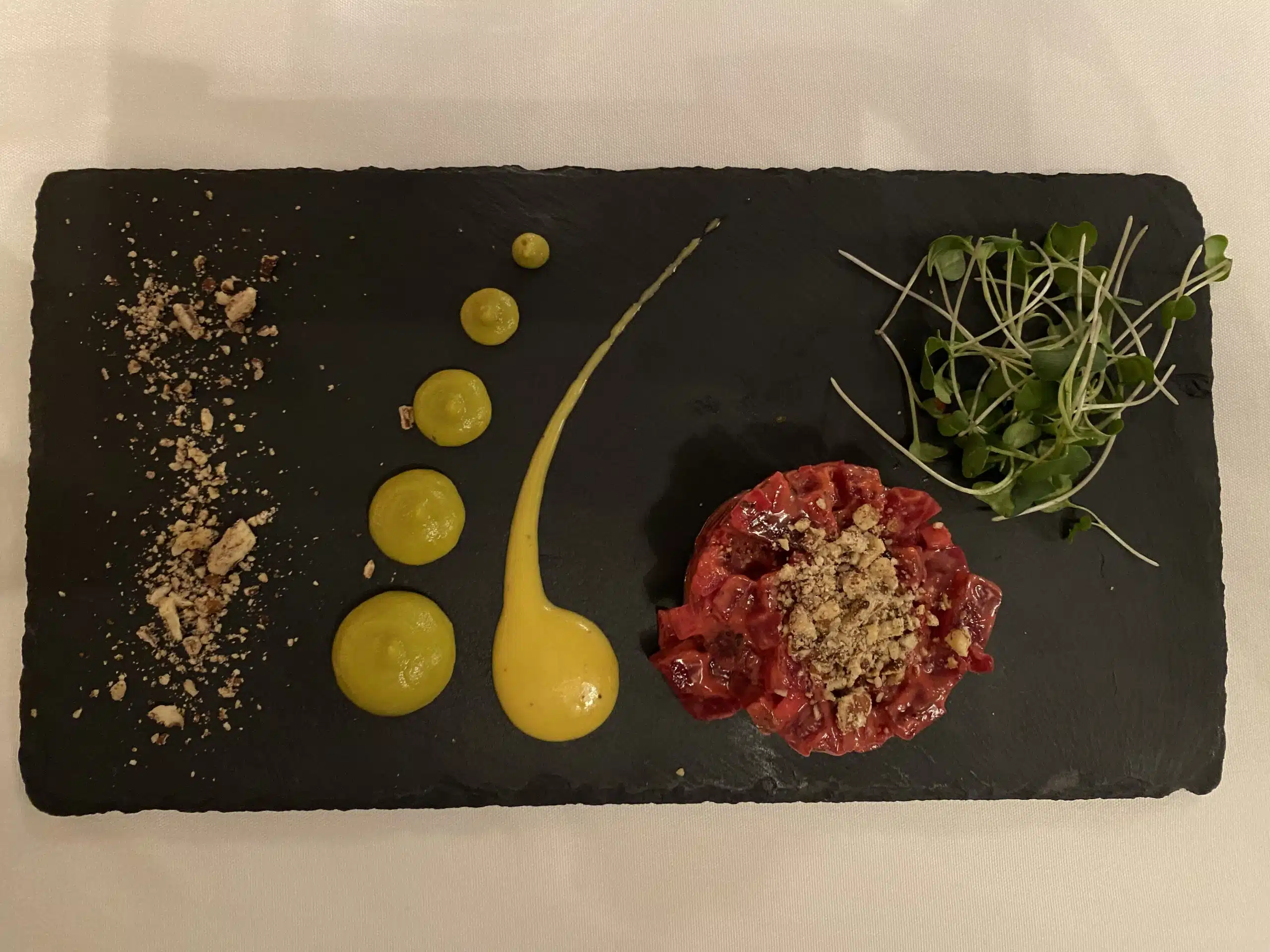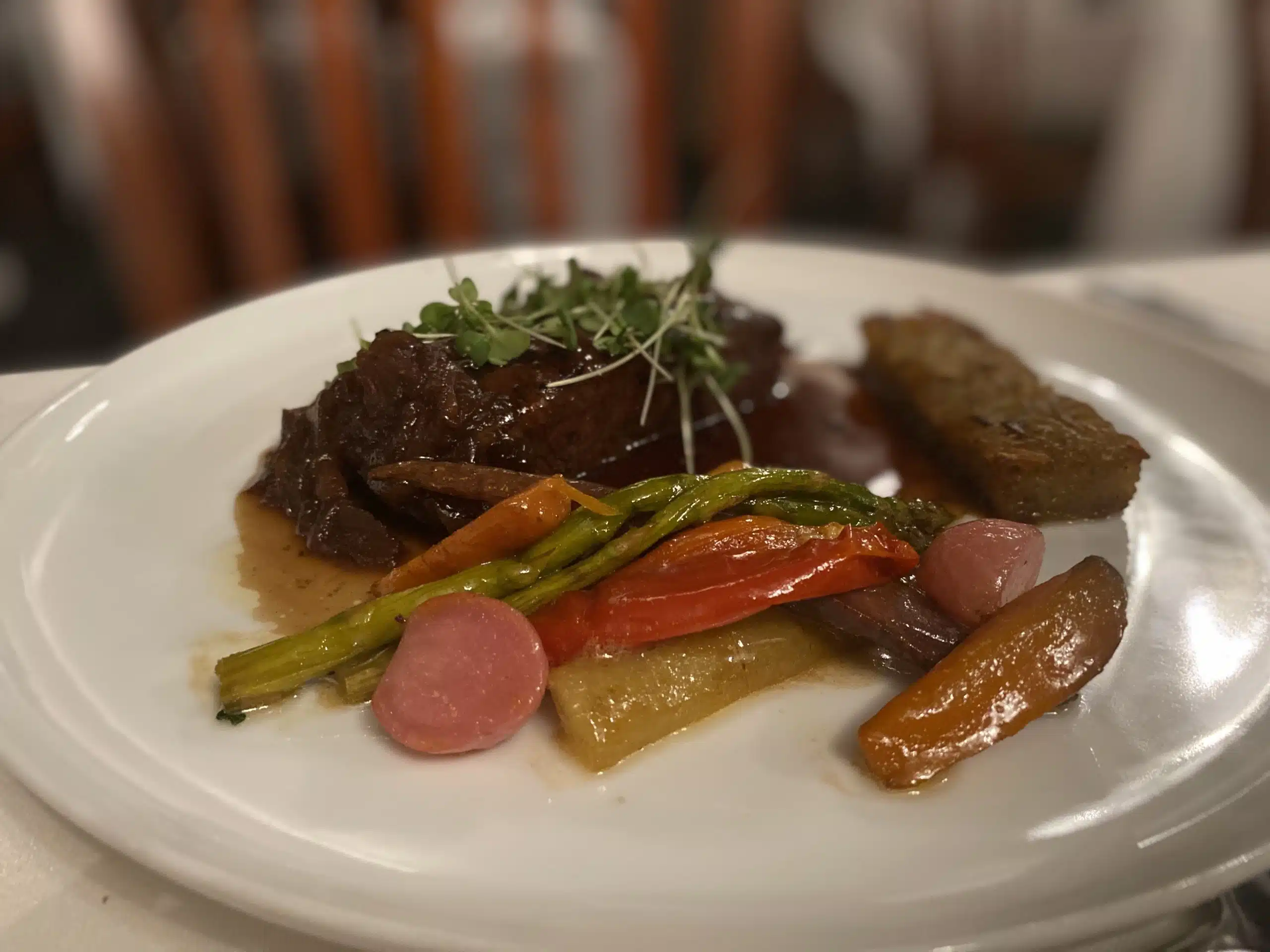 Once satisfied, we go back to our rooms to get a good night's sleep and to be in shape for our second day of quad adventure!
DAY 2
We wake up under the snow! Indeed, it is snowing a lot. We have a quiet breakfast while looking at the landscape outside. The buffet is complete and there is plenty of choice!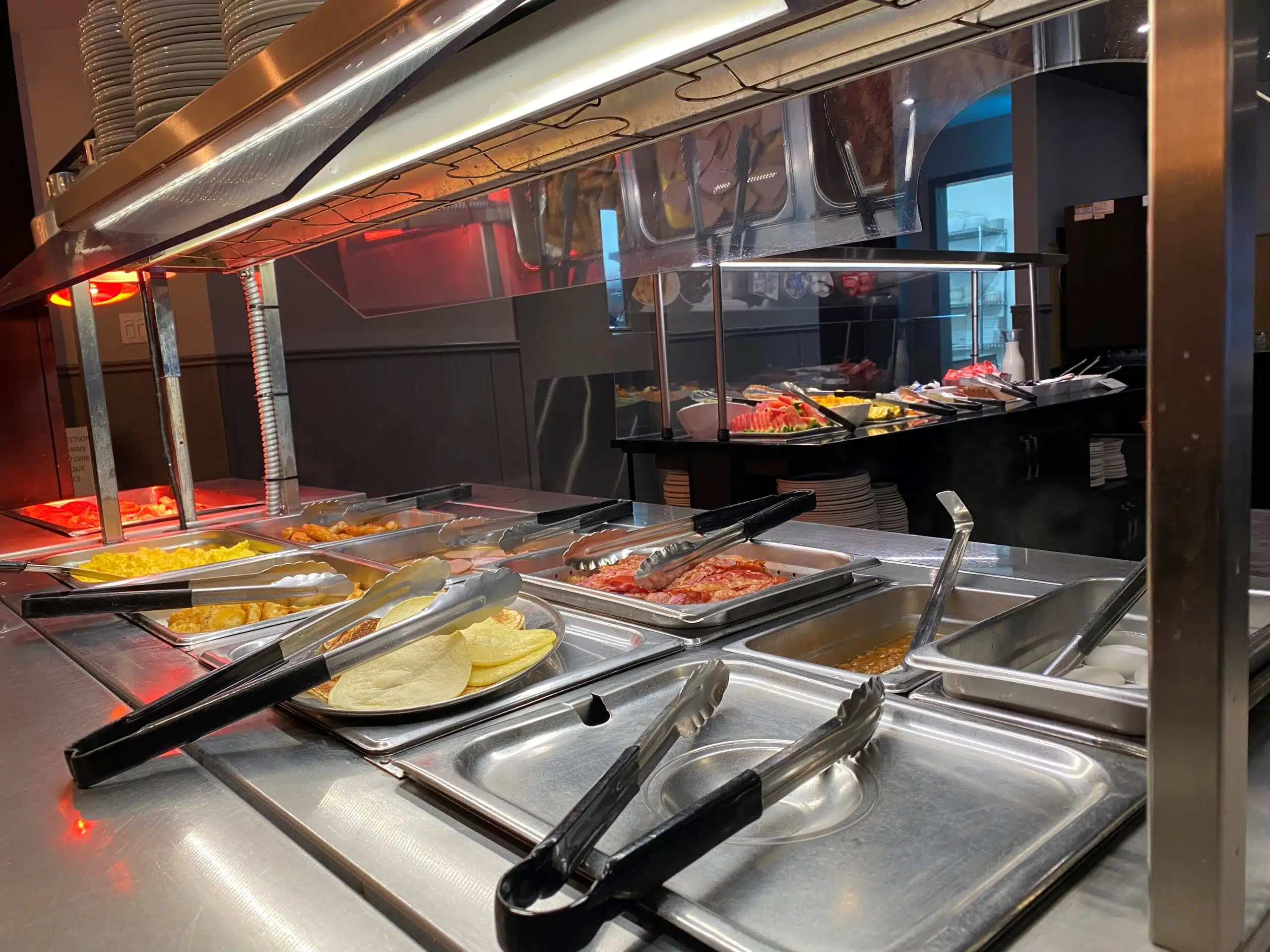 Just before lunchtime, we had received alerts on the iQuad application informing us that the condition of the trails is at high risk of getting stuck. Certainly, with crazy snow falling, this adds a significant difficulty to trail riding.
We planned to go Fat Bike riding that day, one of the many activities offered by the Manor. There are also outdoor skating rinks on the lake, an outdoor fireplace (beautiful in the evening), spas, steam bath, indoor pool, massage, workout room and more.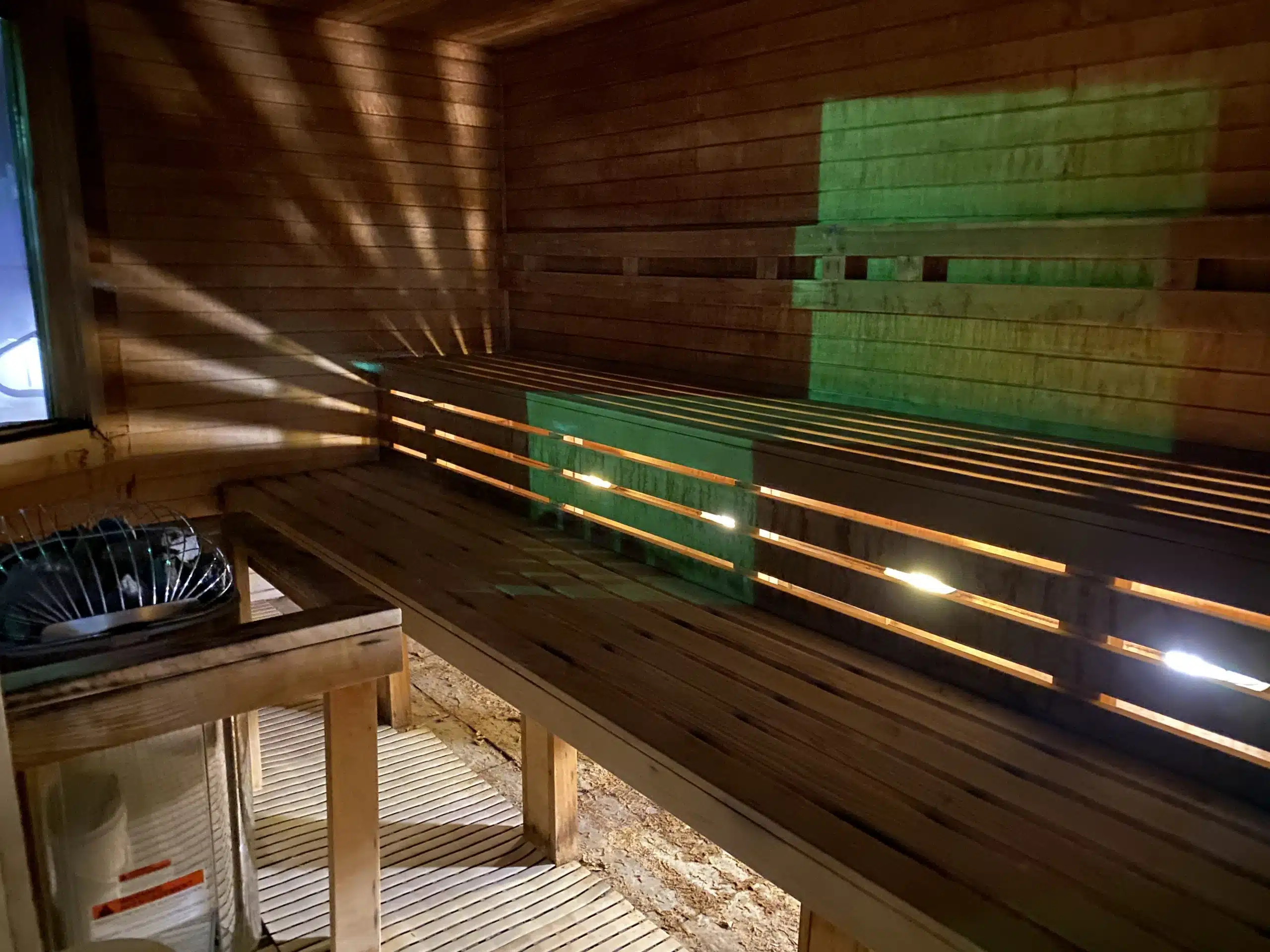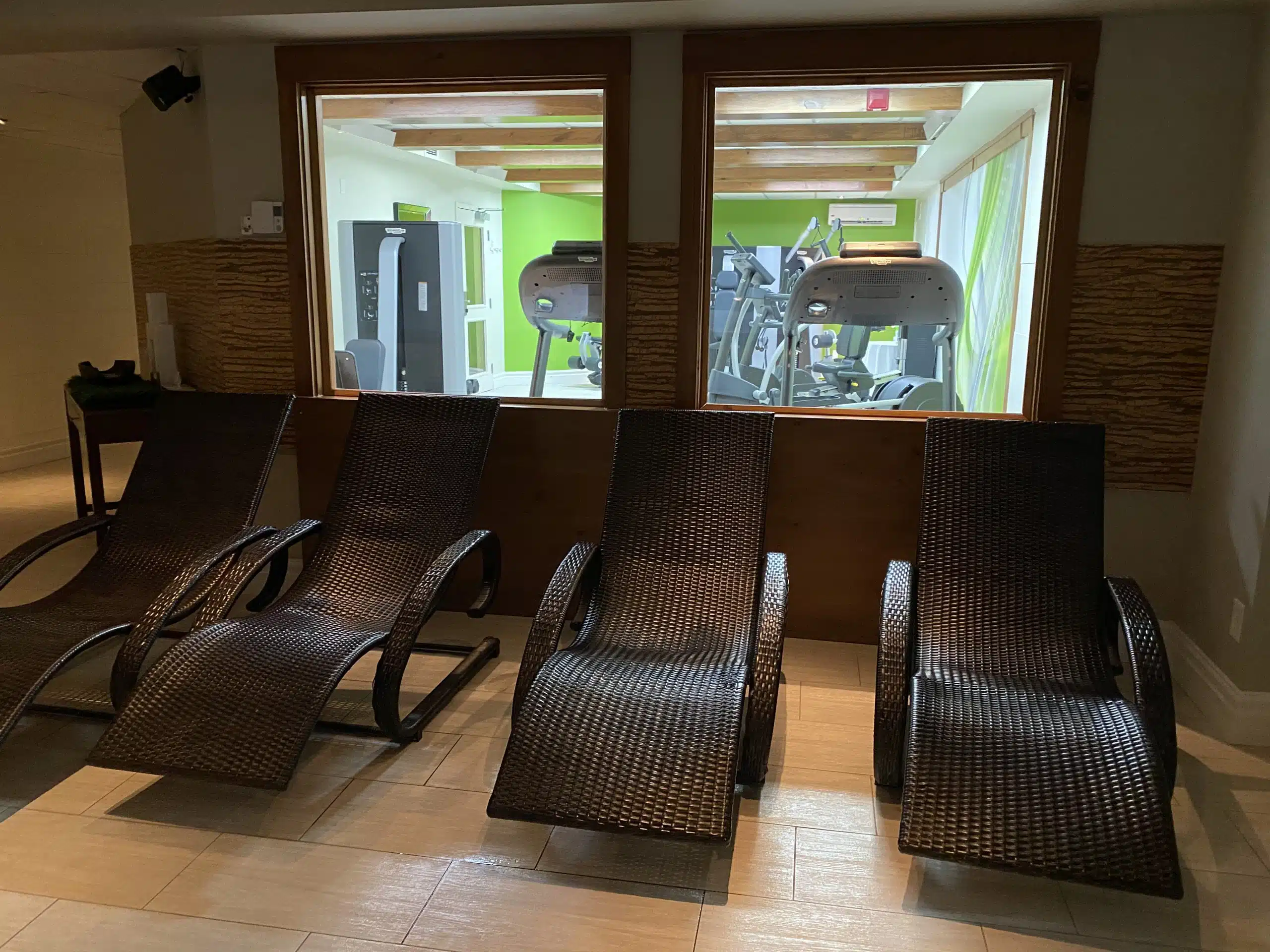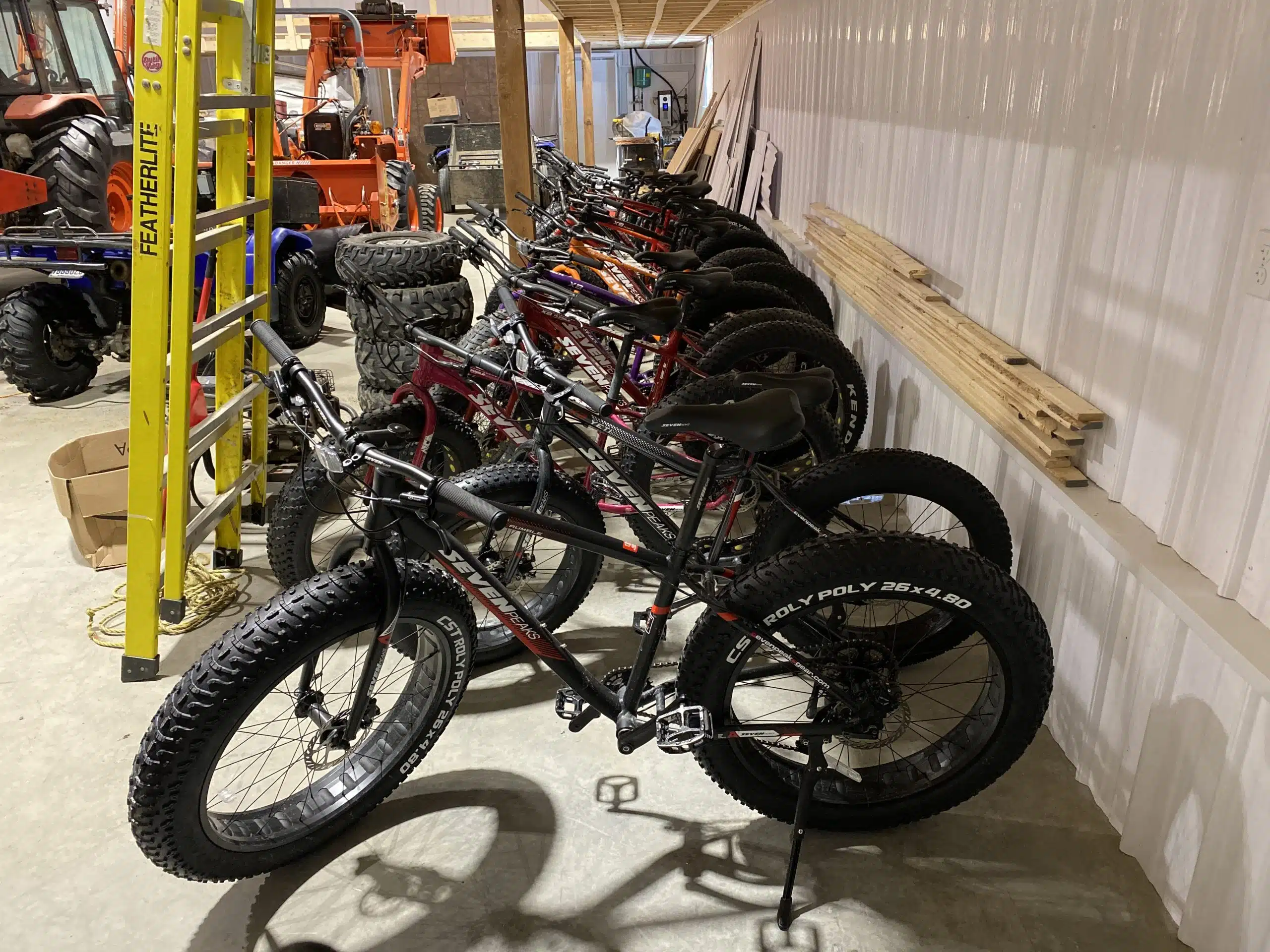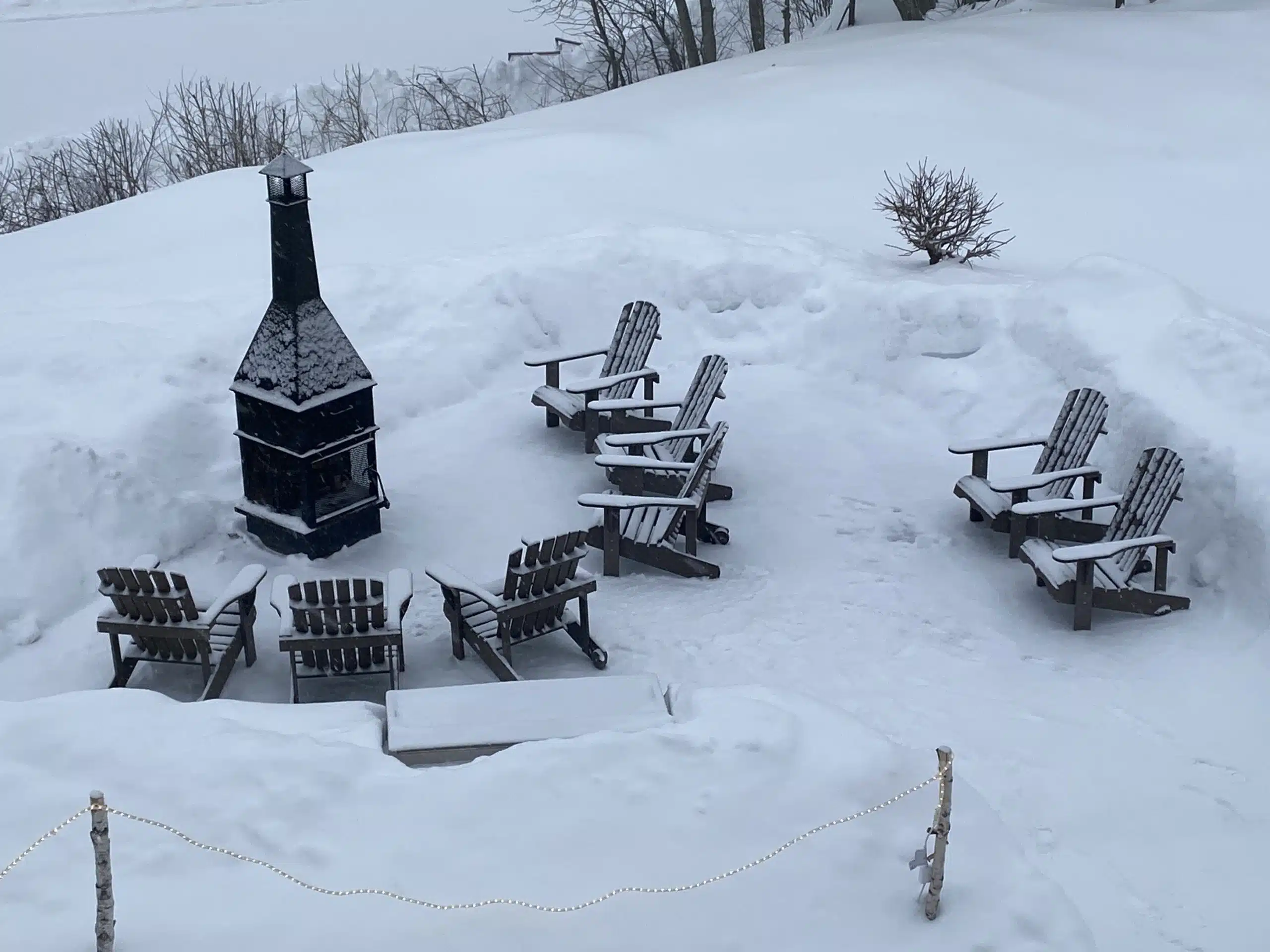 But given the weather conditions, we re-evaluate our planning for the day. On the phone with Marie-Ève from Tourisme Centre-du Québec, she suggested that we change our itinerary and head straight for Victoriaville, our final destination.
With our initial route, we were supposed to visit the Cap-Solaire refuge and the restaurant-relais La Grange Pardue. Two destinations that I strongly suggest you visit if you are in the area. I went to La Grange Pardue during a motorcycle road trip in the spring of 2022 and I loved it. A must to visit!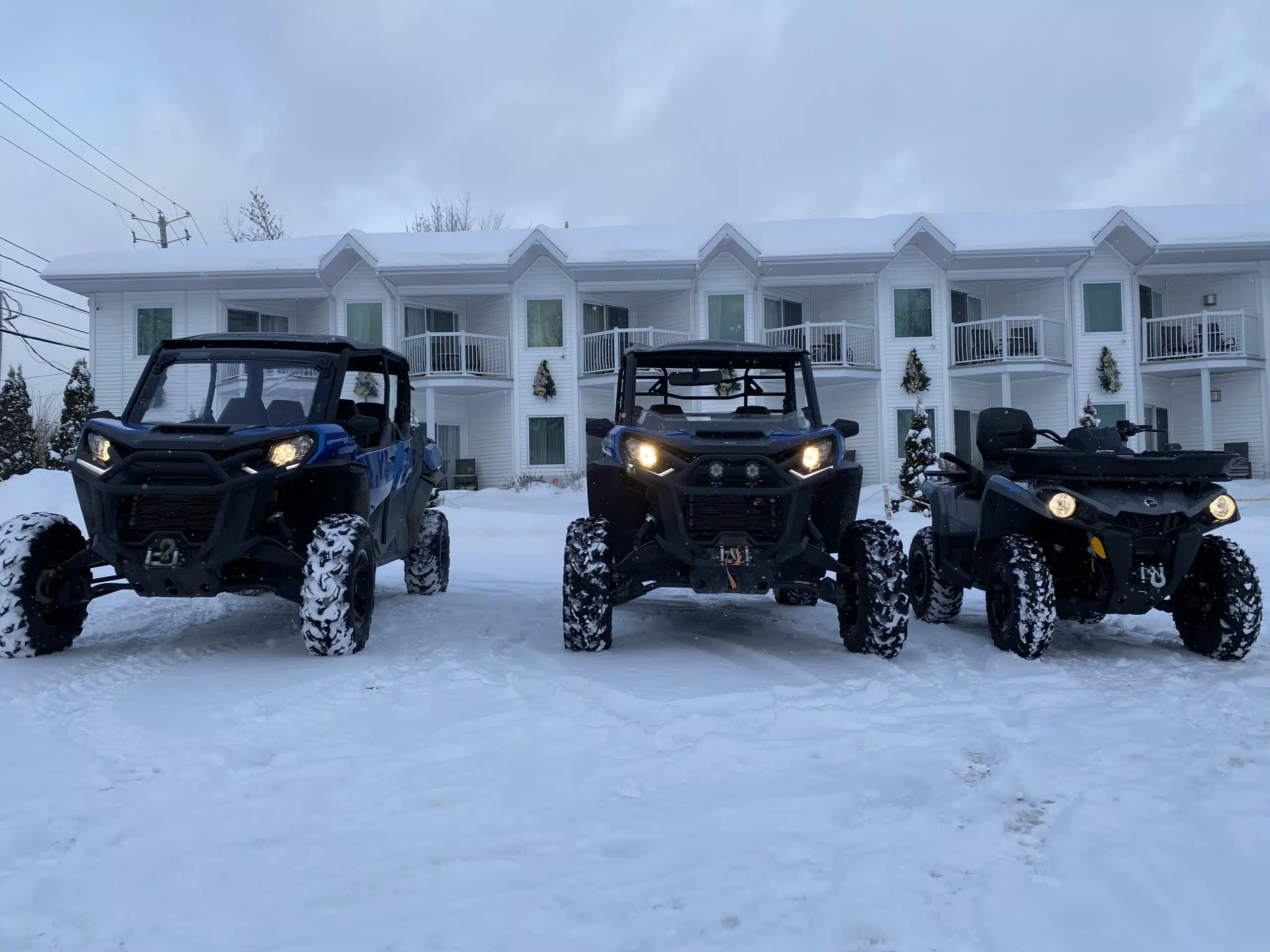 Let's go to Victoriaville!
This time I drive the quad. Despite the difficult weather conditions, I have a lot of fun driving! I have much more fun on the quad than on the side-by-side. The vehicle is lighter and I have a lot of fun!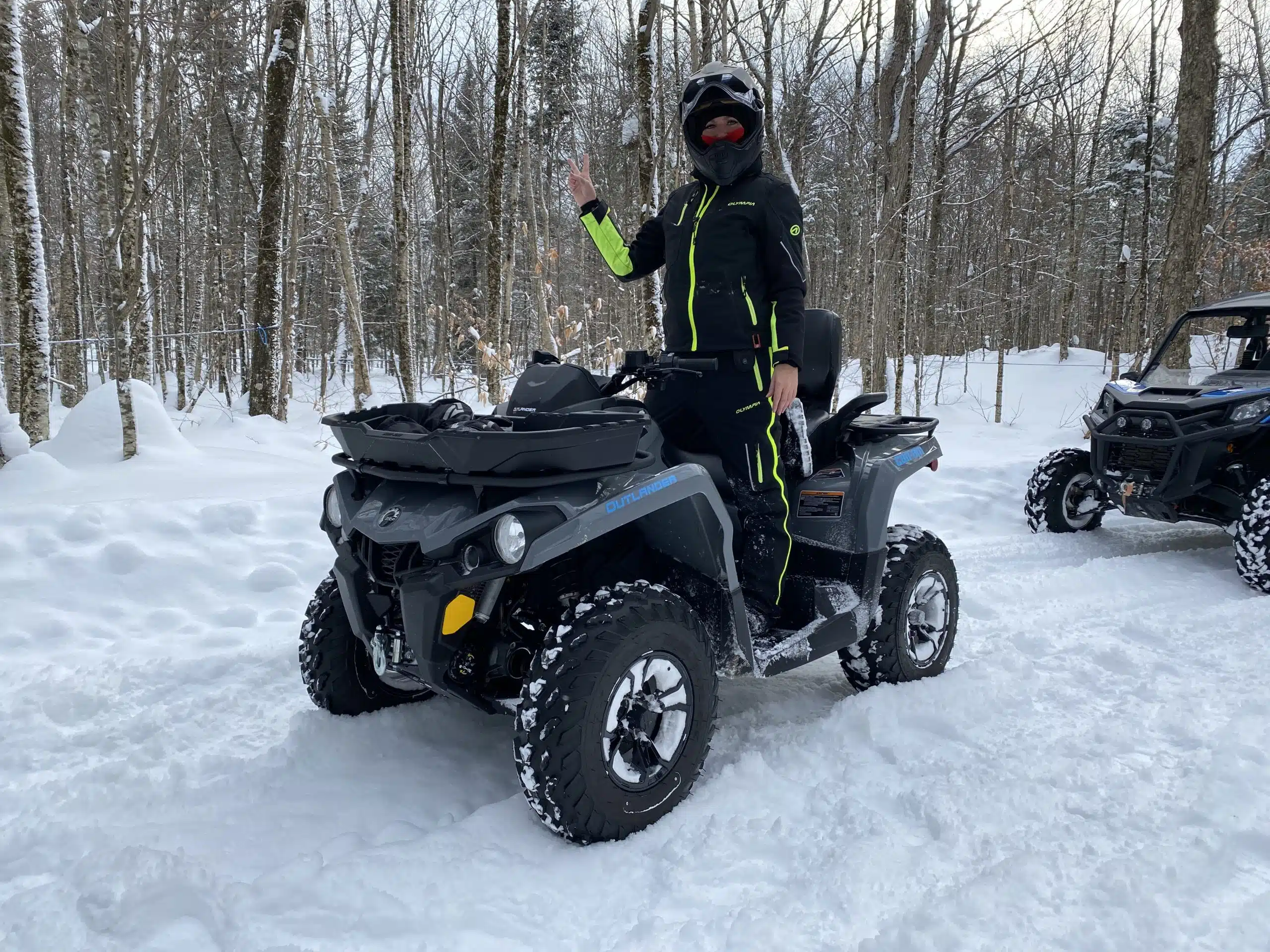 We ride a few kilometers and I realize that it is difficult for the side-by-side to keep driving. The snow is too soft, the vehicles are heavy, the trails are not plowed and the difficulty of driving is at its maximum.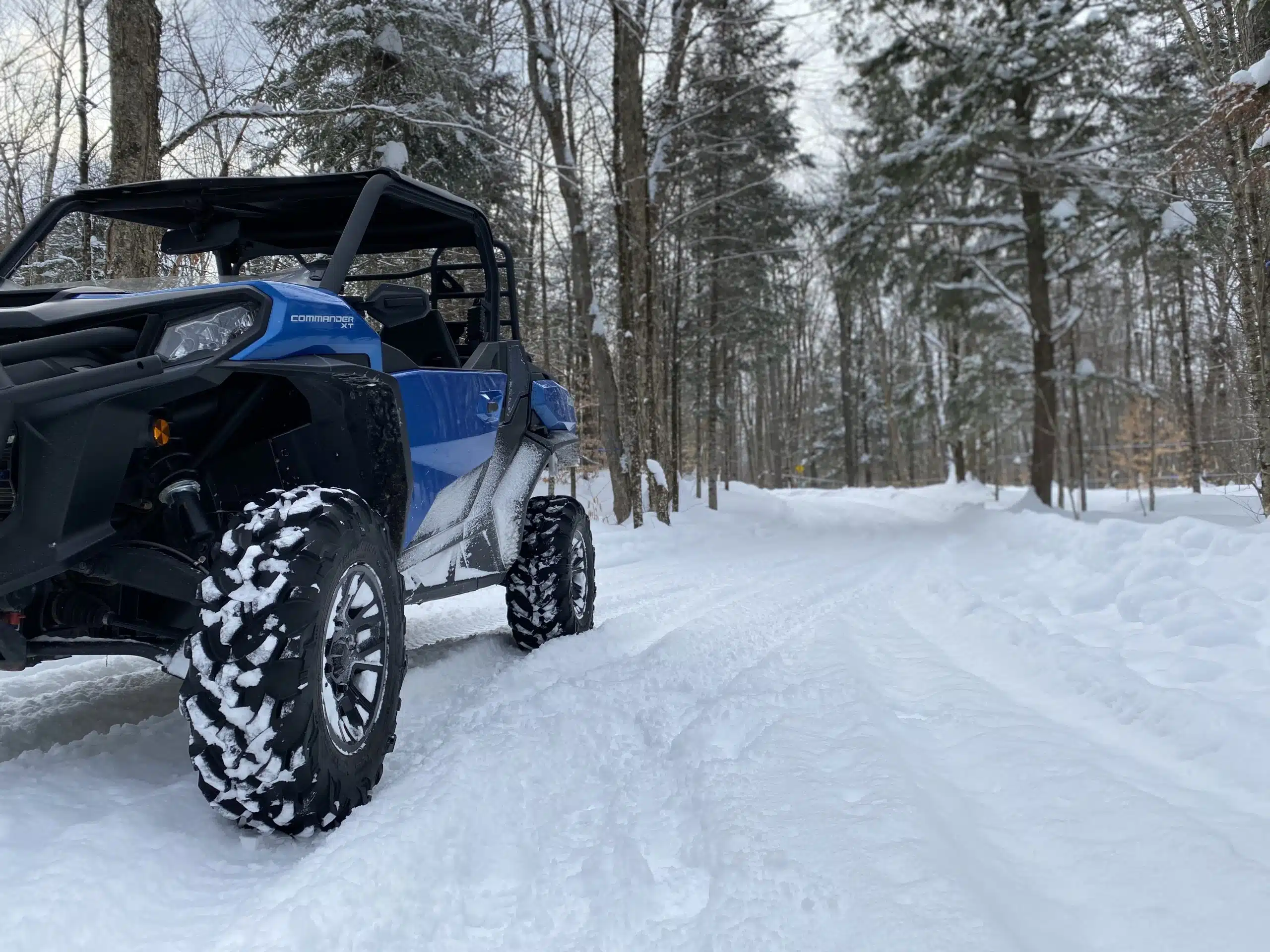 Still in St-Ferdinant, we encounter an extremely complicated slope to climb. It is composed of multiple curves and one of the side-by-side gets stuck. This is the risk of the sport!
So we roll up our sleeves and try to get the four-seater unstuck. We use the winches to tow the stuck vehicle, remove the snow from the wheels, push with all our might. But without success. We are at the height of the Fortier Maple Grove at this time.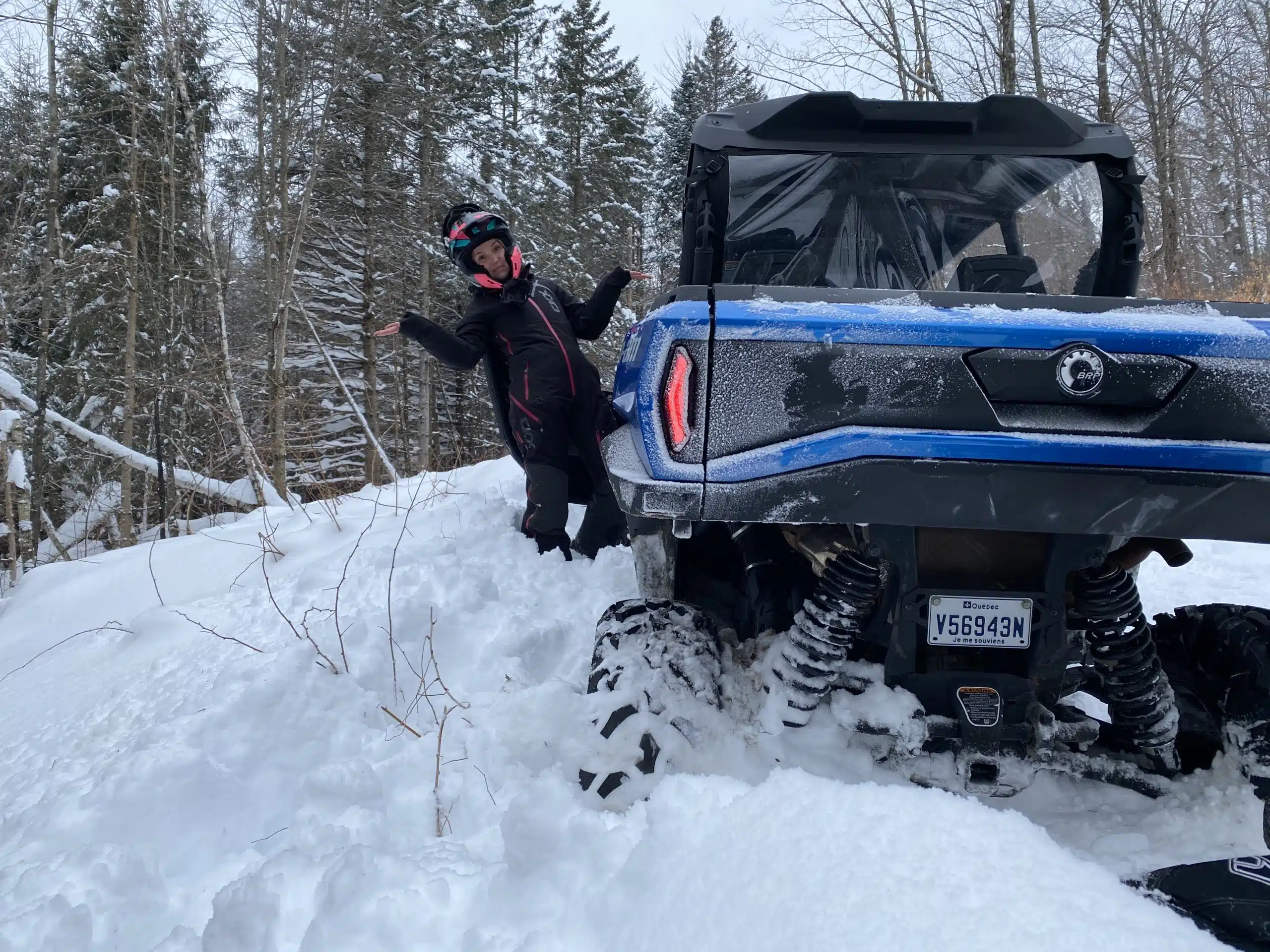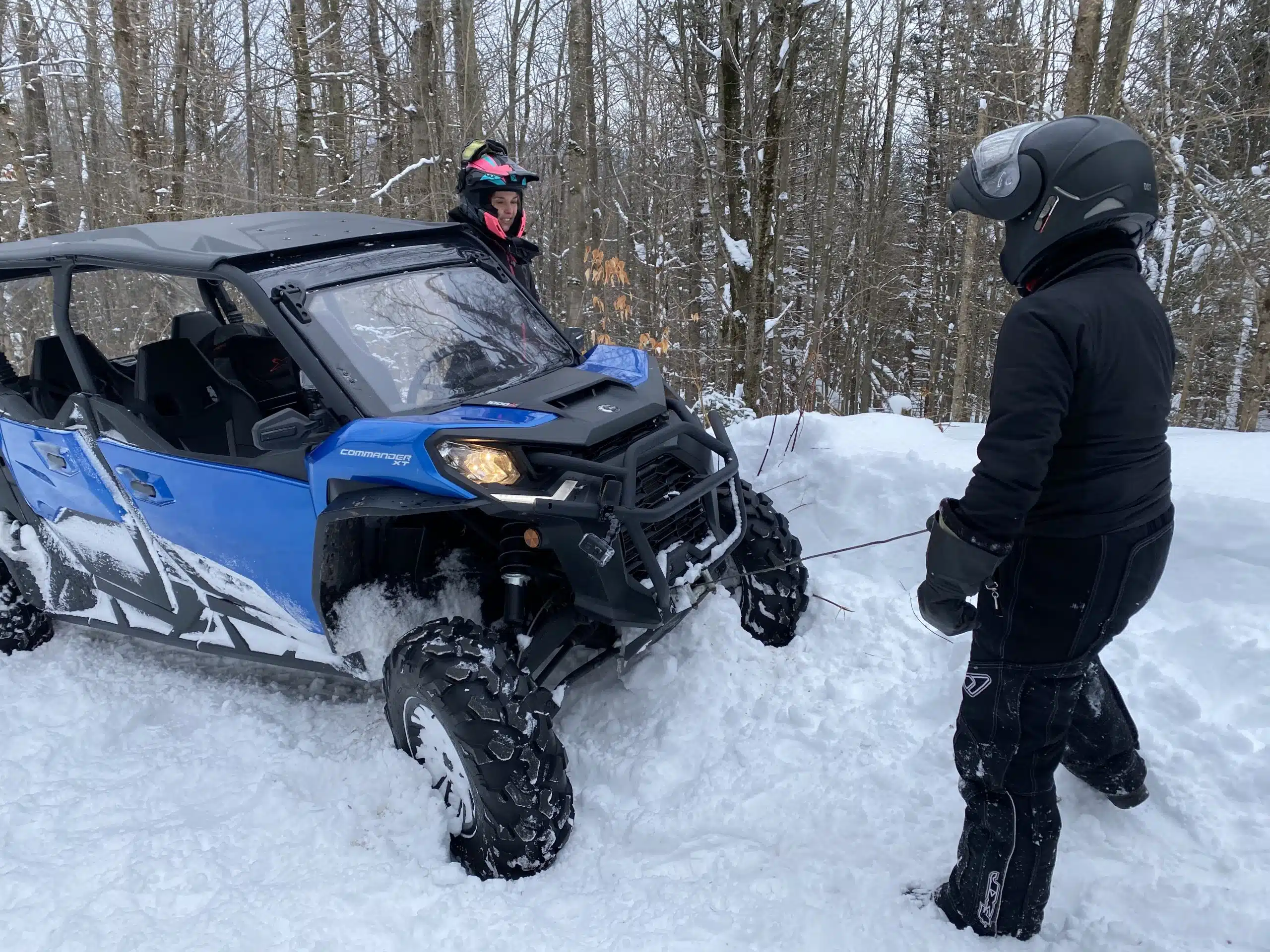 Out of nowhere, two nice young men offer us their help. Working at the sugar bush, Jake Blondo and Derek Fortier escort the two side by side up the slope. My team and I were very happy with their help. In fact, I was pleasantly surprised at how much help and support we got. A big thank you for rescuing us!
Back on the trails in Plessisville, we stopped to admire the forest and catch our breath! The trees are covered with a thick coat of snow and it's beautiful. That day it was extremely quiet on the trails. Calmness reigns. We take a moment to do my interview because our journey is part of the filming of the show Chicks And Machines! Once finished, we take our way back to Performance NC where we drop off our machines.
It is already the end!
To finish our trip, we go to the Complexe Hôtelier Du pré. The kitchen was closed, but they knew we were coming so they were waiting for us with an excellent hot meal.
In summary
My summary of this trip is without a doubt the pleasure of driving two completely different types of machines! My friends and I had a lot of fun in the snow.
We had to change our route during our adventure, but that's part of the sport. We are always at the mercy of Mother Nature, an important factor that cannot be controlled. Fortunately, we had Marie-Eve Lambert from Tourisme Centre-du-Québec who took good care of us and guided us safely throughout our discovery of the trails in Centre-du-Québec.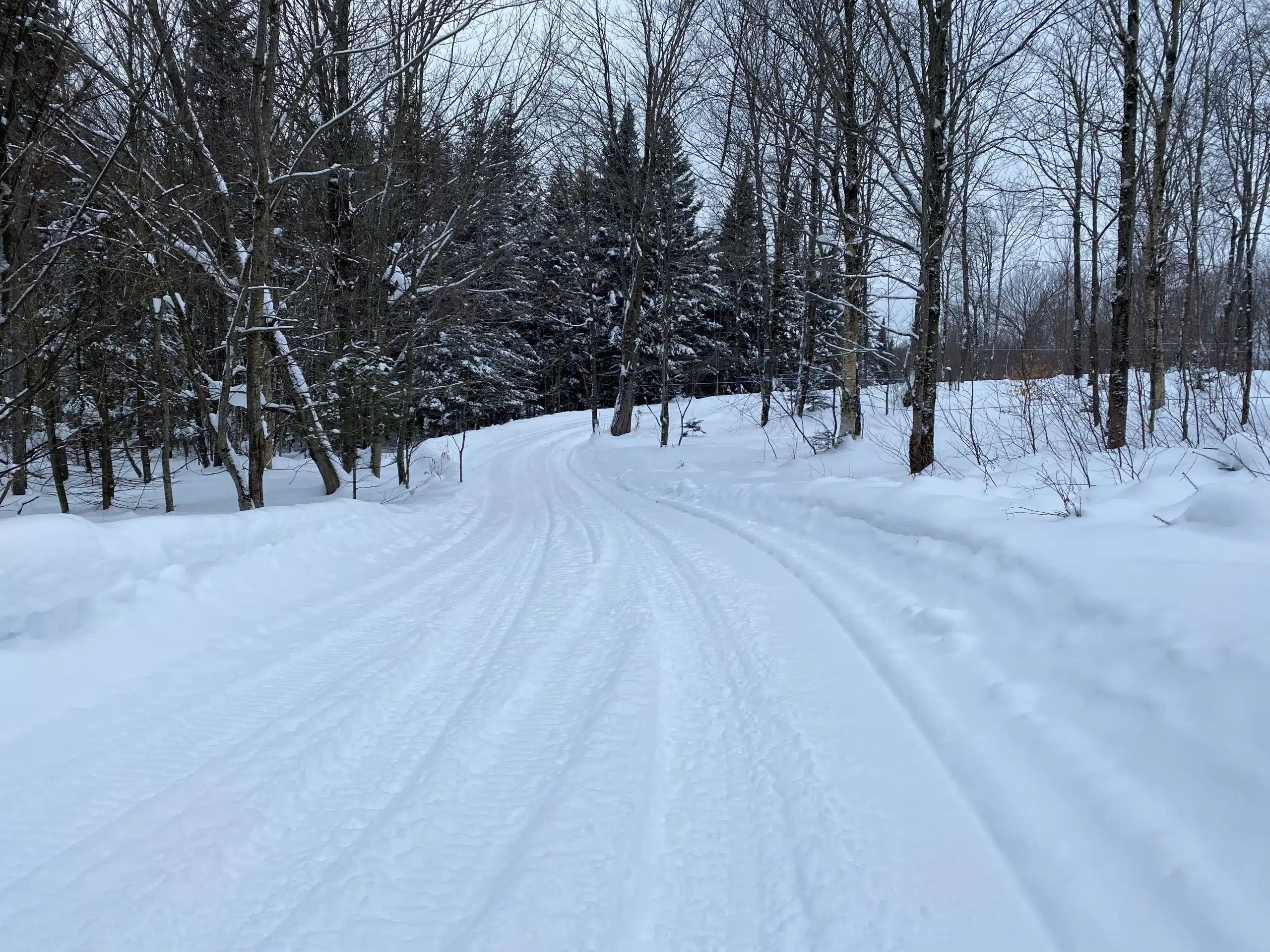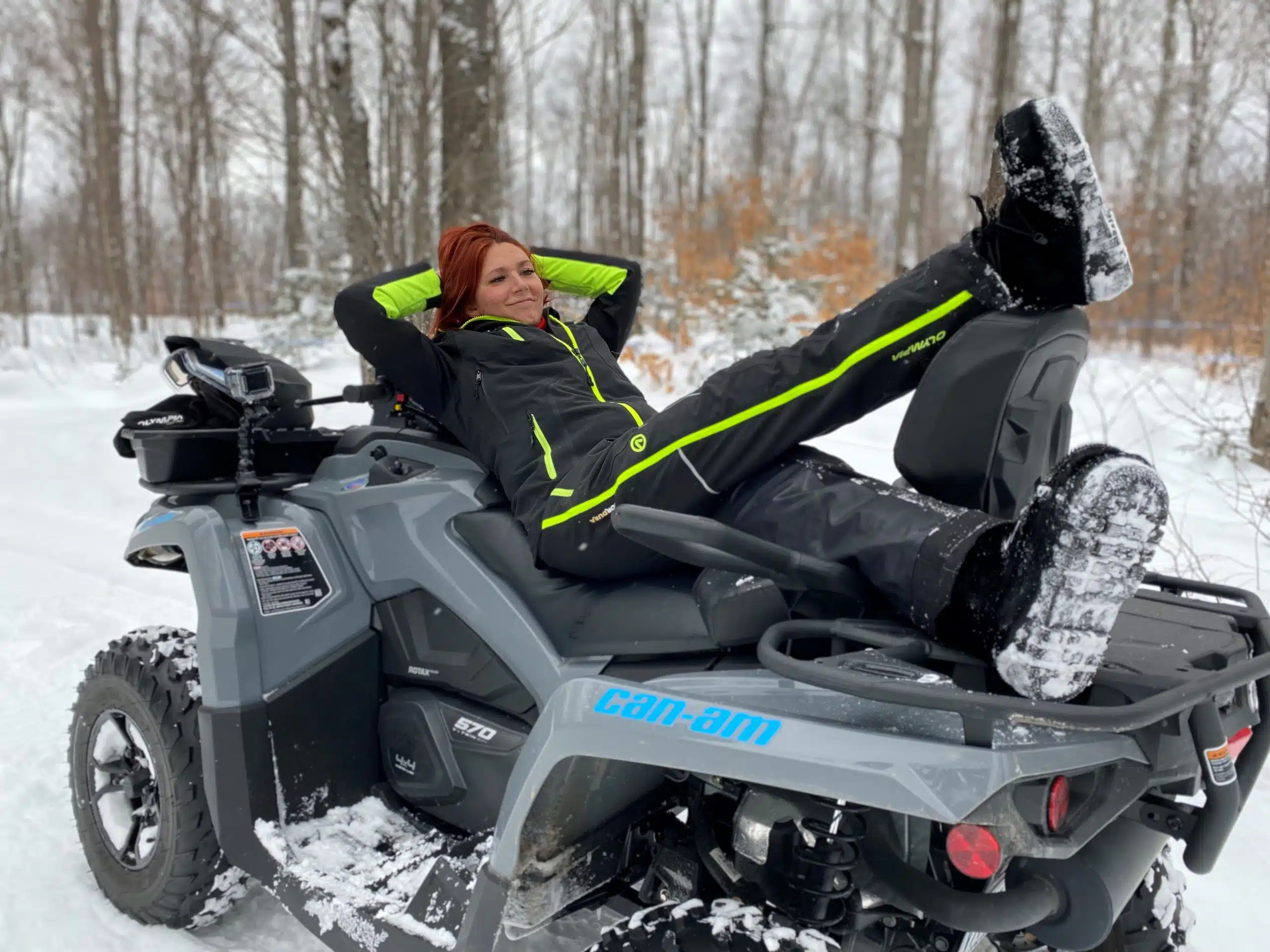 Thank you and see you on the next adventure
Caro G.