Do you own a personal watercraft, or do you think about renting one this summer? Do you crave for new adventures, and is your personal watercraft sick of going around in circles on the same lake? Why not plan a little roadtrip on the water with a personal watercraft this summer!
In a past article, you discovered our first watercraft destination: The Ottawa River.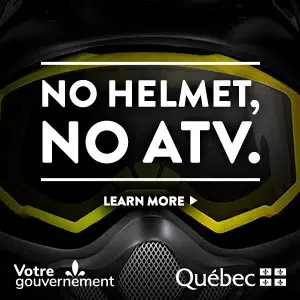 We will introduce here the second of our three water destinations for the summer: the Saint-Lawrence River!
The Saint Lawrence River
Not only liners can travel on the Saint Lawrence River, personal watercrafts too! Unlike what we could imagine, there is not too many liners on it, and the water is not that rough.
In my opinion, what makes the Saint Lawrence River special is the fact that even if it crosses many cities and villages, the view from the water does not leave the impression to be in an urban area.
We can find small islands, and most riverbanks are full of vegetation. It is truly pleasant to travel along it!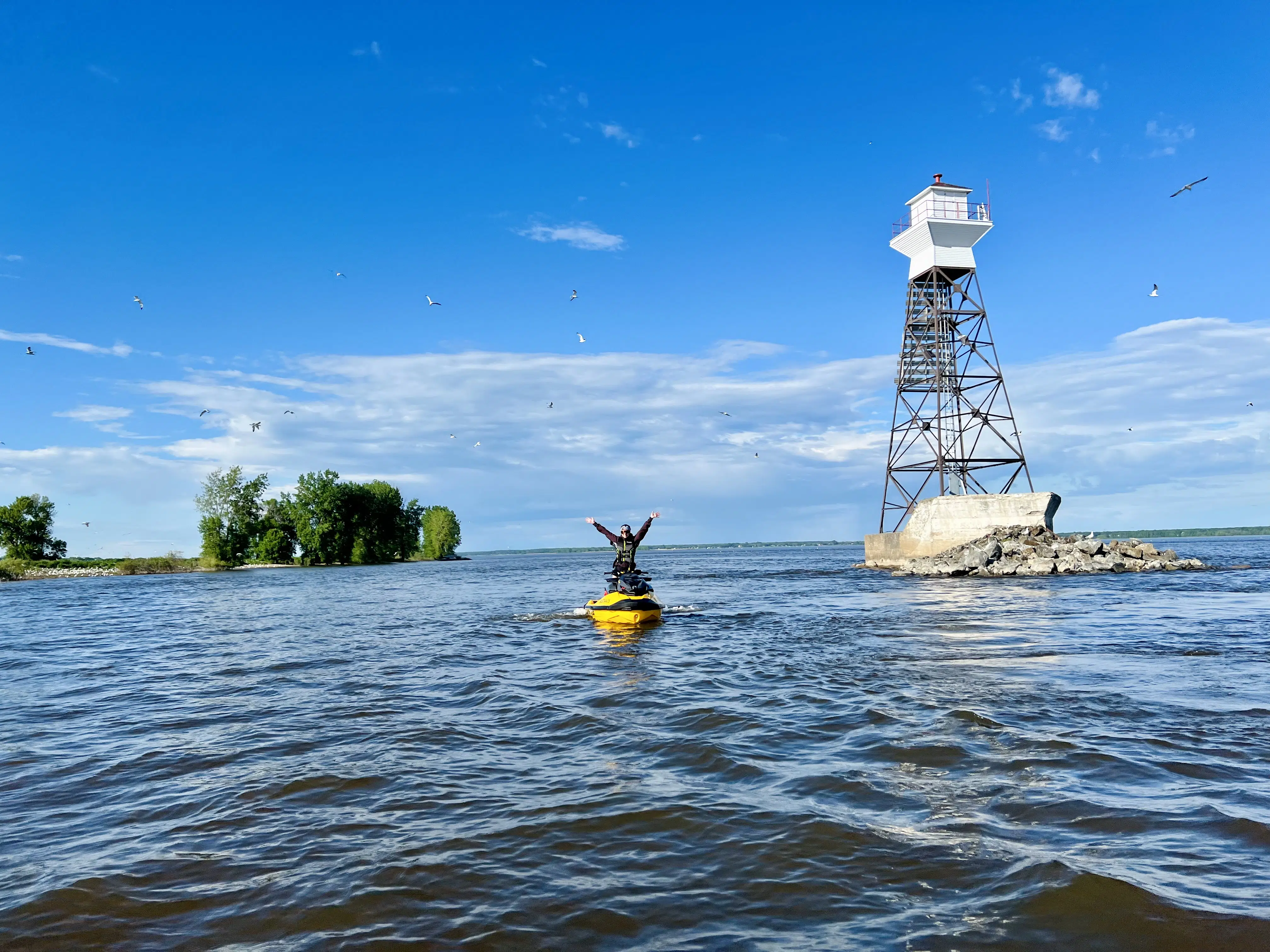 Your itinerary
The water roadtrip suggested here can be done in a day or spread over a weekend. The plan is to go to from Berthierville up to the Old Port of Montreal.
It is more or less a 5-hour drive in total (round trip), depending at what speed you're driving. It's a nice itinerary for a first water hike: the length is perfect.
It is entirely marked; the waters and the floors are not too uncertain. Moreover, you can find "civilization," marinas, and gas stations around it, as well as a constant cellular network in the event of mishap or incidents.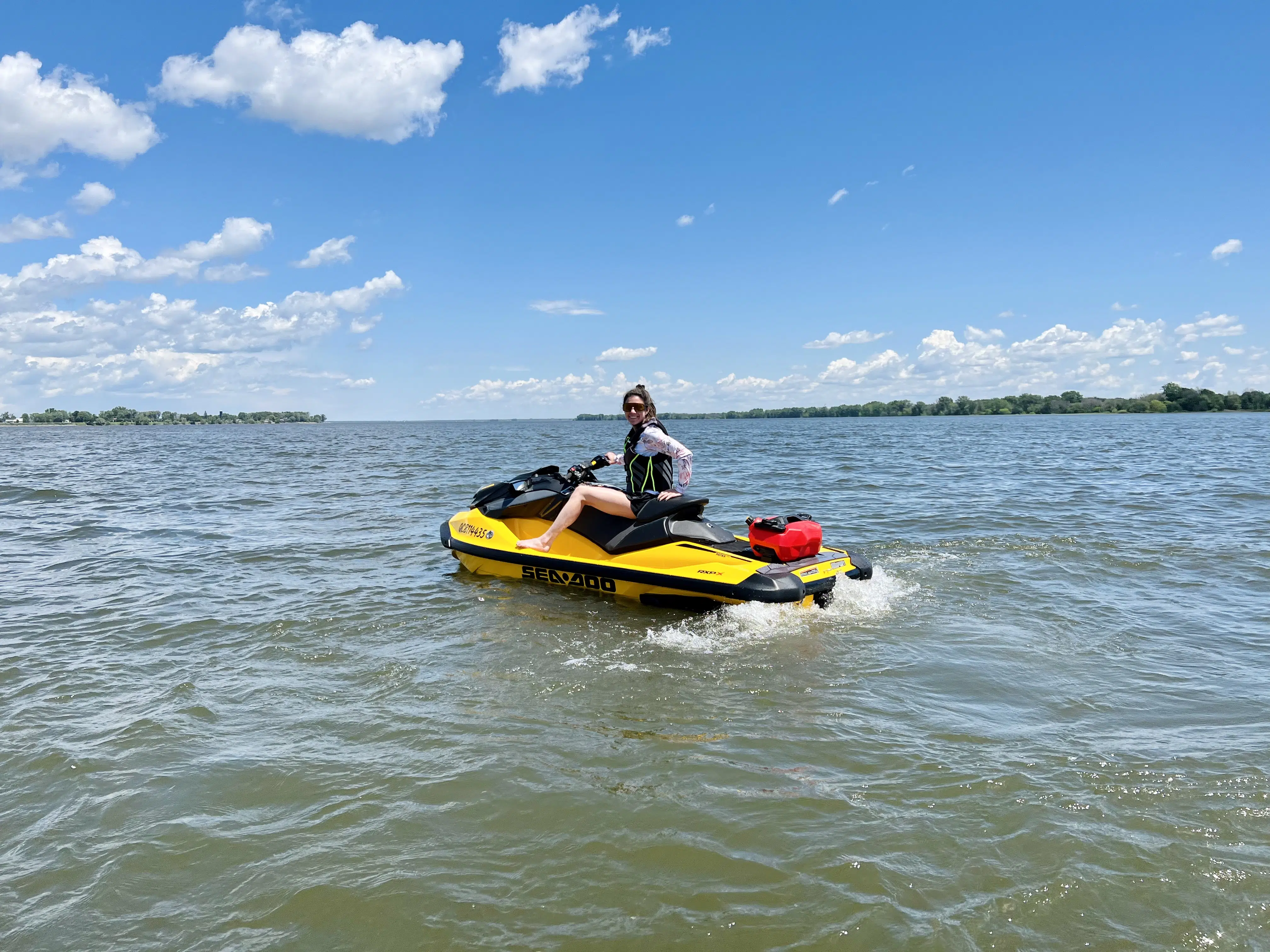 Launching
The good thing about Berthierville is that most of the surrounding municipalities along the Saint Lawrence River (Lavaltrie, Lanoraie, Saint-Sulpice, Repentigny, etc.) are equipped with municipal and/or marina launching ramps. Thus, there are many launching options.
As for me, I like Berthierville's municipal launching ramp since it is closer to home and allows for a longer trip on the river.
Once you pay for a parking sticker, you'll be able to launch your craft and park your vehicles and trailers there. Be aware that this is quite a popular place.
If you fill your tank before leaving, you'll have enough gas for the whole roadtrip. You will also find marinas equipped with gas stations on your way.
On your way
The trip between Berthierville and Montreal is, so to speak, a long quiet river (bad pun here haha!). You'll feel like you're in the countryside looking at the islands and the riverbanks.
Once you get closer to Montreal, the water will be a little rougher and there will be more boats. If you follow the markers and respect the signs, it will all go well!
You will first drive on top of the Louis-Hippolyte Lafontaine Bridge–Tunnel. It is quite strange to see the installations on both sides of the bridge-tunnel on the northern and southern banks, and to be on the water knowing the rest of the monster is under us. You've never seen this traditional bridge-tunnel this way!
Then, you'll notice Réal-Bouvier's yacht harbour (Longueuil's marina), and La Ronde's yacht harbour (La Ronde theme park's marina), two wonderful marinas where you'll be able to stop.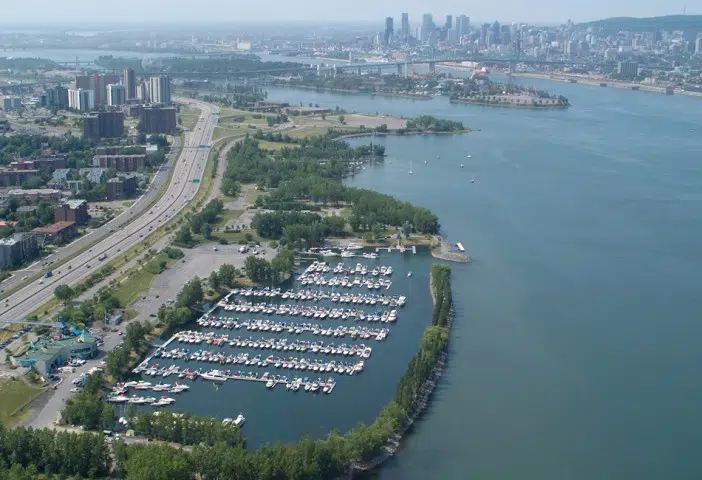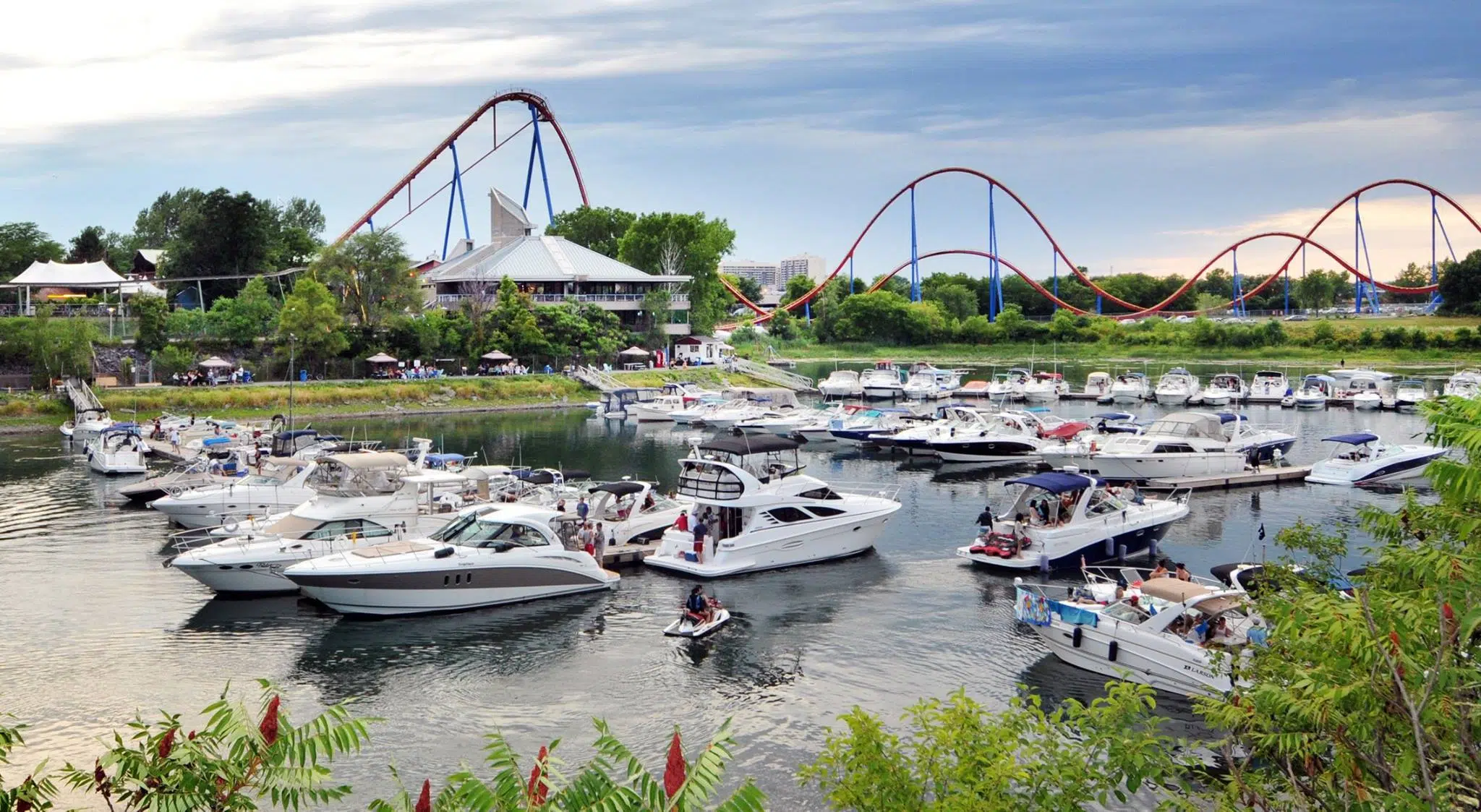 Then, you will see the Jacques Cartier Bridge right in front of you. I must admit this is the moment where you feel very small on your personal watercraft. The bridge is huge from below and it generally is a place where the river is a little rougher!
Respect the markers and drive carefully, while admiring the giant.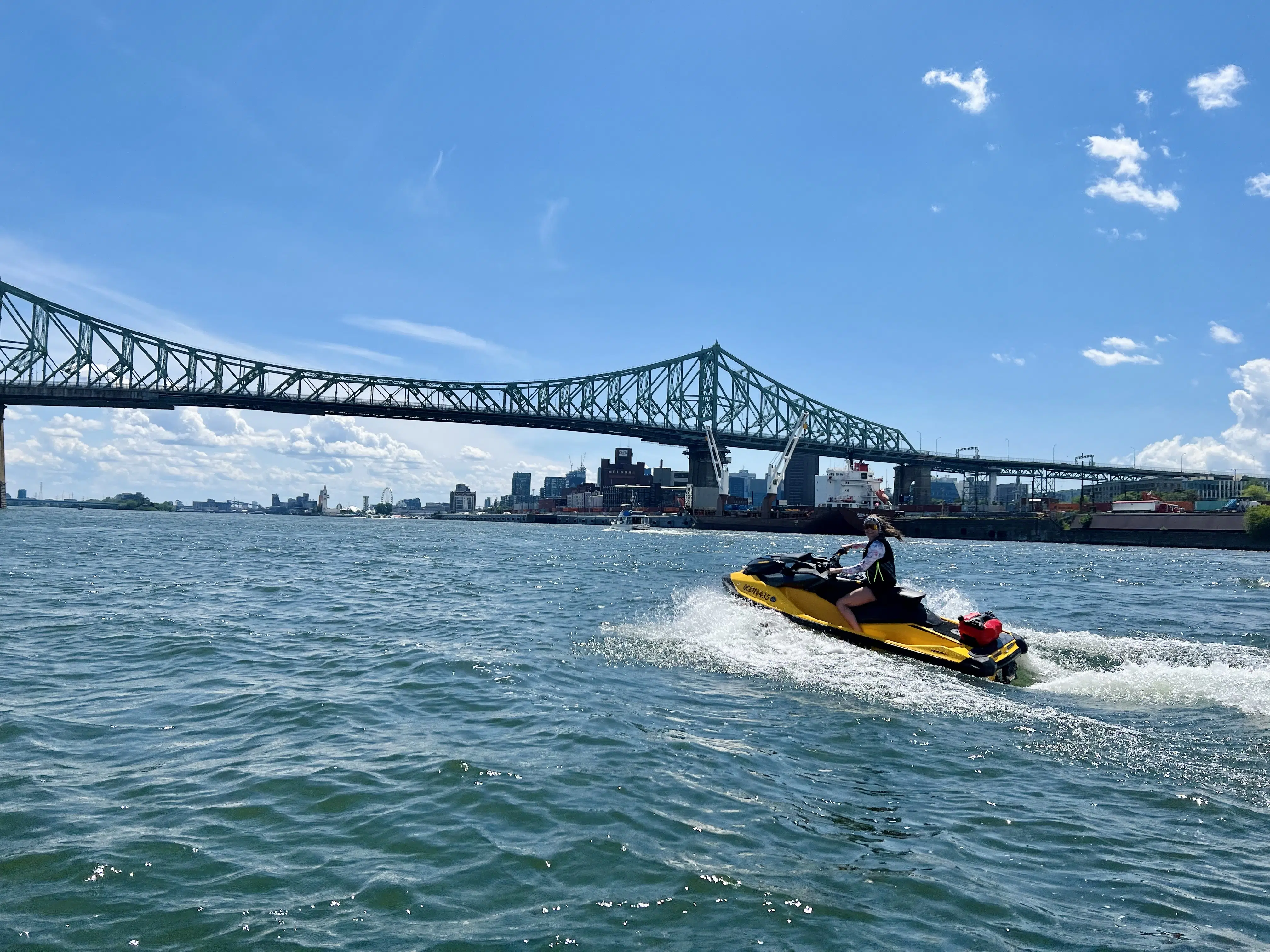 Once you're there
After surviving driving under the Jacques Cartier Bridge (I'm joking here hihi), you will slowly enter the Old Port of Montreal. You'll be able to see liners, cruise ships and the wharfs.
Once again, you'll be surprised to see the port and Old Montreal from this place.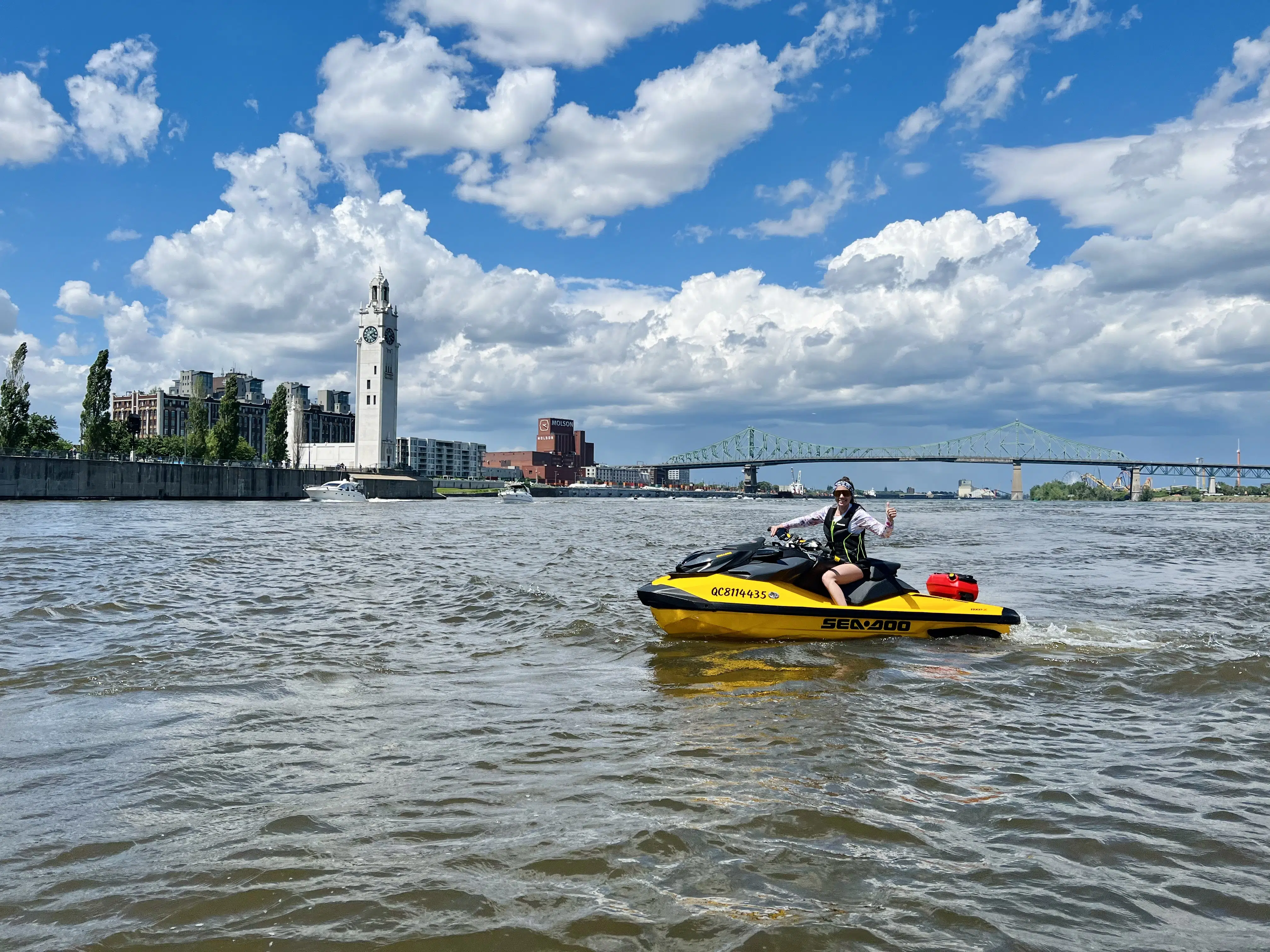 Mooring, good food and bedtime
I invite you to moor at the Old Port of Montreal (port of call). You'll be able to rent a visitor wharf for the night or only for a few hours.
Check their website to know their prices. I also recommend booking beforehand, to be sure to have a spot available for you.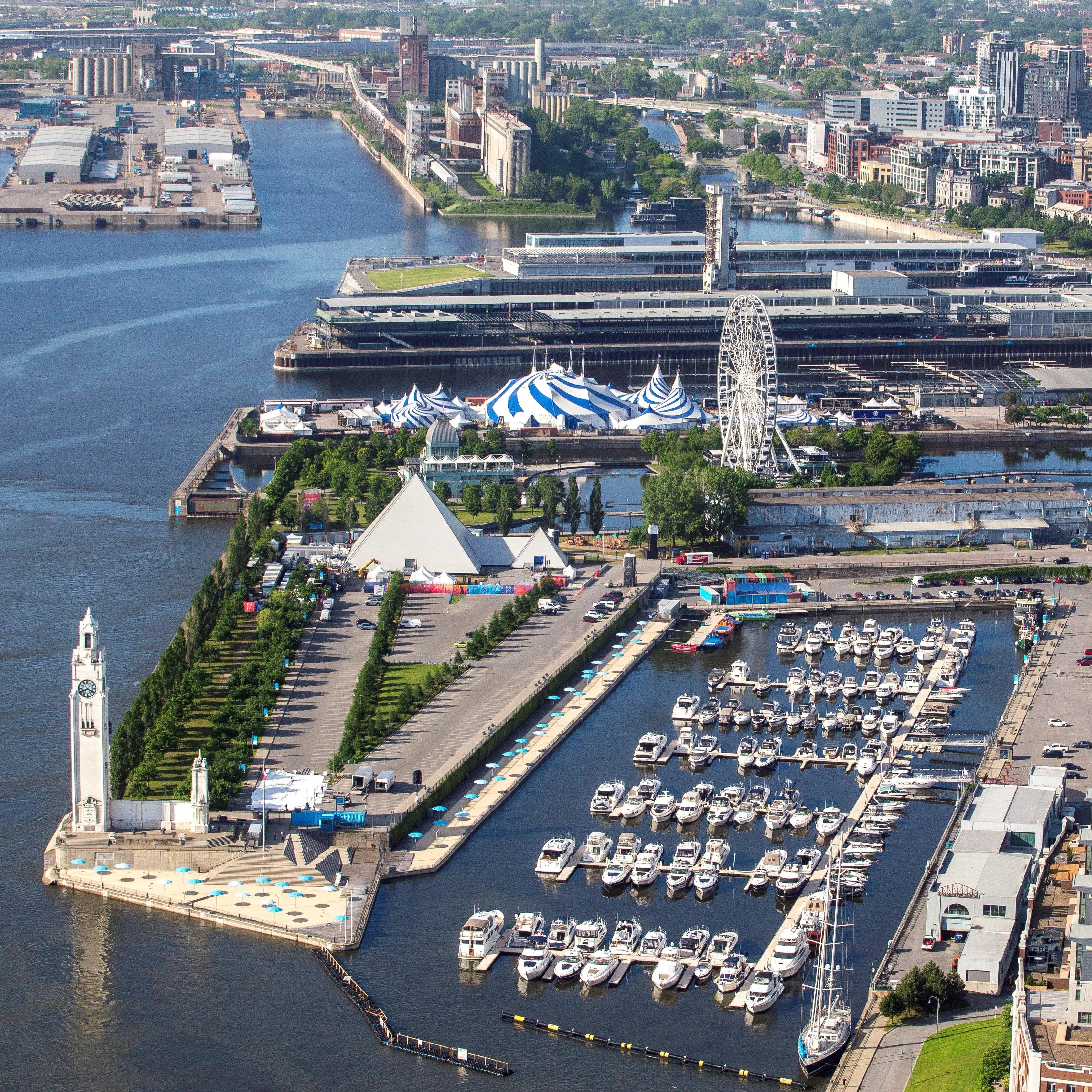 Once your roadtrip is over and your personal watercraft is berthed, all you have to do is walk along the streets of Old Montreal, grab something to eat, enjoy one of its terraces or even spend the night there, if you feel like it. Don't forget that you will still have to drive all the way back!
Bianca