Road trip on the water: destination Taurus Reservoir
Do you own a personal watercraft, or do you think about renting one this summer? Do you crave for new adventures, and is your personal watercraft sick of going around in circles on the same lake? Why not plan a little trip on the water with a personal watercraft this summer!
In the last articles, you discovered 2 of 3 regions to visit on you watercraft this summer:  The Saint Lawrence River and  The Ottawa River.
We will present you with our last destination for the summer: The Taurus Reservoir!
📍The Taurus Reservoir and its Matawin dam
⌛ Length: 2 days
💪 Experience level: Starter
Located in the Haute-Matawinie region, in the municipality of Saint-Michel-des-Saints, the Taurus Reservoir is the ultimate destination for boats, and for your personal watercraft of course!
The Taurus Reservoir, as its name suggests, is not a lake, but a reservoir that includes the Matawin dam, which is a big dam owned by Hydro-Québec.
As it contributes to manage the rise in the water level, the Taurus Reservoir is partly emptied during fall and winter, to then collect flood waters in spring. All of this means that its water level varies from season to season, and sometimes, even from month to month.
At the beginning of the summer season, learn more about the water level of the reservoir. Sometimes, the level is not high enough to launch boats. The municipality of Saint-Michel-des-Saints often publishes Hydro-Québec's statements for this purpose. You can read them here.
For that matter, you can reach the Matawin dam by personal watercraft. It is a nice area that is less busy, since it is located at one end of the reservoir.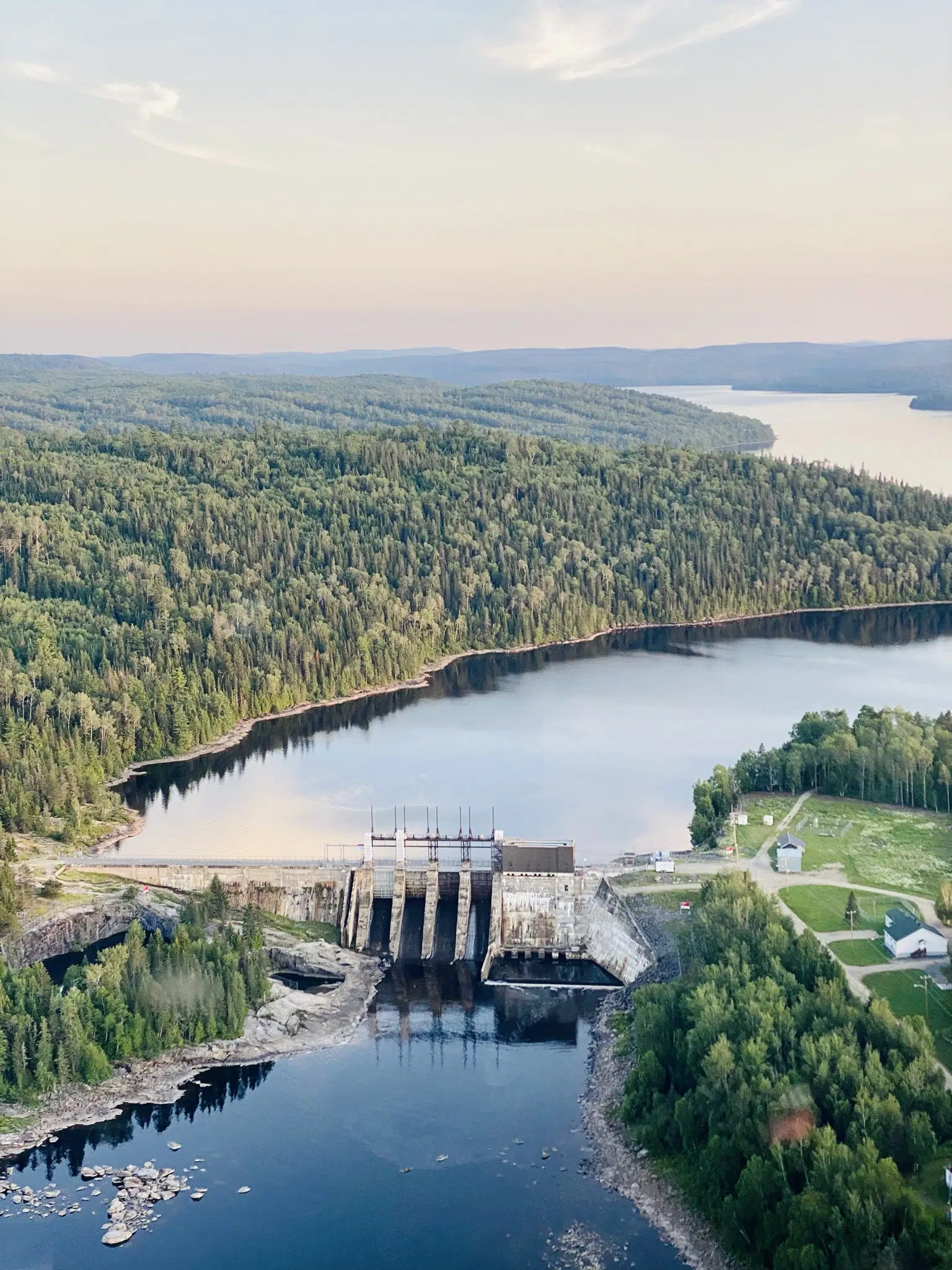 Your itinerary
Many had the opportunity to enjoy the fine sandy beaches, the many islands, and rivers as well as the Taurus Reservoir's vast expanse of water (270 kilometers of banks and 95 square kilometers of surface area). So, one day will definitely not be enough for you to explore this body of water! I suggest you plan a whole weekend to make the most of it.
Consider bringing a map of the reservoir with you. It could be very useful, not only to help you find your way, but also to explore new places. Don't forget that around half of this lake's surface area does not have cellular network.
Launching
The easiest is to launch your personal watercraft on one of the public launching ramps in the municipality of Saint-Michel-des-Saints. Once you pay for your parking sticker, you'll be able to access the launching ramp and to park your vehicle and your trailer.
You will find a few marinas equipped with a gas station around the Taurus Reservoir where you'll be able to fill your personal watercraft's gas tank. I suggest the Nautique-IV/Port St-Michel marina and the Pointe-Fine marina. Depending on your itinerary and the places you choose to visit on the reservoir, you'll be able to bring some extra gas with you.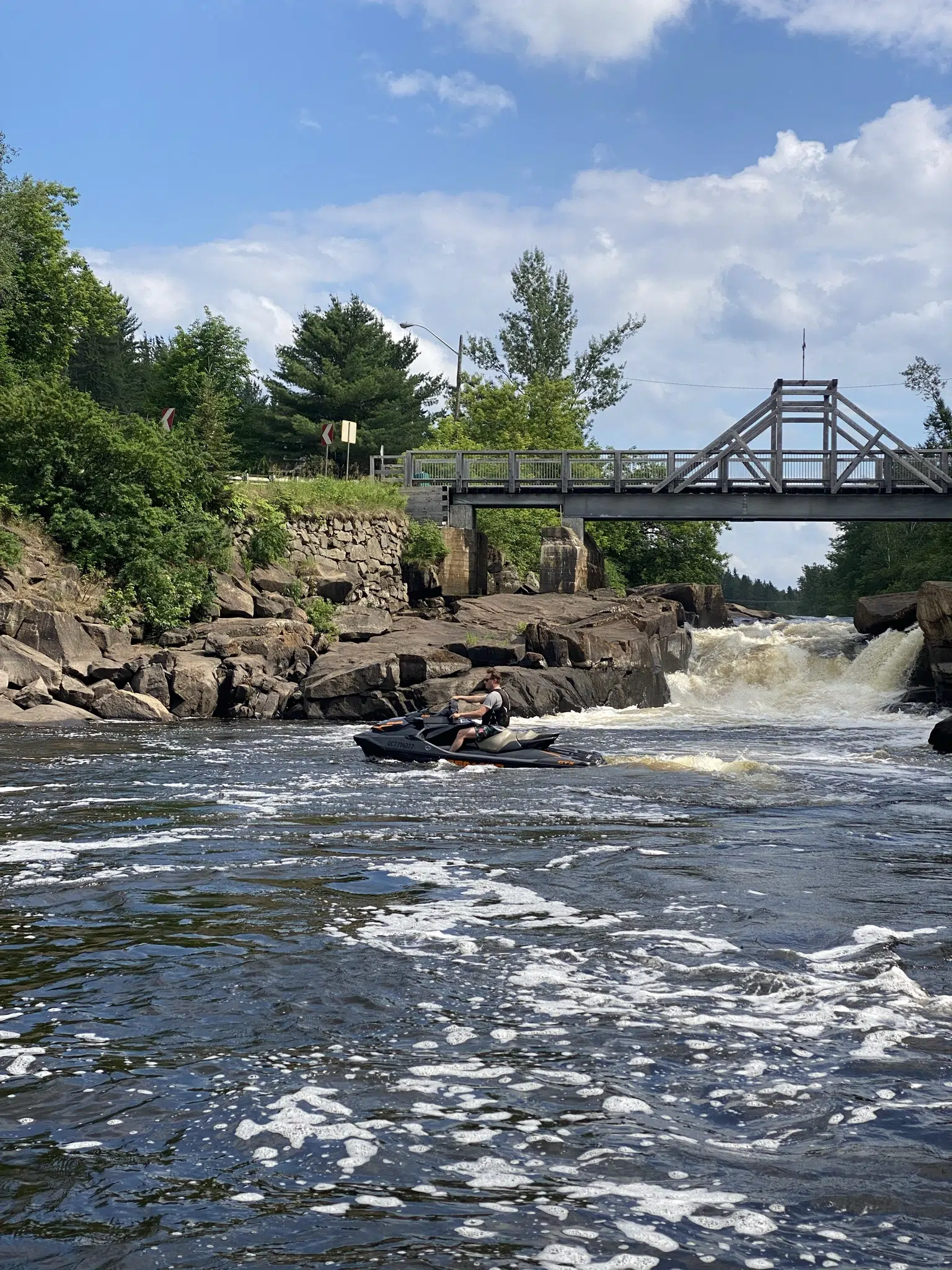 On your way
This reservoir is known for some famous places, like "Pointe-Fine," the "Village Island," the "Bay of the Middle," the "Bay of the Bottle", the "Cadran Solaire", the "Chute à Ménard" and some other bays and campsites.
Dare to explore less well-known places
In my humble opinion, this reservoir has even more to offer with a personal watercraft when you head towards less well-known and more remote places.
You can find many small rivers and desert beaches that look like tropical ones. However, you need to be more vigilant if you choose to explore these places, since not all of them are marked. You'll see that it is definitely worth the visit!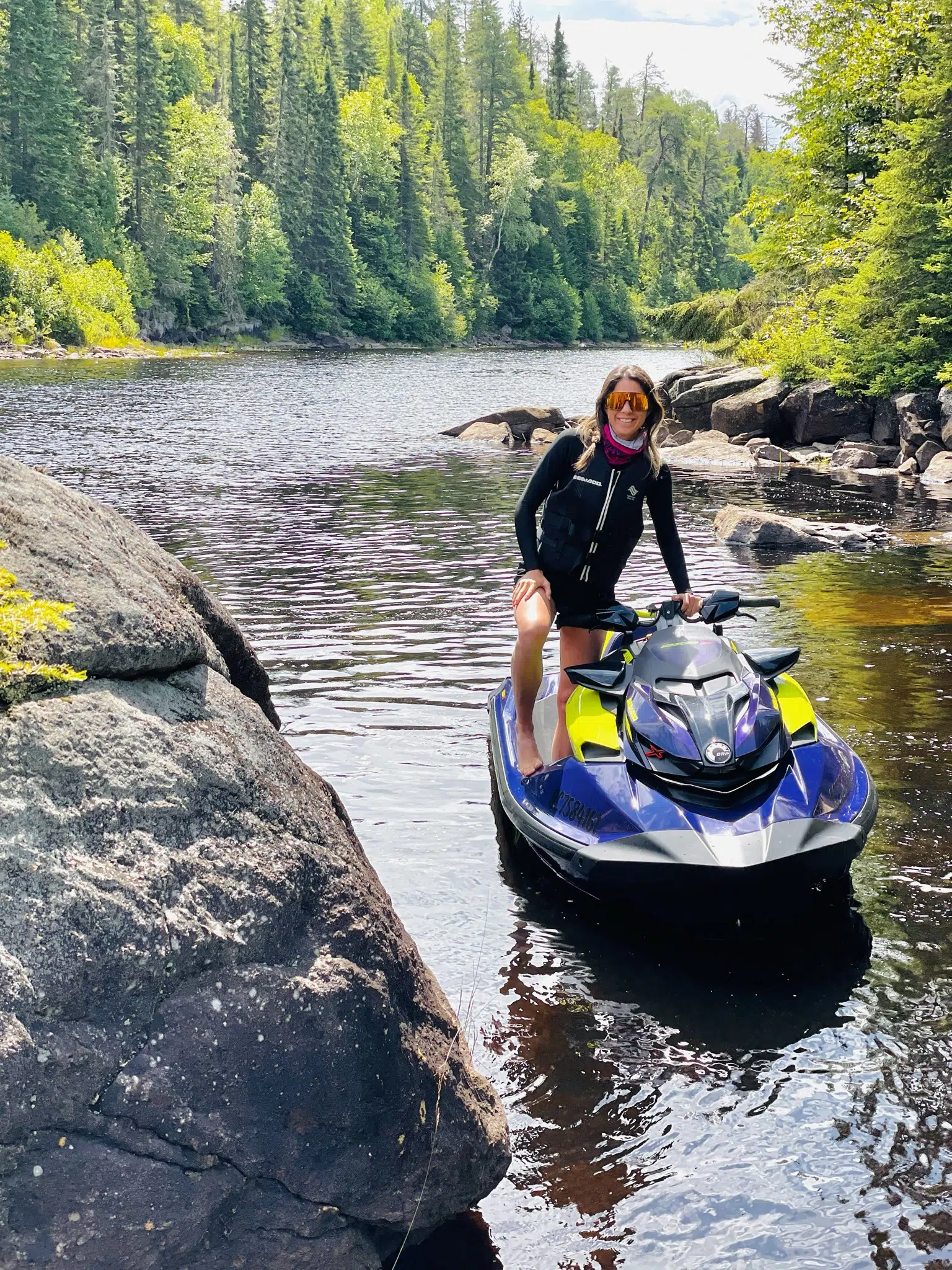 In general, the Taurus Reservoir has some shoal. Thus, you need to respect the markers that are present on the majority of it.
Given its size and the traffic of the boats that travel along it, the Taurus Reservoir can become rough midday on its main junctions.
You will then have the opportunity to discover less busy places, or the ones further from the popular places, where there will be less waves!
The ultimate personal watercraft experience
If you want to live the most beautiful experience, take your personal watercraft out when the sun starts to set.
You'll then sail on "mirror" water for as far as the eye can see and admire the beautiful colors of the sunset. The experience is completely magical!
And if you're like me, you'll quickly realize that it's also the best time to drive full blast (just a little)!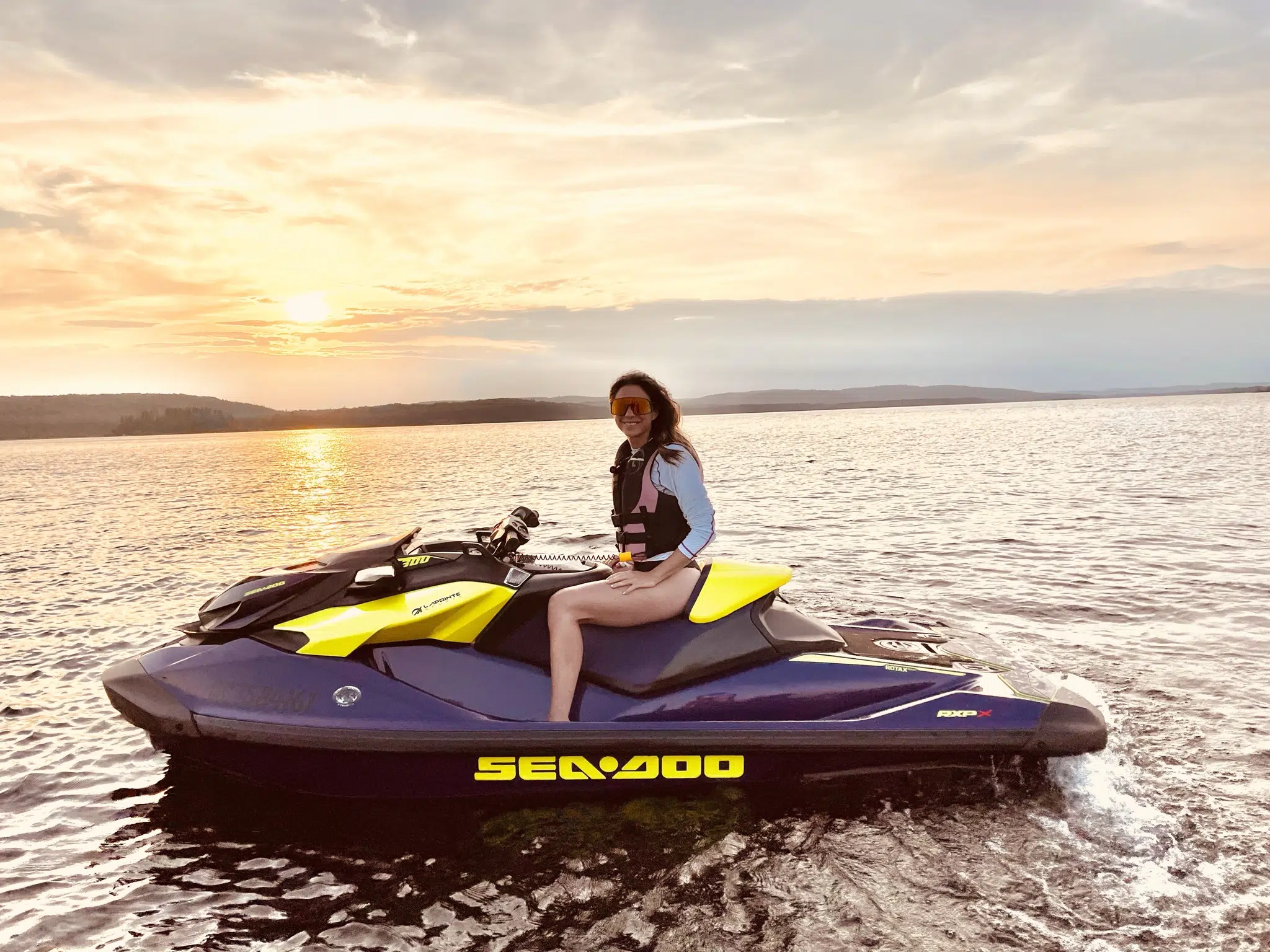 Mooring, good food and bedtime
When it comes to food, I advise you to bring what you need to eat for lunch on one of the many fine sandy islands of the reservoir. You'll enjoy the experience!
If you want to spend the night there, you'll have the possibility to find accommodation in the famous Auberge du Lac Taureau, but you can also book a space in one of the many campsites around the lake.
One of my favorites is the Lac Taureau Regional Park campsite (Bay of the Middle area), for its location and the organization of the site. This campsite also includes other areas (Bay of Splitter and Baie du Poste).
Know that you'll also be able to rent one of many private cabins around the reservoir, or close to it, which can include an access to a private launching ramp.
GET READY FOR YOUR PERSONAL WATERCRAFT HIKE!
Now that you have a few destination ideas, get ready for your personal watercraft road trip. Keep in mind that you'll spend many hours on the water, sat on your personal watercraft and that the temperature can change.
Extra clothes
Bring extra clothes with you (windbreaker jacket, a warmer shirt, a neoprene suit, etc.)
The neoprene suit (one or two pieces) becomes interesting here, not to protect you from the cold water, but because it gives you more comfort when you're sat on your personal watercraft: indeed, it effectively protects you from the wind and gives you additional warmth when the air is colder.
Multifunction neck warmer, sunglasses and sunscreen
You'll feel the wind on your skin for a long time. As for me, I like to use a small multifunction neck warmer to protect my neck or my ears, as a headband.
Also consider having a pair of sunglasses with large lenses, even if the sun is not out. It will protect you from the wind and will maybe even spare you a big mosquito in the eye!
Don't forget your sunscreen! It is unexpected how much the sun rays are amplified on the water, even during cloudy days.
Quick tip here: don't forget to put sunscreen on the top of your feet! It can seem strange, but you'll understand, and you'll thank me if you drive barefoot.
Gas, tools, and essentials
For the rest, bring with you extra gas, some useful tools, and all safety equipment pertaining to the sailing, a lot of water, food, some communication equipment that works with no cellular network (if you plan not to have network), your boating licence and a first-aid kit.
Plan your itinerary and learn more about it before leaving
Finally, beforehand, check and learn more about each place you plan to launch your craft at, moor or fill your gas tank and/or get food during your water hike.
The conditions, prices and opening/closing hours vary from season to season, and sometimes even during the season. It will spare you many concerns.
IN CONCLUSION
A personal watercraft road trip is possible! You just have to be prepared, like you would for a motorbike or a snowmobile trip.
You now have a couple of dream destinations for your first few trips this summer. Will you choose the Ottawa River, the Saint-Lawrence River, or the Taurus Reservoir?
Or maybe you have another place in mind now that the suggestion was made?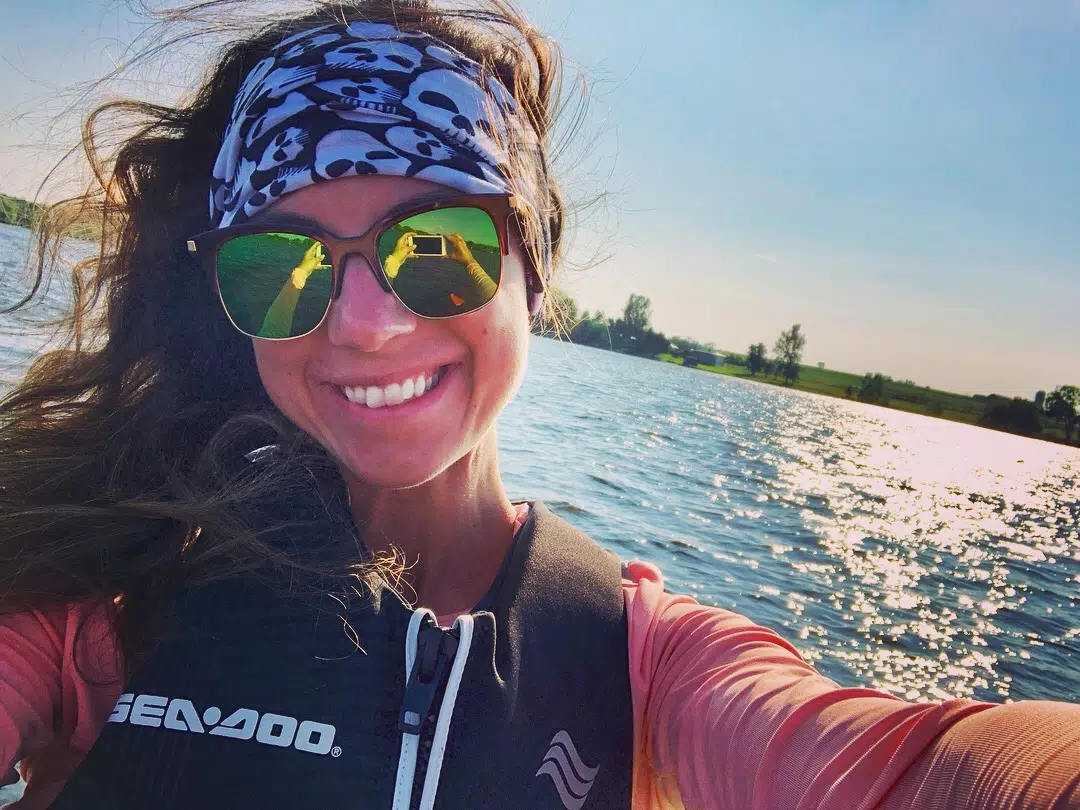 I'm looking forward to cross paths with you this summer.
I have to go now; I have a few hours to spend aboard my personal watercraft!
Bianca B.