The Ford Bronco: a legendary vehicle
Many will remember the legendary Ford Bronco of the 1970s. It was produced and marketed by Ford from 1966 to 1996, years during which five generations of Ford Bronco followed one another. If you look into the history of this vehicle, you will see that it is full of history and significance.
Needless to say, Ford completely stirred up the passions when it announced an all-new Bronco. Of course, the new Bronco has nothing to do with its predecessor from the 70's from a technological and mechanical point of view. However, Ford was able to draw inspiration from it in many ways and keep its original spirit: the adventure partner with the soul of a wild horse.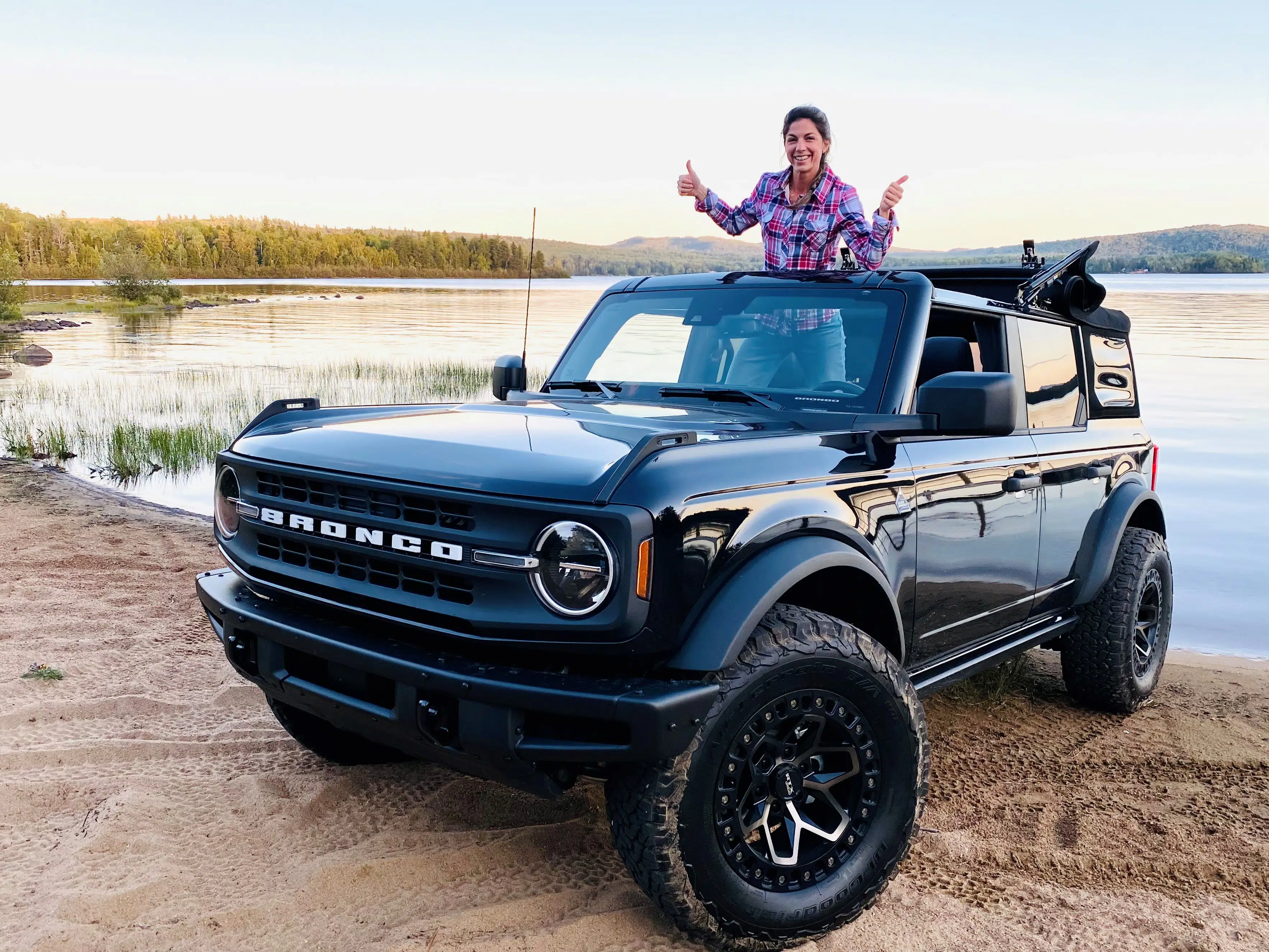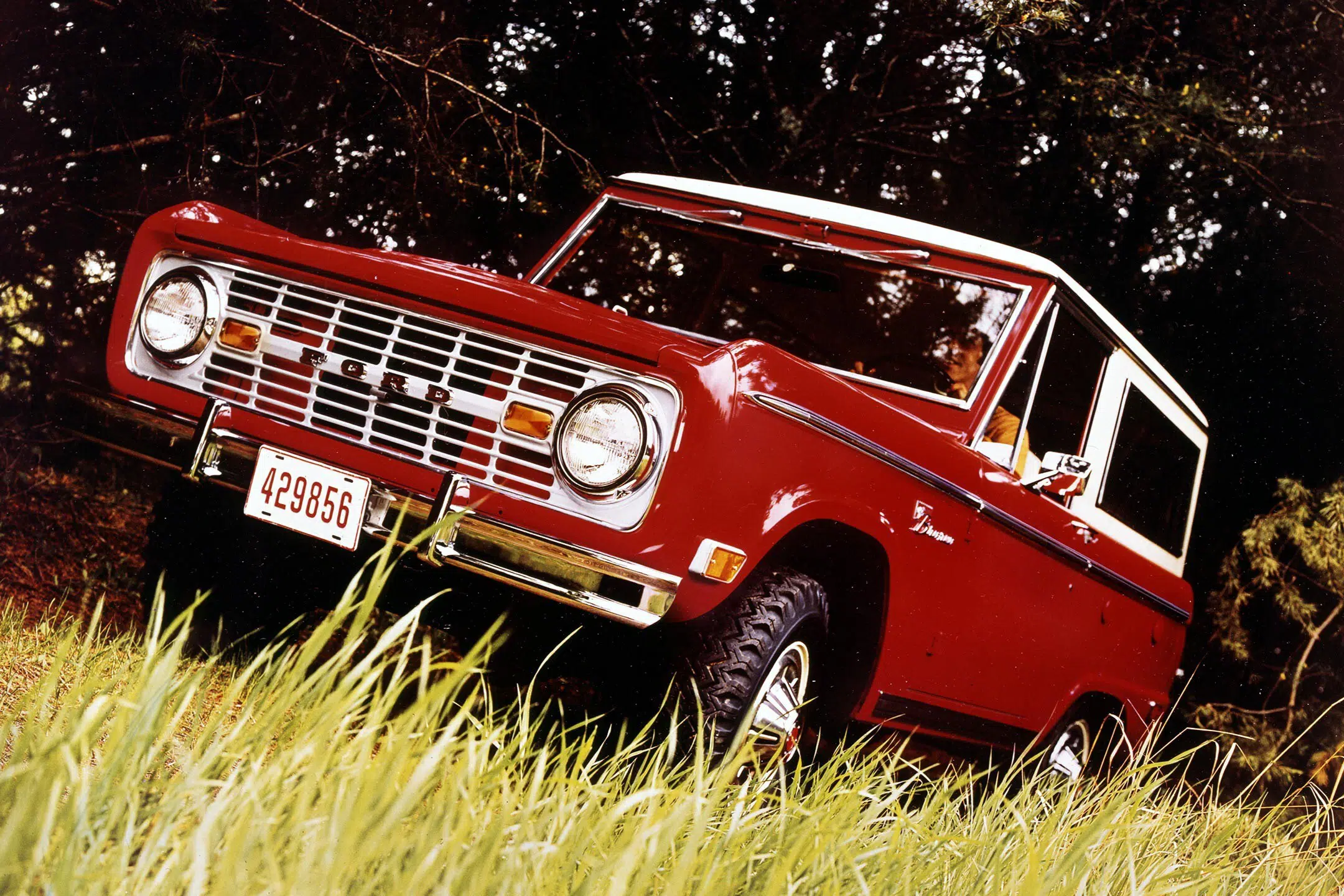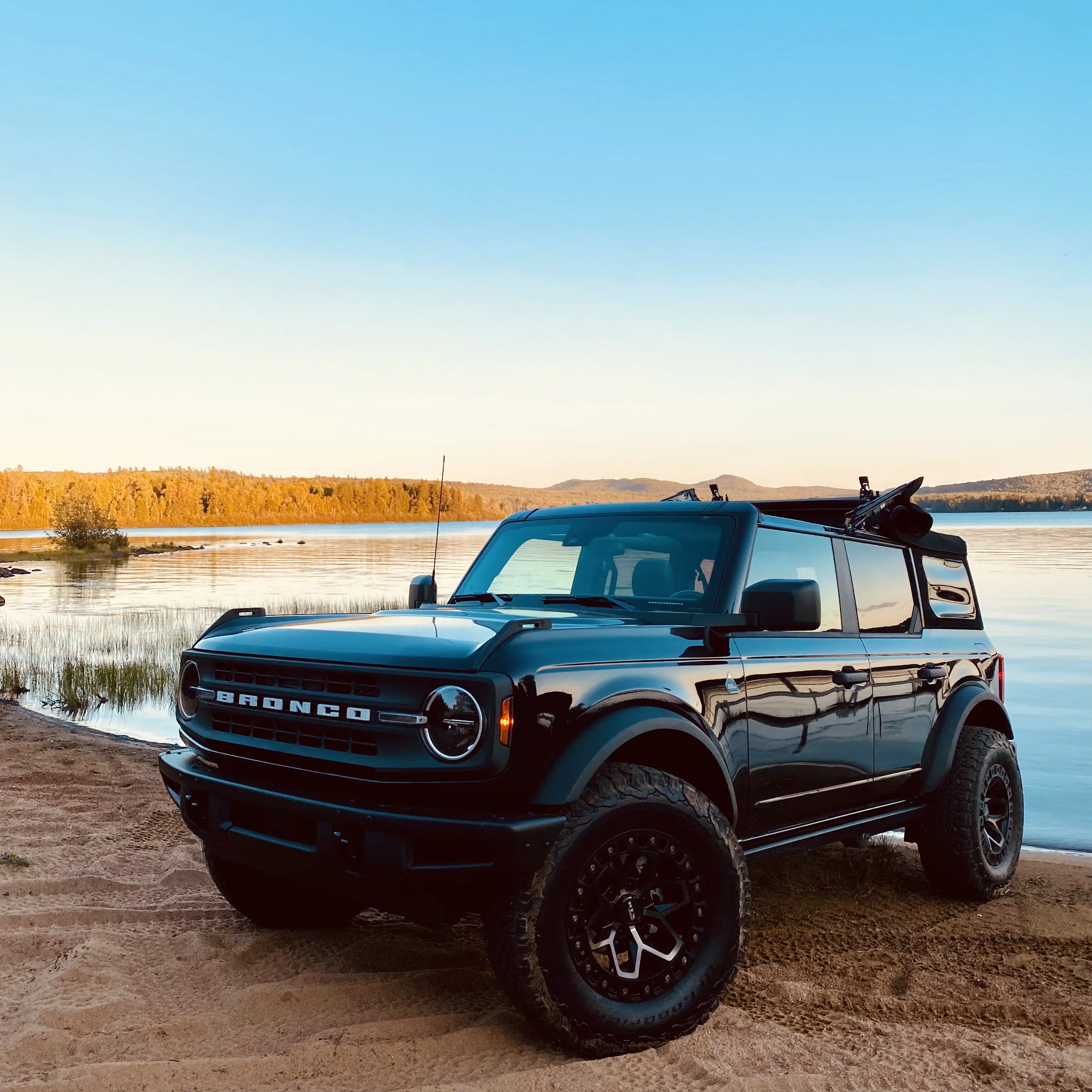 A multitude of versions and options
Ford offers no less than six versions of the Bronco, all available with 2 or 4 doors, with hard or soft top. They can be upgraded with various optional packages, as well as a multitude of individual options and accessories.
It's almost confusing because there are so many possible configurations on the Ford of Canada website (ford.ca)! I don't think I'll have enough time to write about all the features of the Ford Bronco! So I'll stick to the basics and tell you what caught my attention.
Engine choices
EcoBoost 2.3L, 4 cyl.turbo 7 speed manual transmission (with gear ratio) 270 hp/310lb.ft. torque
2.3L EcoBoost 4-cyl turbo 10-speed automatic 270 hp/310 lb.ft. torque
2.7L EcoBoost 6-cyl turbo* 10-speed automatic 310 hp/400 lb.ft. torque
*This is the same 2.7L EcoBoost 6-cylinder turbo engine found under the hood of a Ford F-150 truck.
The "Sasquatch" package
In terms of "optional packages", I have to tell you about the famous "Sasquatch" package. This package includes, among other things, 35-inch tires, electronically locking front and rear differentials, an intelligent high-clearance suspension and Bilstein shocks.
Equipped with this package, the Ford Bronco offers 11.6″ of ground clearance on a two-door model and an impressive 33.5″ of fording (water crossing) capability – which is no small feat!
The "Sasquatch" package is available as an option on all Bronco models and the price varies depending on which model you add it to. Be aware that you don't necessarily need the full "Sasquatch" package to take advantage of some of these options.
They may be standard, depending on the Bronco version you choose, or available as individual options. Note that the version we tested was not equipped with them.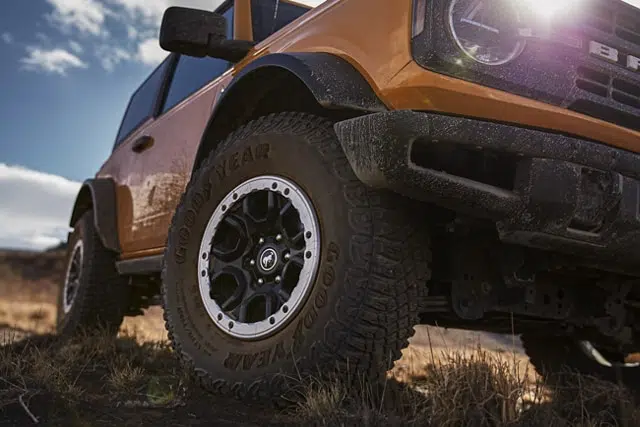 The "trail turn assist" option
Another option that is useful in tight spaces is the trail turn assist technology. It significantly reduces the turning circle of the vehicle by braking the inside rear wheel to spin the vehicle.
This is where the phrase "turning on a dime" comes into play! However, the version we tested was not equipped with this feature.
Entry-level models: to consider when buying
The entry-level models, devoid of frills and with less comfort features inside, can be interesting, in my opinion (use/price ratio), for those who want to find the Bronco in its essence and put it to the test off-road.
It is then possible to add parts and accessories of your choice (Ford or not), such as tires and rims.
This is the case with the Black Diamond version I tested, which comes with 17-inch black painted steel wheels and 32-inch off-road tires. Be aware that you can use the original tires and rims for the winter season, if desired.
These are four-season, winter-rated tires that can be studded. So they can be useful even if you choose to replace them.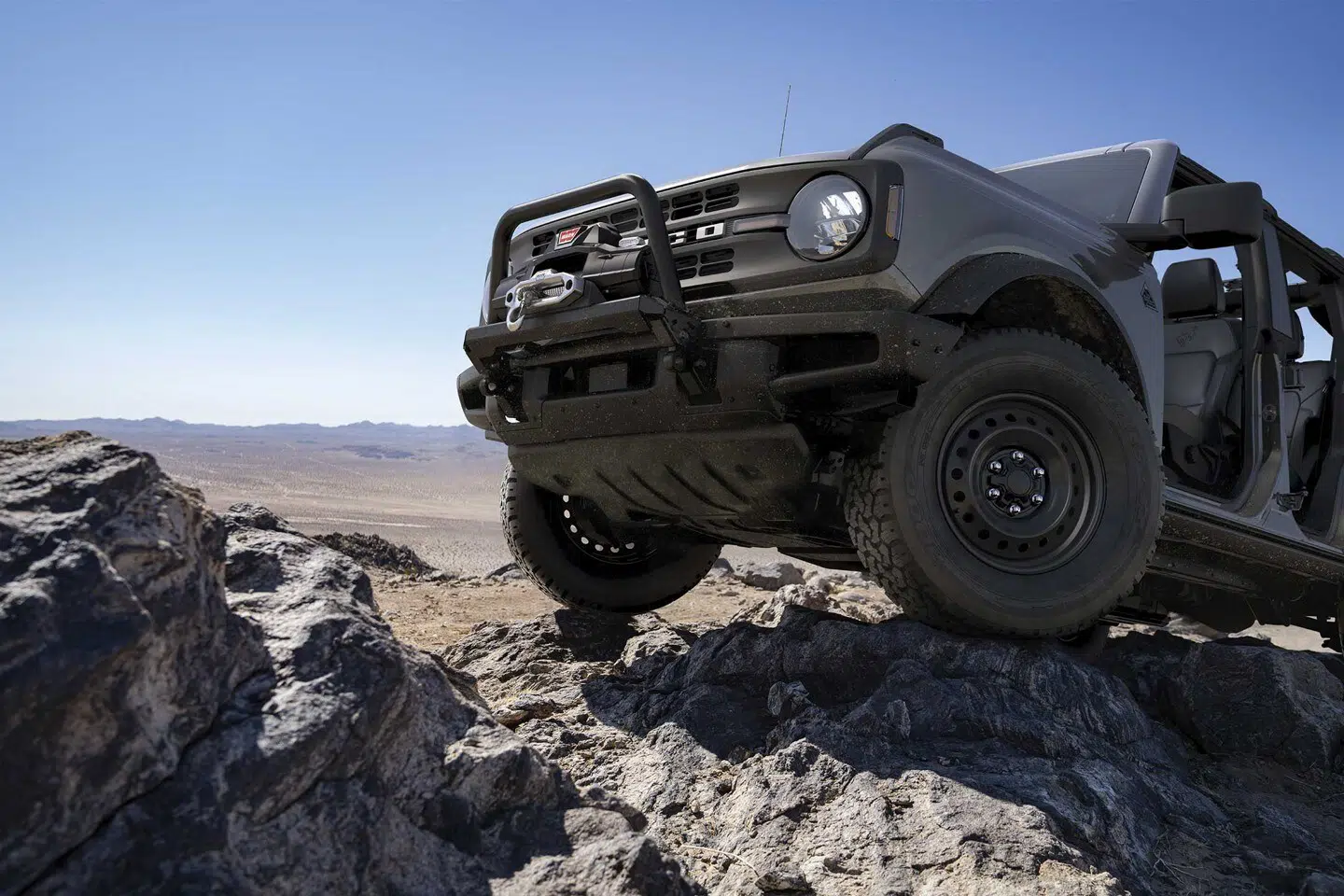 Model under test: 2021 Ford Bronco – Black Diamond AWD
Number of doors: 4
Roof:   Soft fabric
Engine: Ecoboost 2.3L 4 cyl. turbo
Transmission: Automatic, 10 speed
Original Tires: 32″ LT265/70R17 all-terrain
Genuine wheels: 17″ steel, painted black gloss
Brakes: 4-wheel discs
Suspension: Front: Independent
Rear: Rigid axle
Seats: Marine grade vinyl
Optional package: Intermediate (comfort and technology)
Electronic locking differentials :: Rear only
Manufacturer's Suggested Retail Price (MSRP): $56,549
First Impressions
Exterior and interior design
Ford has done a great job of designing both the exterior and interior of the vehicle. Up front, you'll immediately notice the magnificent and imposing grille, inspired by the first-generation Bronco. At the rear, we find the classic spare tire next to which sits the iconic wild horse.
The interior of the vehicle is equally impressive. Ford has done an admirable job of blending functionality, technology and comfort while maintaining the Bronco's desired "adventure-ready" style. There is a technological dashboard and functional controls, inspired by the first generation Bronco.
Quickly noticeable are handles to hold on to during rougher rides, washable rubberized floors with built-in drains to keep water out, and easy-care marine-grade vinyl seats.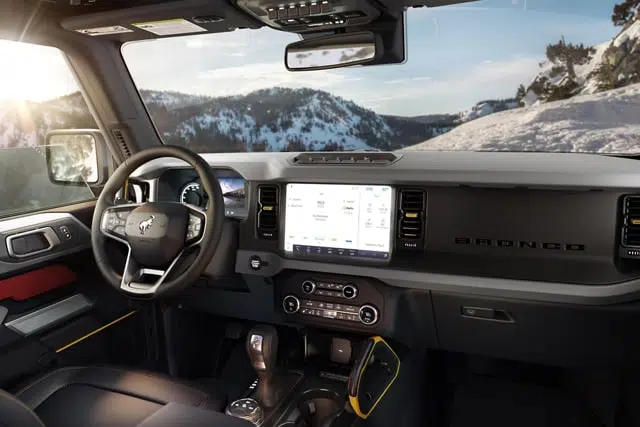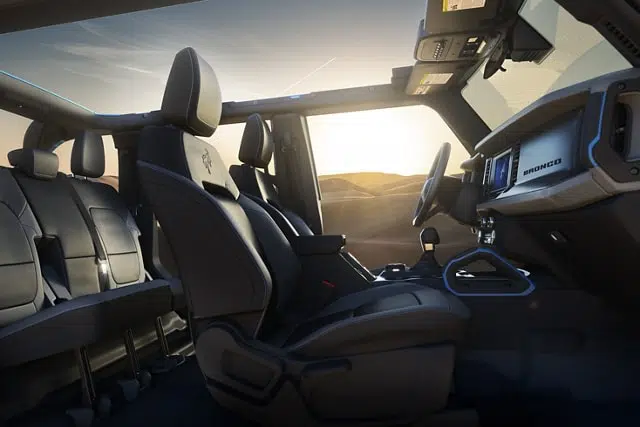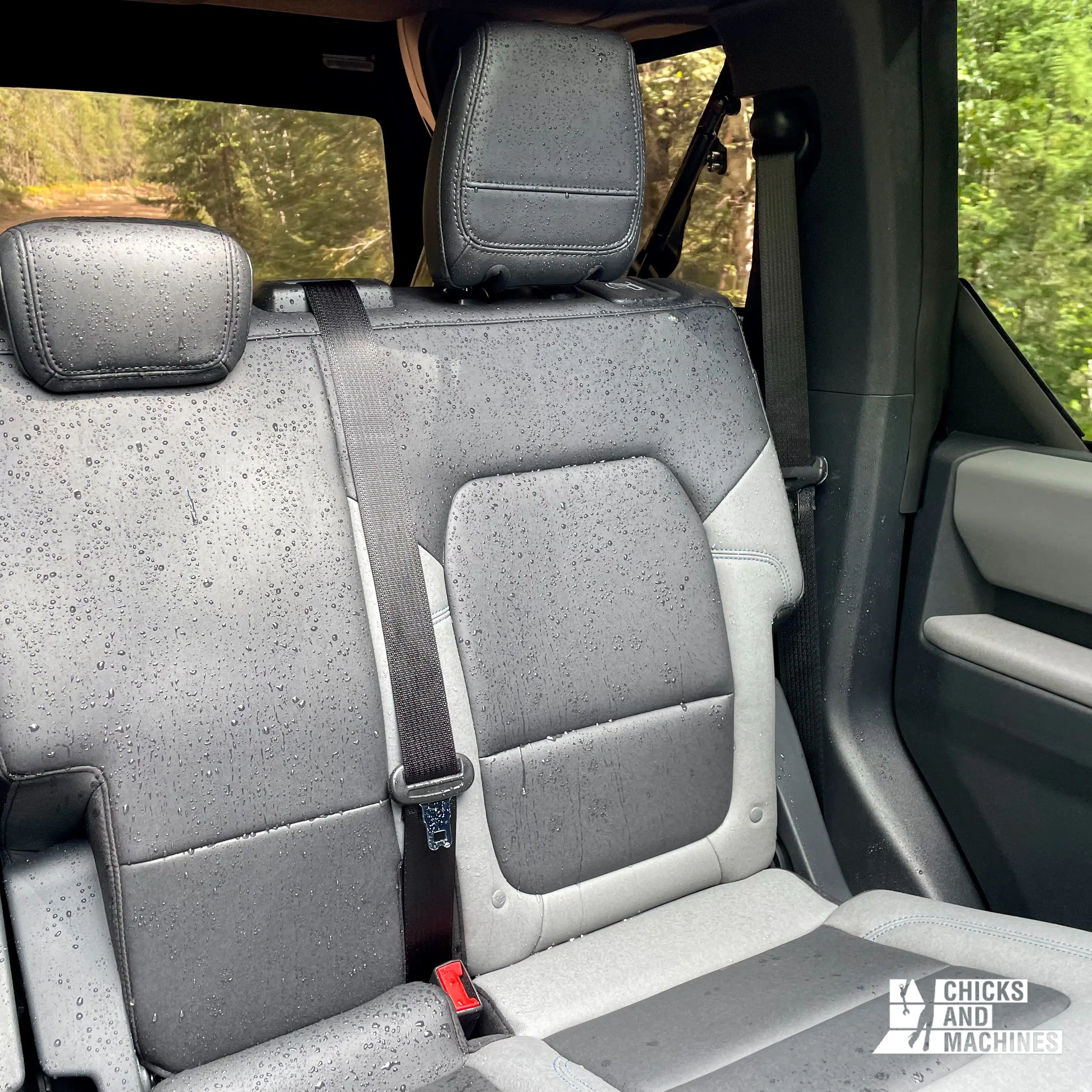 The soft top and removable doors
The folding soft top can be easily lowered by one person without tools (a successful test for the 5'5″ girl that I am!). All you have to do is undo two quick release fasteners inside the vehicle, push it down and lift it up.
Once lowered, the roof folds completely back over the 2nd row of seats, clearing the entire space over the heads of all passengers.
The Bronco's doors are fully removable, leave no frame when removed and can be stored inside the vehicle itself.
However, let's be honest: I don't know if I would remove doors of this price and then carry them in my suitcase on and off the road, not to mention that it takes a minimum of time and attention to remove them.
When the doors are removed, the side mirrors remain securely attached to the base of the windshield on both sides.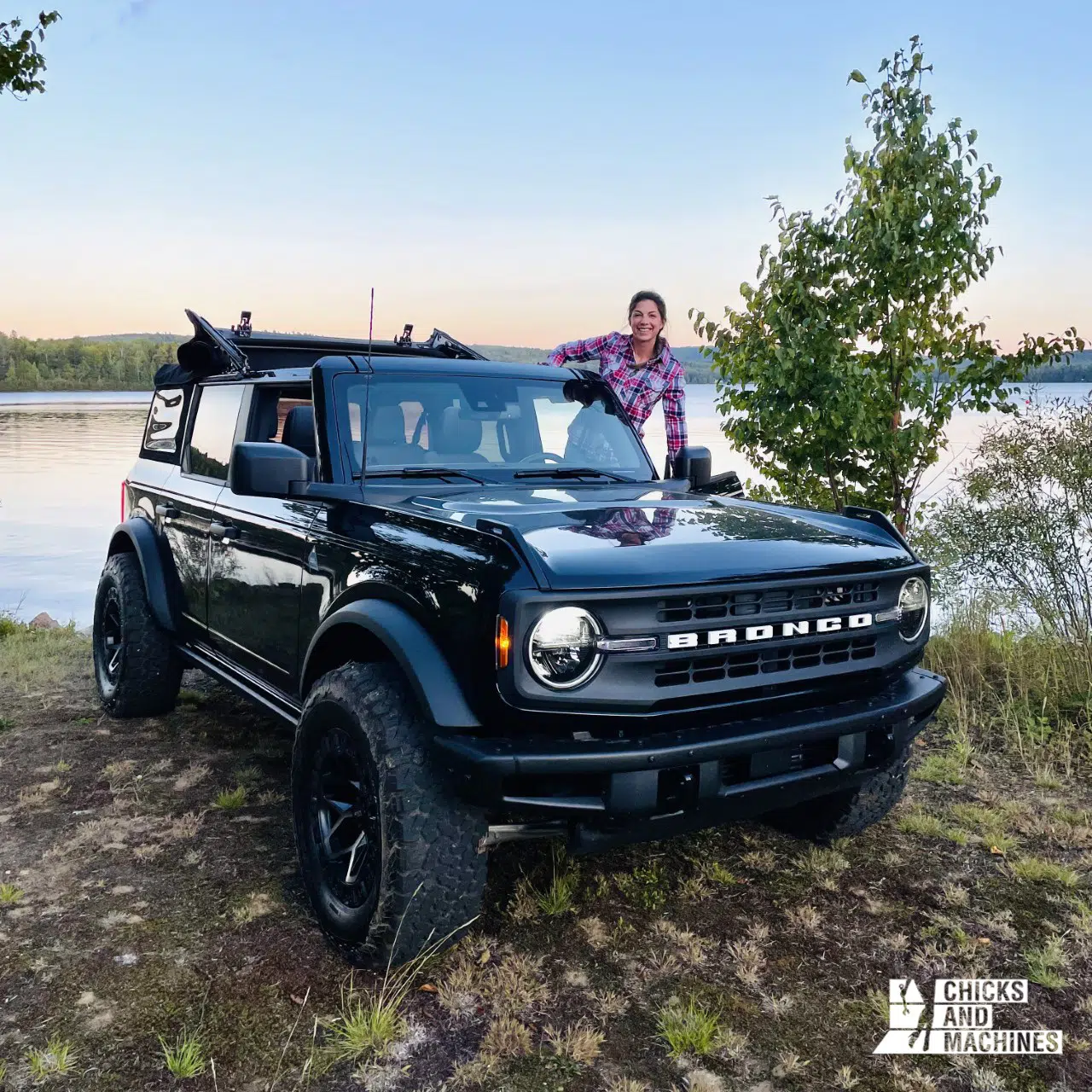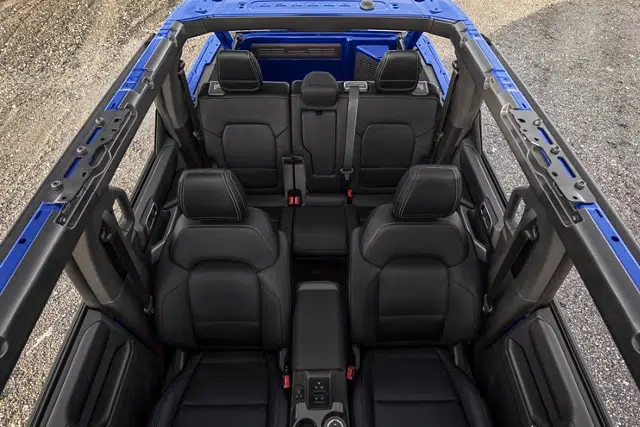 When Joliette Ford Lincoln told me that I could test drive the 2021 Ford Bronco for a whole weekend, I was at first way too excited! Then, I had to promise them (very loudly!) not to damage their precious life-size toy, during my test drive.
To be able to respect my promise, I chose to drive it on Route 3, linking Saint-Michel-des-Saints to Saint-Donat and crossing the Mont-Tremblant National Park.
This road, not yet completed, has for the moment a 24 kilometer section newly paved and a 35 kilometer section still on dirt.
The latter section is similar to a winding, mountainous quad trail, wide enough to barely allow two cars to pass. In addition to offering beautiful scenery, while driving along several waterways, it provides some good challenges for the Ford Bronco.
Of course, I would have liked to get the mud up to the roof and the water up to the doors! Those who know me understand, but I made a promise here (hihi)!
This test drive allowed me to appreciate the capabilities of the Ford Bronco and to experience its driving pleasure.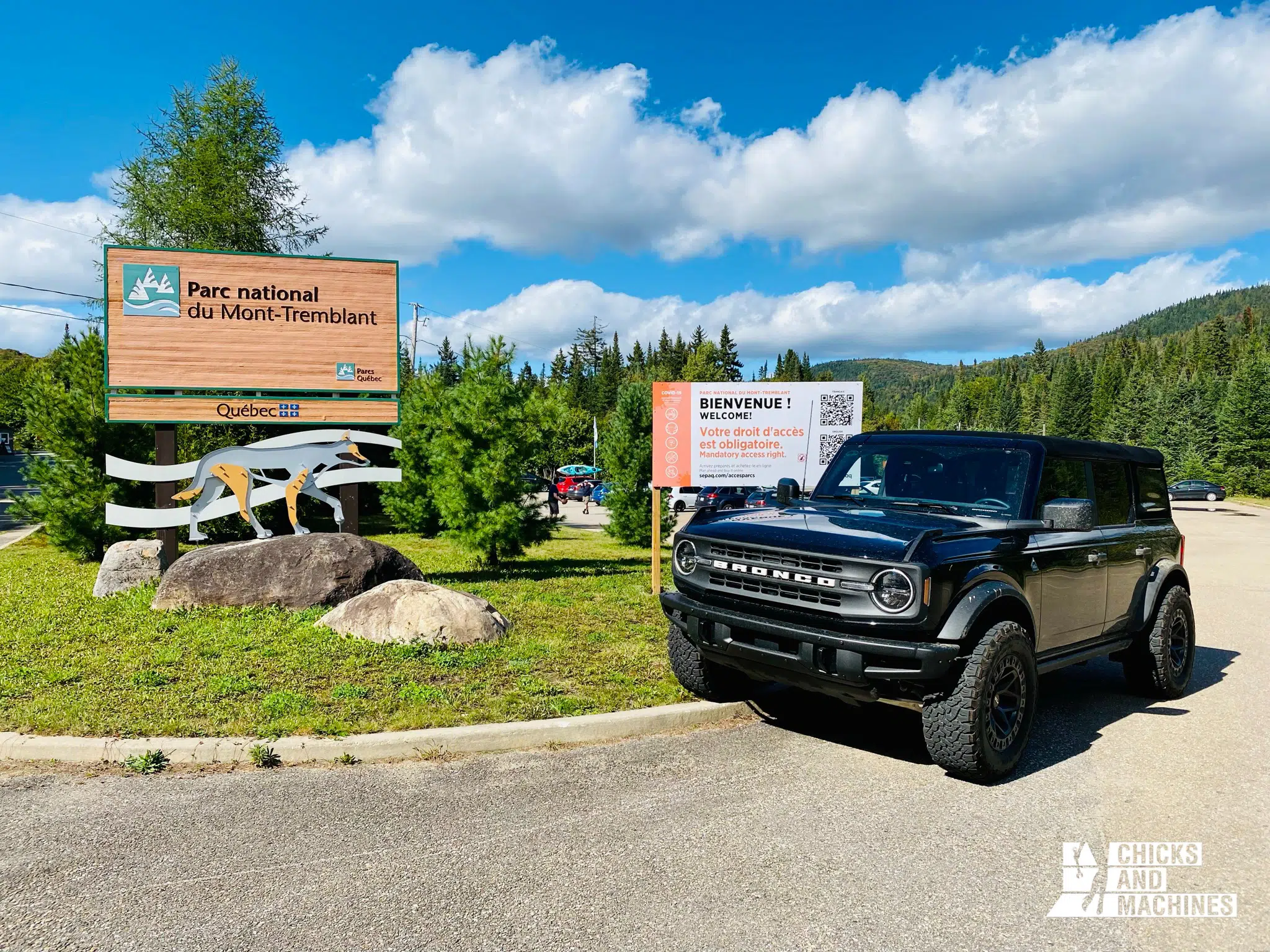 On the paved road
To be honest, I didn't expect the Ford Bronco to offer such a good driving experience on paved roads for a vehicle in its class. It really surprised me. It handles well. The steering is precise and the suspension works well. It doesn't wobble at higher speeds, as some vehicles in its class tend to do.
It goes exactly where you want it to go, especially with its independent front suspension which does a very good job, in my opinion. Not to mention the seats, which I found very comfortable. Later on, I was told that Ford wanted to make a vehicle that was comfortable on the road for its class, but also excelled off the road. I can say that it has definitely succeeded.
In terms of acceleration and power delivery (with the Ecoboost 2.3L, 4-cylinder turbo engine), when you put the vehicle in "sport" mode, you get something very satisfying, even surprising, for a vehicle of this type!
Now we're going to put you to the test off-road!
The dirt section of Route 3 starts right next to the newly built "Welcome Station of Saint-Michel – Rouge-Matawin Wildlife Reserve". Needless to say, it is precisely when the wheels of the Ford Bronco left the asphalt that the real fun began!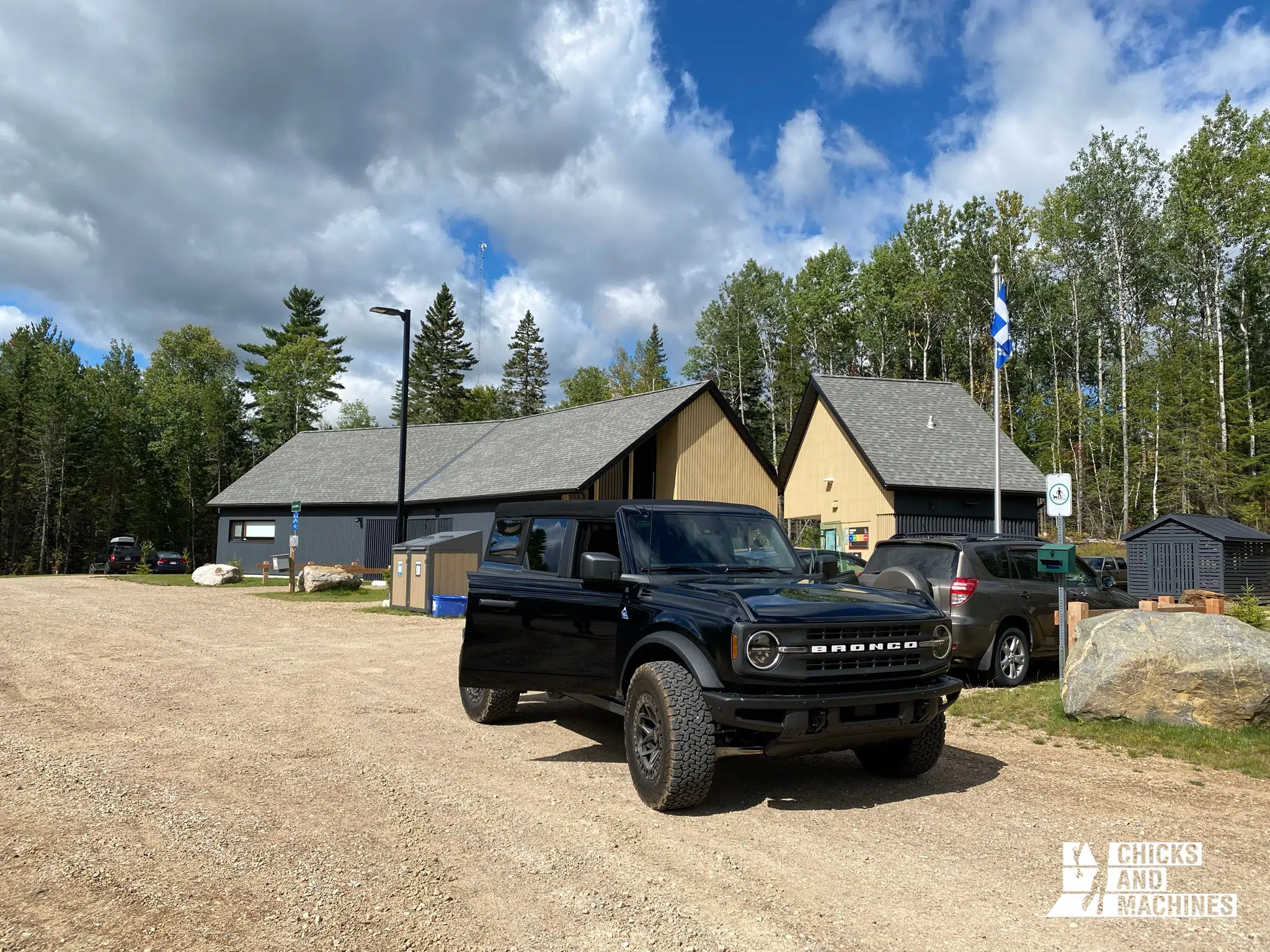 The indomitable Ford horse shines when it comes to crossing water holes, playing in the mud and riding on all types of terrain. In fact, it's equipped with the Terrain Management System with "G.O.A.T." modes.
(Goes Over Any Type of Terrain) modes that offer up to seven driving modes to suit the terrain in front of you.
Off-road, the Bronco handles well. Its steering remains precise, and its suspension and shocks work well over bumps and rocky terrain (at both high and low speeds). It's easy to quickly change driving modes to make it work at its best.
Just turn the G.O.A.T. mode wheel or push a button to quickly lock the rear differential or make the transfer case work (4A, 4L, 4H, 2H modes). Off-road, the 2.3L Ecoboost 4-cylinder turbo delivers power and torque. The " lady " was quite satisfied (hihi!).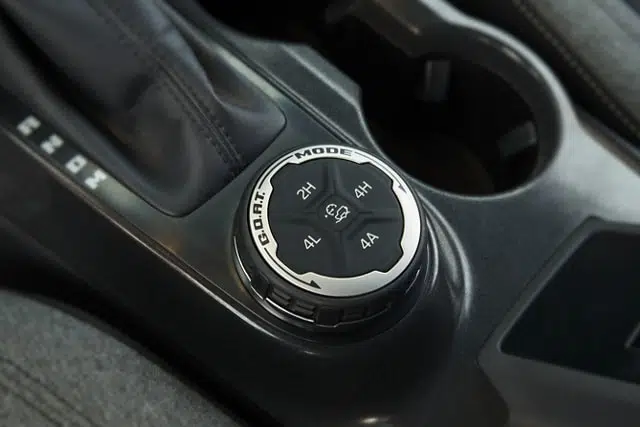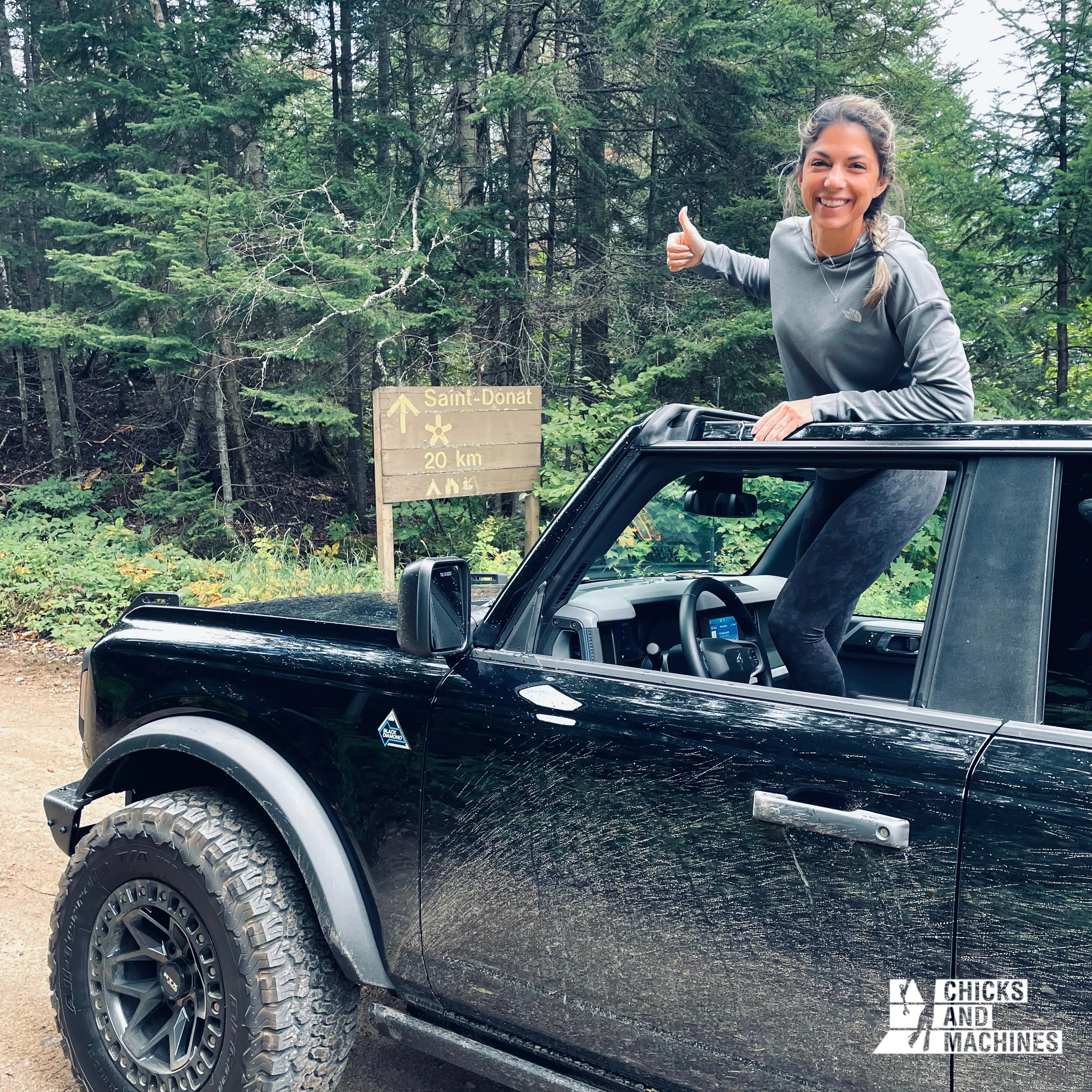 Although the test vehicle was not equipped with Ford's original ground clearance options, it was equipped with 35-inch tires added by Joliette Ford Lincoln and a steel skid plate covering the entire underside of the vehicle.
I was able to drive most of the trail without worrying too much about damaging it, and with very good traction on the tires. I also found that the Bronco handled the steeper grades up and down very well.
In low speed obstacles, it feels like it's crawling along the ground, holding on to it and adapting to it every second.
All in all, the Bronco passes the off-road test with flying colors, in my opinion. It's a pleasure to drive and you feel confident behind the wheel, because you know it's working hard mechanically and technologically to make you a better driver!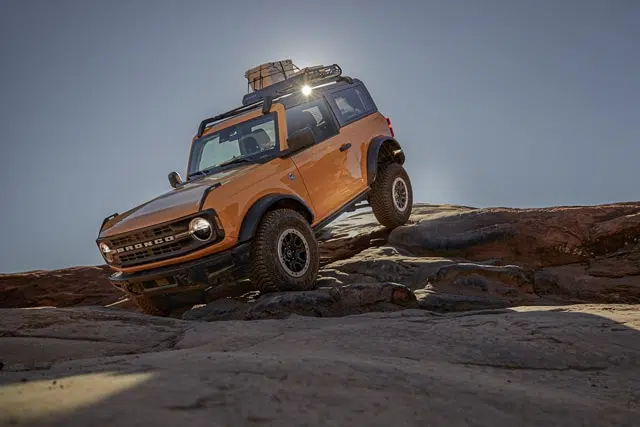 And to achieve perfection?
First of all, we must admit that the Ford Bronco is unfortunately not for everyone's wallet, but it still offers great possibilities to suit it.
Secondly, we can't overlook the rarity and difficulty of getting our hands on the Bronco of our dreams right now. Ford has also been having trouble with a few recalls (notably the hardtop) and some missing parts. Hopefully, the current situation (which most manufacturers are facing) will improve in the coming months.
Finally, I found that the soft top, when closed, still let wind noise into the cabin at high speeds. But that's not what would stop me from recommending it to a good friend!
In conclusion
Ford was able to create the perfect road trip partner that will happily drive you to work during the week and not be shy about going off-road on the weekends, responding and not letting you down. Some may throw stones at me, but I think it's a worthy rival to the Jeep Wrangler. (That's right, hihi!)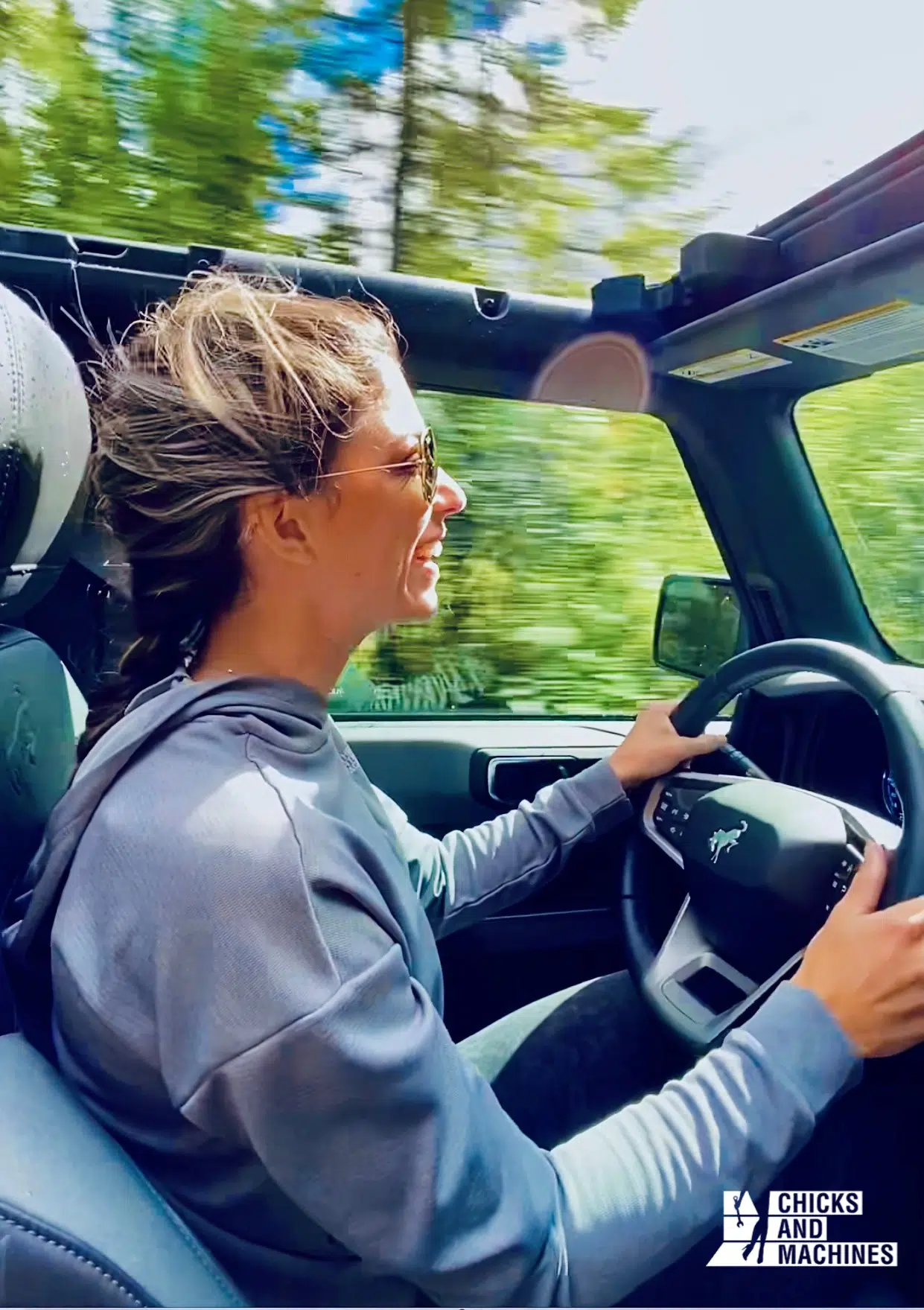 What I remember about the Ford Bronco is that feeling of total freedom behind the wheel with the top down, that smile that I couldn't get off my face the whole way, and that urge to scream at the top of my lungs when driving it off-road. It truly embodies the soul of Ford's wild horse.
Finally, I would like to thank the nice team at  Joliette Ford Lincoln for allowing me to test drive it. Well, it was returned to you with a bit of mud, but without any scratches, as promised!
Bianca B.