One day, my Ninja
« Someday, I'm gonna have my Ninja. »
That's what I told myself when I was a teenager. I saw a woman on a Ninja and she was so beautiful! 😍 The motorcycle… AND the woman. They were really "hot"! I was in total admiration, without being able to say a single word. I fell head over heels. Wow, a Ninja! I love Ninjas!
In Charlevoix, I hadn't seen many women motorcycle pilots. She wasn't from the region, for sure. I promised myself that someday, I too was going to be that beautiful woman on my Ninja.
At that time, I had been a passenger with a friend a few times. I remember that I burned my calf badly on his muffler. I didn't miss myself, a good 2nd-3rd degree. You will see that I don't do things halfway. Never.
I don't even remember what type of motorcycle it was. I only remember the feeling that I loved. Not the feeling of a burned calf, but the feeling of freedom when riding. This sensation of air passing through my body makes me forget everything else.
No one in my family rides motorcycles. Nor any other motorized sport for that matter.
No Sleds, no Sea-Doos, nothing. Still, I clearly had an attraction towards machines. I was the girl who did jumps with the other BMX guys. Not to mention, the guys were a little scared when I threw the ball in any sports. I was the "sport" ninja!
I got my driving license and my first car "as soon as possible", at 16 y.o.. I couldn't wait! I even impressed my grandfather, which is saying something. "Ohhh, you drive a stick shift? » he said to me, his eyes wide open. The pride was palpable. Yes, my first car was manual. As well as all the following ones. No exceptions. I dive stick shift, and that's non-negotiable.
I hate crowds – yet I'm the first one to show up when the Monster Trucks come to town.
Once, I even took information about taking a truck driver course. It died in the bud, because I had lost too many points for speeding. (Oops) 🤦‍♀️ Warning: I'm not saying it's good. You must respect the speed limits.
But that's my story: I was reckless and I drove faster than the allowed limit. I had rather aggressive driving tendencies. You know? The one that passed you on your right and gave you big eyes when you were poky driving in the left lane? Well, that was me.
I even admit that it still bothers me a little. So I would like to take this opportunity to remind you to get the f… out of the way… cordially, the left lane is for overtaking. THANKS.
After this beautiful Teenager-Cathy's promise, I went to study in Quebec: Administration – Business Management option. I traveled, I worked, I lived in NYC, I worked, I came back, I worked, I had a beautiful boy. I started my fitness training business, to help women recognize their true value and have confidence in their abilities.
In 2016, I launched my own fitness video App with MonGymEnLigne. For over 10 years, I have been inspiring women and men to move because they love themselves, not because they don't love themselves. I am very proud to contribute to a better and healthier world.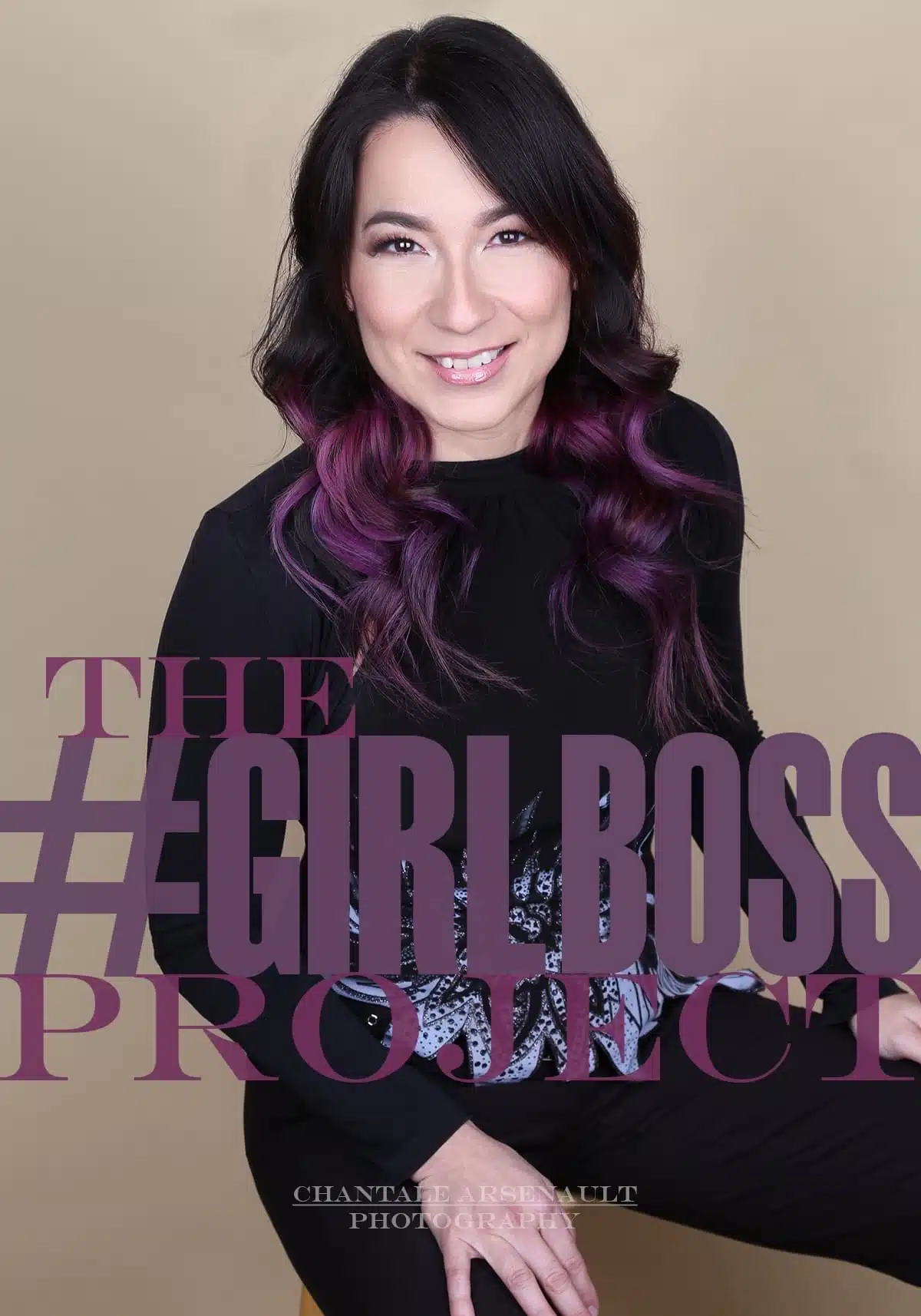 With all that, I hadn't taken my motorcycle course. I had changed my mind. I found it was too complicated: a few years ago, we had to be accompanied with the apprentice driving licence and I didn't have any motorcycle friends. It was expensive and I was investing in my business.
To be honest, I had completely forgotten about the feeling of the wind in my hair. And there was family, and there was work…
Until the day I met "my" Pilot.
"Backseat" again, 25 years later, on a beautiful BMW S1000RR, it was a revelation. For me, the most beautiful moments of my life were during "The Summer of '21". I spent an incredible summer, on his SuperSport, merged with him, "my" driver.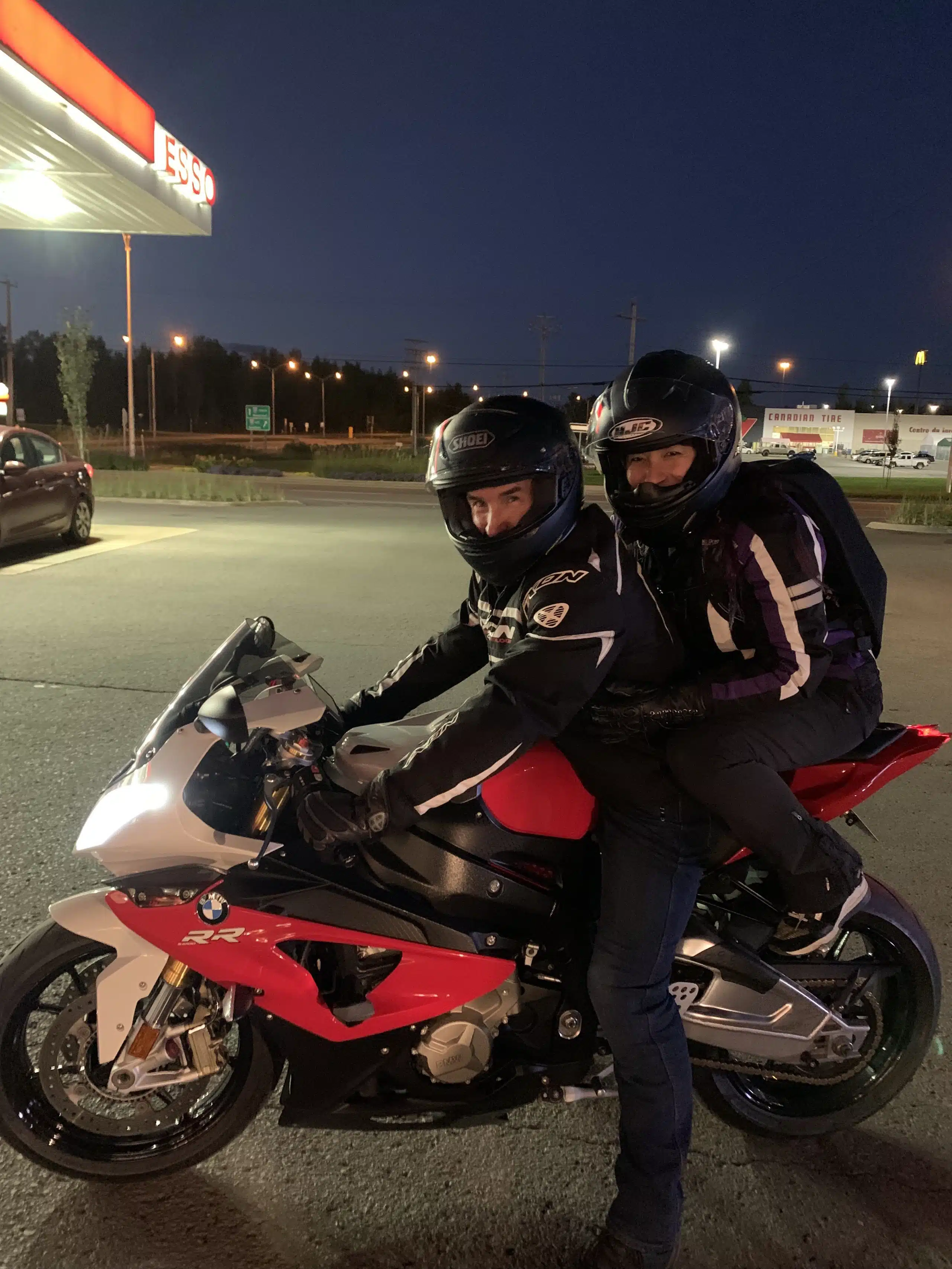 I discovered a new Time-Space that summer. We get on our motorcycle, we ride for 15 minutes and boom: the sunset already? Eh!? OMG! We've been driving for 8 hours now.
The perception of time on a motorcycle is completely insane, have you ever noticed? I perceive this Time-space so differently that I am convinced that it is completely in another dimension. We vibrate differently on a motorcycle.
I discovered a Connection that summer. Our three vibes (the motorcycle, him and me) were one, gentle, intense and beautiful energetic fusion.
We communicated, without speaking to each other. I knew exactly when he was going to speed up, slow down, overtake, brake, lean, run away from the police. 😂 And he knew that I was totally present, with him, attentive to the road and to each revolution of the engine.
I discovered a real Passion that summer. The road. The curves. The kilometers. The landscapes. Special moments together. The destination doesn't matter, it's the journey that counts. Riding under the sun and towards the sun, that's Life. All summer, I repeated these two sentences over and over: "Hey. Are we going for a ride? and "Woohoo!" We're going for a ride!"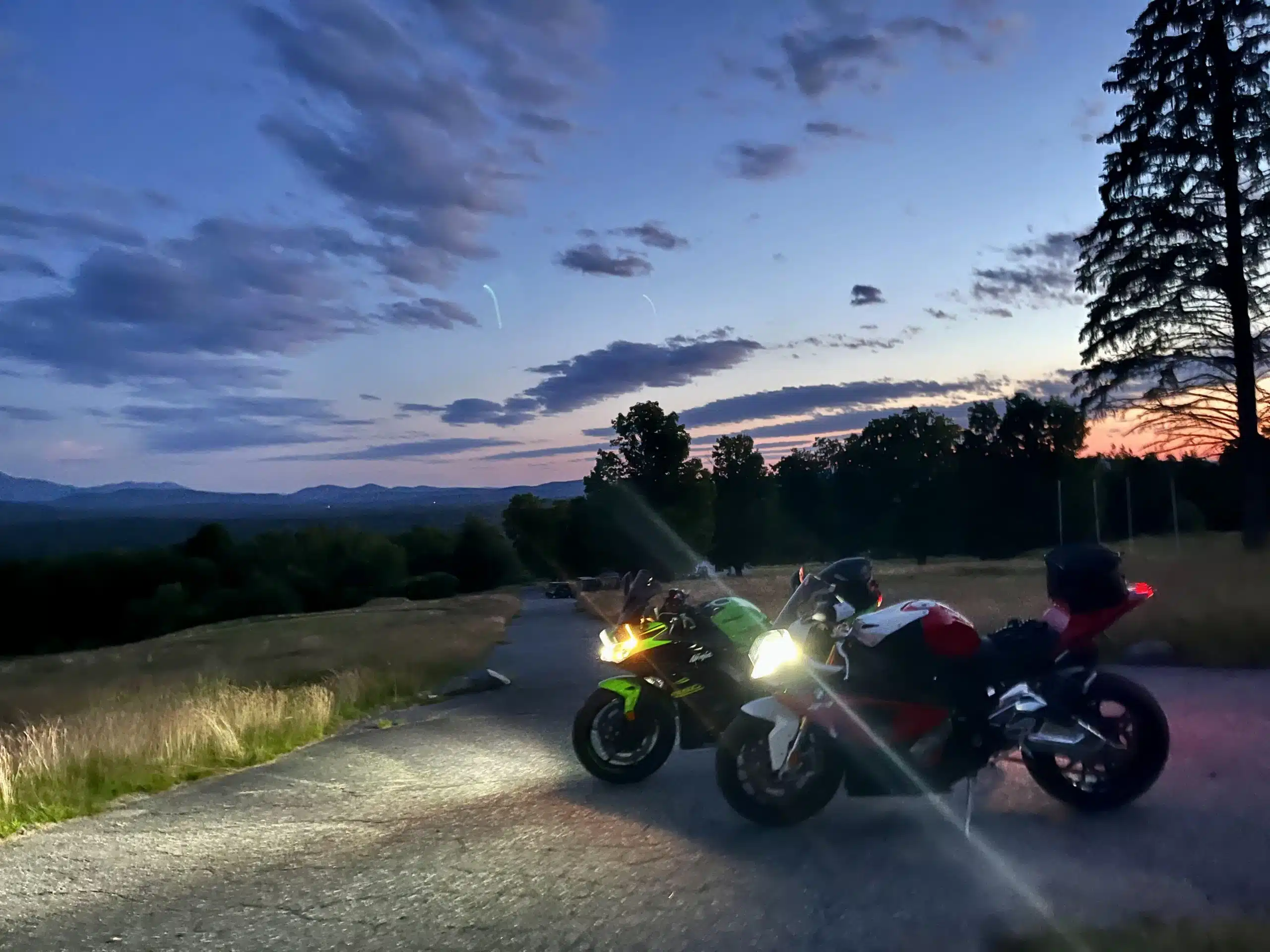 Everything falls into place
The following winter, I subscribed to my course at the Moto Centre-Ville school in Quebec.
The following spring, at age 42, I got my Ninja.
The following summer, I got my Apprentice's driving license. (Yes, I had the bike before the license)
Three weeks later, I am on the track in Montmagny with Pete Moto.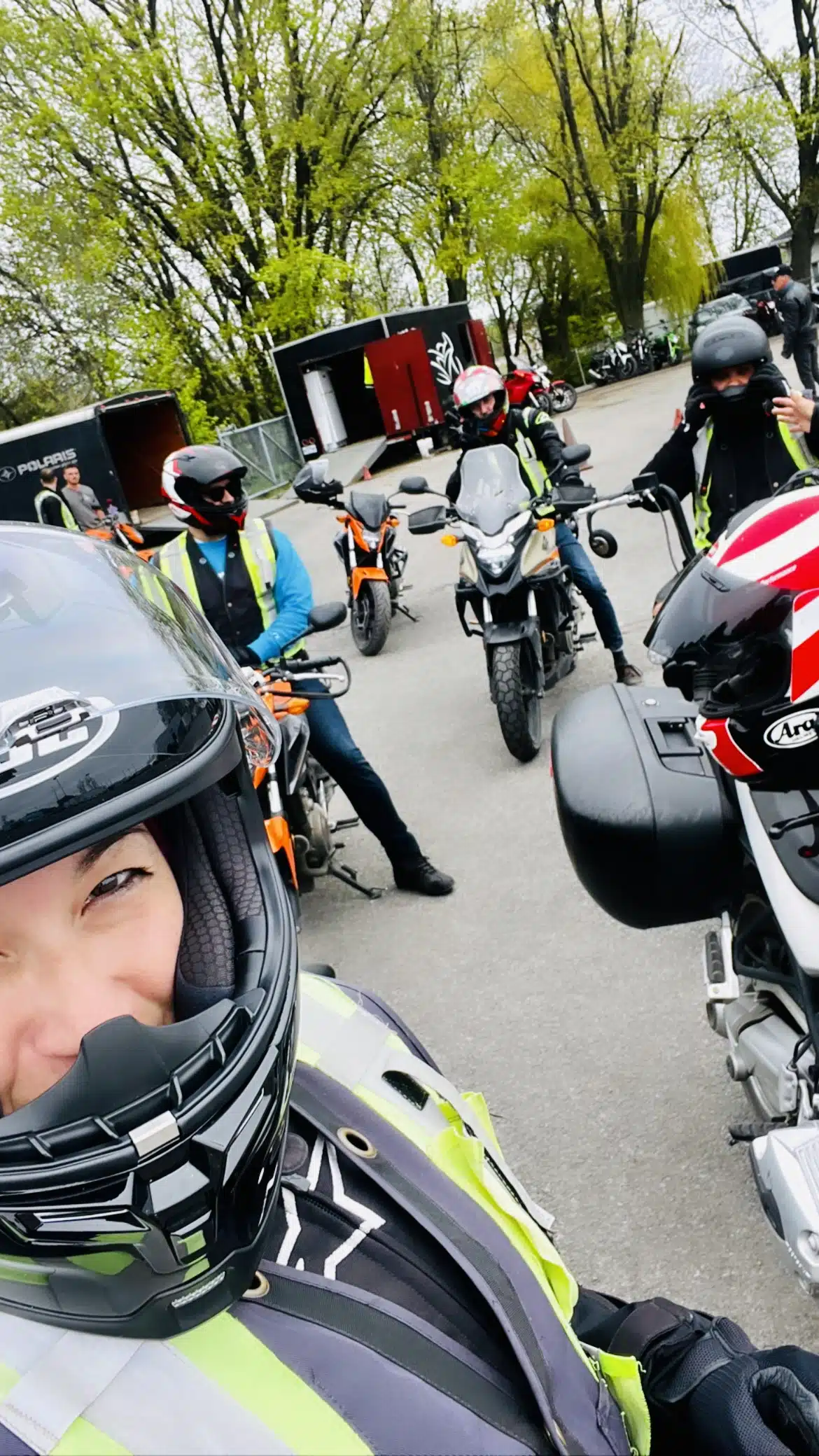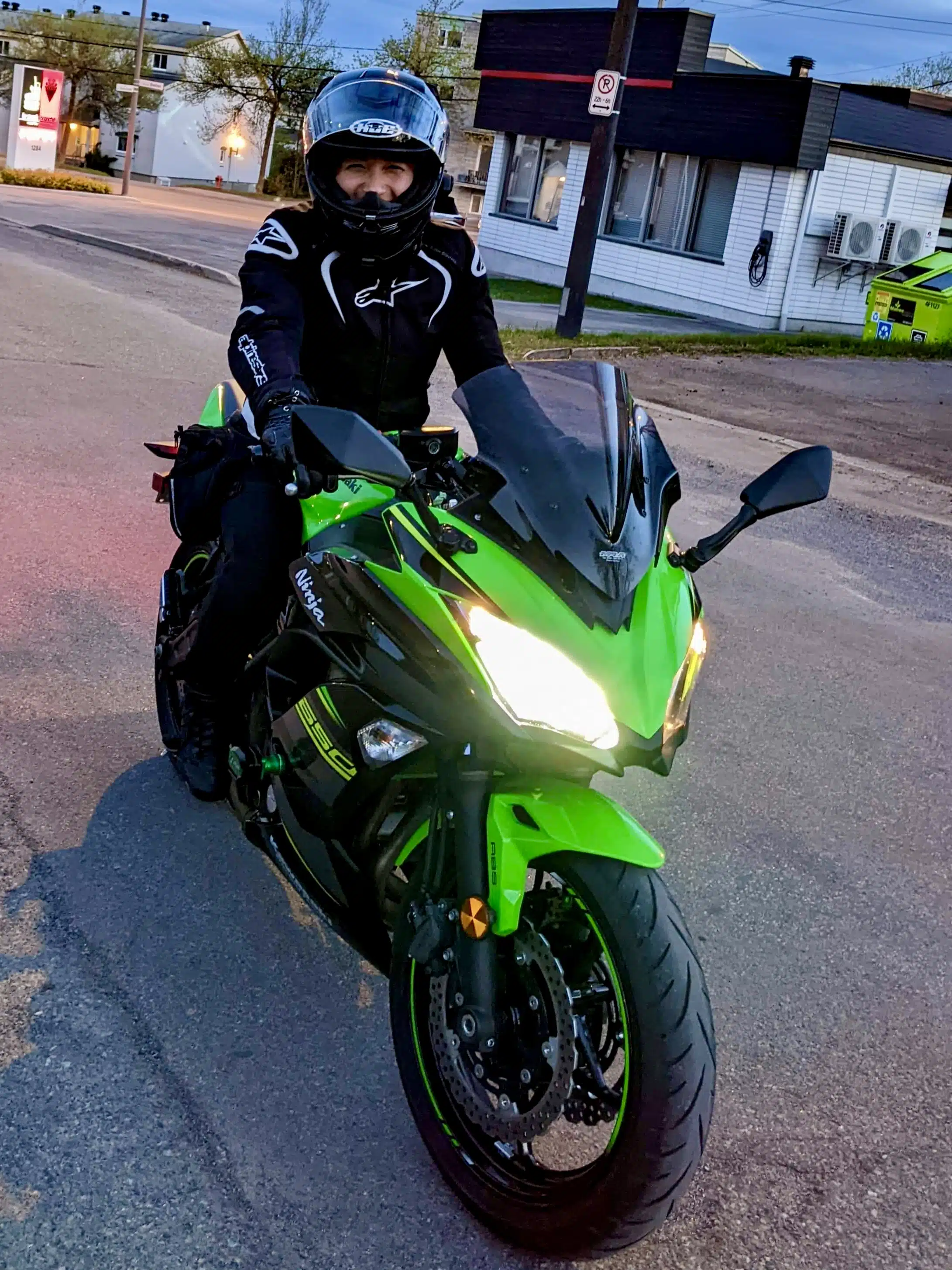 The only woman, a 3-week-old baby biker, with "my" Ninja 650 Kawasaki Racing Team, among 12 high-performance bikes, was me. I have just succeeded my closed circuit and I am stressed before a curve? It's not acceptable. Out of the question. I choose to do what it takes to improve myself.
Judge me, gentlemen. I may be the slowest, but I'm the proudest. I'm here to quickly learn how to be good in curves. Or to learn to be quick on good curves. I never do things halfway, you know!
My second summer on a motorcycle, I rode it with my Ninja! And I dream of summer coming soon.
Who am I to be the new author of Chicks And Machines, I who haven't even taken off my "little wheels" as I write these lines?
I am the one who, after 25 years, made a forgotten teenage dream come true and I am proud of it.
I am the one who has always denounced injustices, especially girl-boy inequalities. The fact that girls are less encouraged to become pilots IS unfair.
I am the one who is extremely proud to contribute to making another girl or woman, reading one of my articles, or watching one of my motorcycle videos also say, that a Someday, she will have her Ninja!
Tik Tok: @cathylam.moto
Cathy