Thanks to the great generosity of the Leatt company, I had the chance to try the 4.5 Jacki chest protector from Leatt's new Moto 4.5 line. I was able to try it on both motocross and snowmobiles last winter. Let me tell you about my experience.
Leatt's history
Let's start with a little history. Leatt is, first and most importantly, a person, Dr. Chris Leatt. He is a physician and a student of neurosurgery. It all started in 2001 when he witnessed a tragic motocross event. Since his son had a great interest in the sport, Dr. Leatt, an avid inventor, stopped his studies to start innovating.
He became even more interested in the safety aspect, for his son and for himself, being a rider as well. His first goal was to find solutions to reduce neck injuries. So he set up a research and development lab with a team of engineers and designers.
Their main objective was to create and test new products, as well as improve existing ones, in order to make them safer. This is how the Leatt company was conceived and how the famous Jacki 4.5 chest protector was designed, with outstanding technologies and safety.
Speaking of safety, let's talk Jacki 4.5!
As mentioned above, safety is a top priority at Leatt. The Jacki 4.5 chest protector has a high quality hard shell on the outside that is CE certified for impact protection.
Leatt understands the importance of staying dry throughout the ride. That's why the chest protector includes a tested 3DF AirFit ventilated impact foam that allows proper breathability. Plus, it has ventilation slots for maximum airflow.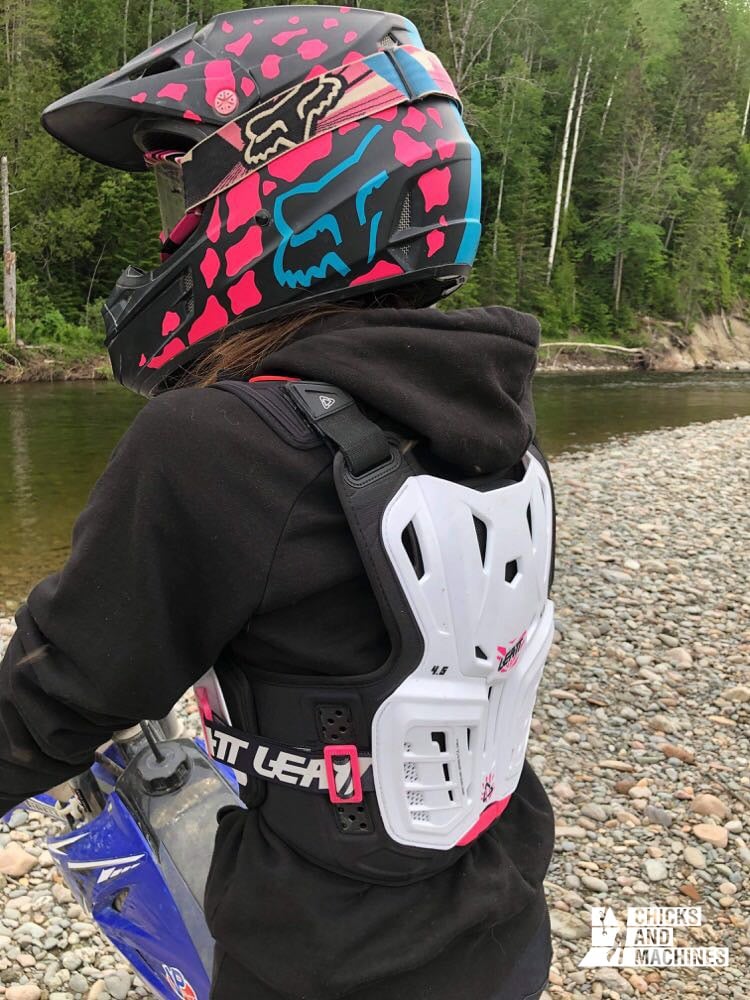 The Jacki 4.5 allows for a very high level of vital organ protection, as it covers the back, sides and chest. Surprisingly, one might think that the rigid shell is heavy and limits movement. On the contrary, its multi-layer and multi-plate articulated design allows for greater comfort and freedom of movement.
Light as a feather, it weighs only 2.38 pounds. The chest protector features a pre-curved cut specifically designed for women. Unlike other men's or unisex chest protectors that require a specific size to be selected, this one is a regular size. The size corresponds to the weight ranging from 121 to 209 pounds and the height from 160 to 184 cm.
The back of the Jacki has been modified from the previous model. It is smaller, so it allows a better fit. Also, there are removable front and back plates and a brace-on attachment system that allows you to add and adjust the neck brace, if needed, either on or under the jersey. The Jacki 4.5 chest protector is FIM and FFM certified, that is to say certified by the International Motorcycle Federation and by the French Motorcycle Federation. Nothing less!
What to say about the look…
We can't forget that this chest protector is perfect for the look. Ladies, if like me you like neutral and discreet accessories, this chest protector will not leave you indifferent. You will certainly be charmed by its beautiful colors.
Mainly white and black, its few touches of pink give it this little feminine side so desired. We especially appreciate the fact that the accessories we have to handle are black, which is less messy. As for the white of the shell, it can be easily washed, which allows you to stay beautiful.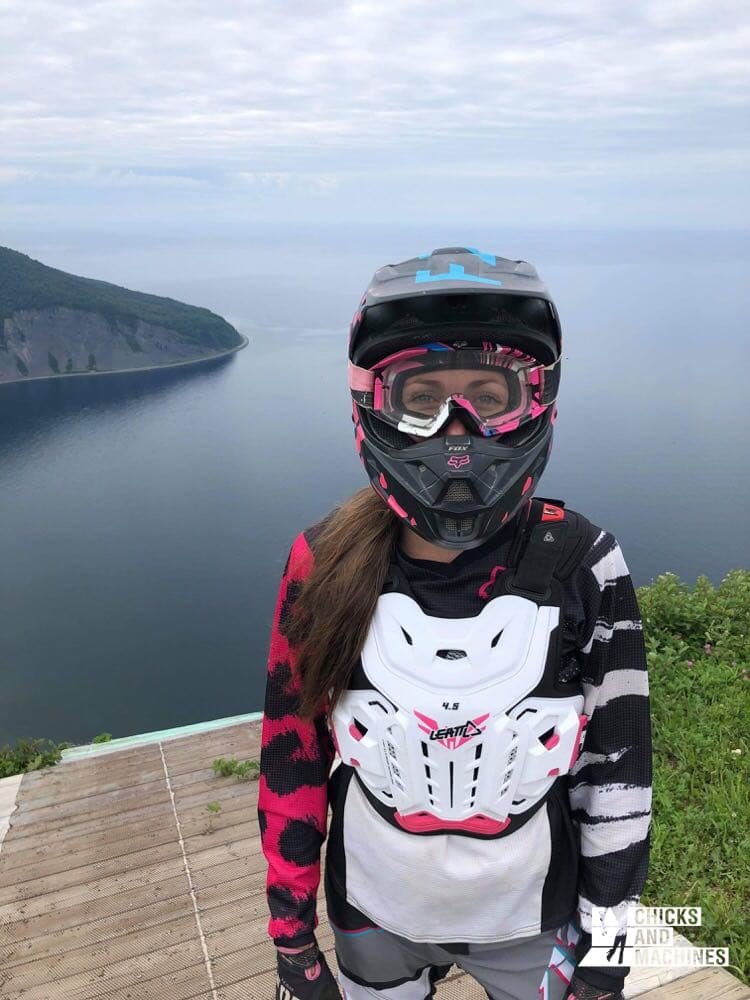 Now, time to try it…
For my part, I had the chance to try the Leatt chest protector in totally different conditions and thus test the product to its fullest.
Summer:
First of all, to be honest, if I had tried the chest protector in a store, I think I probably wouldn't have bought it. Let me explain: given my small size, I thought it was a little big. Also, at first glance, its hard shell seemed less comfortable than a heavier, soft-shell chest protector. Also, at first glance, I found that the freedom of movement left something to be desired.
However, I can confirm that my motocross experience was much more conclusive. Safety is a very important asset in this sport. Let me tell you that you get what you pay for. Once the chest protector fit me well, it was very comfortable. I also found it easier to mobilize and do any maneuvers. I felt so secure, I thought I was almost invincible. As far as my motocross experience goes, I would definitely recommend it.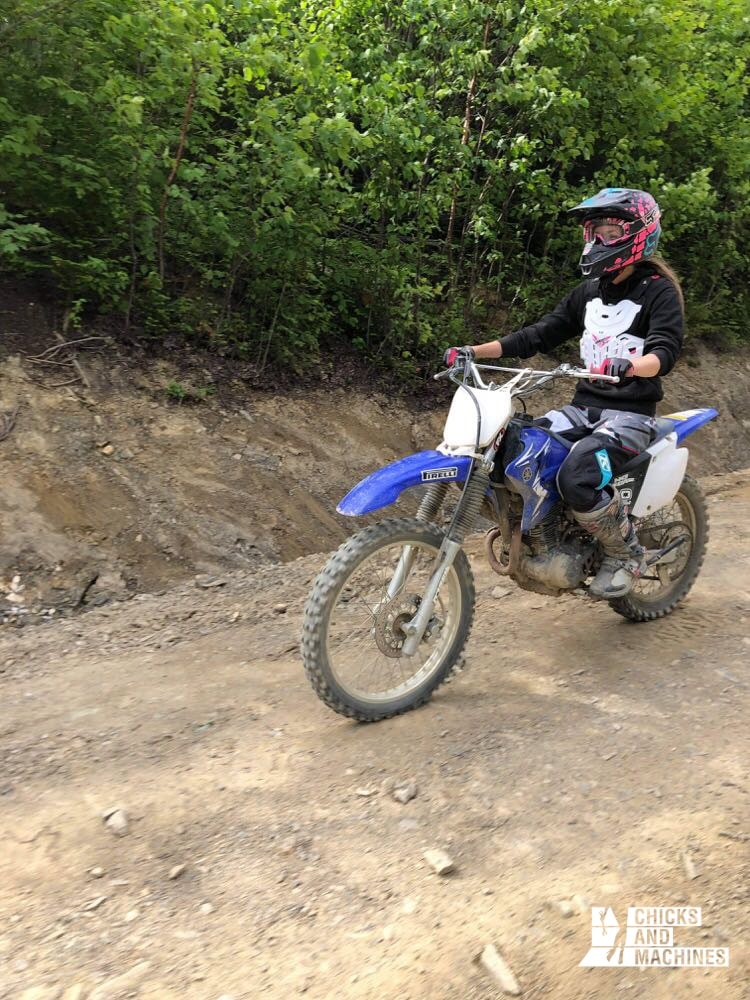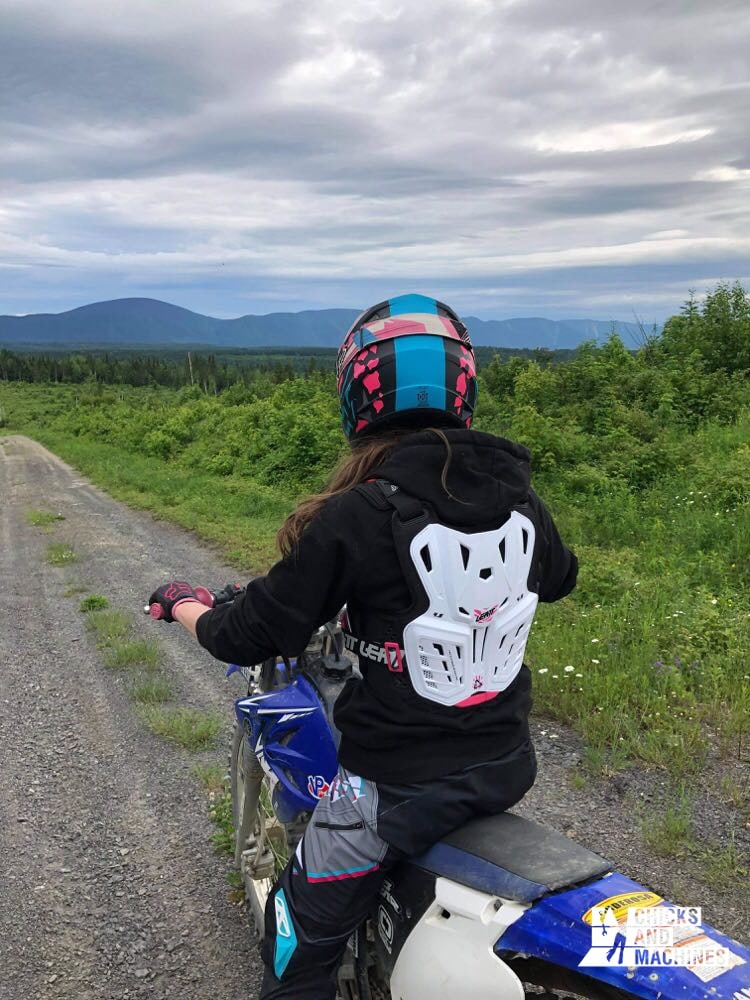 Winter:
During my snowmobile test, I wore the chest protector inside my suit. The chest protector being rigid, it allows a little less flexibility when worn over the snowmobile clothes and suit. It was also much more comfortable inside.
The only drawback I noticed was that I could not put my chest protector and my backpack on at the same time, unlike other chest protectors. I wore my bag unattached, which was less convenient and more importantly, very bulky.
However, when I tried the chest protector, the security was once again incomparable to other chest protectors I have tested before. I wasn't afraid to face anything in my path, not even a tree. Of course, it was designed primarily for motocross. However, since I received it before the summer season, I couldn't help but wear it right away. So I got double the value for my experience, and I was not disappointed.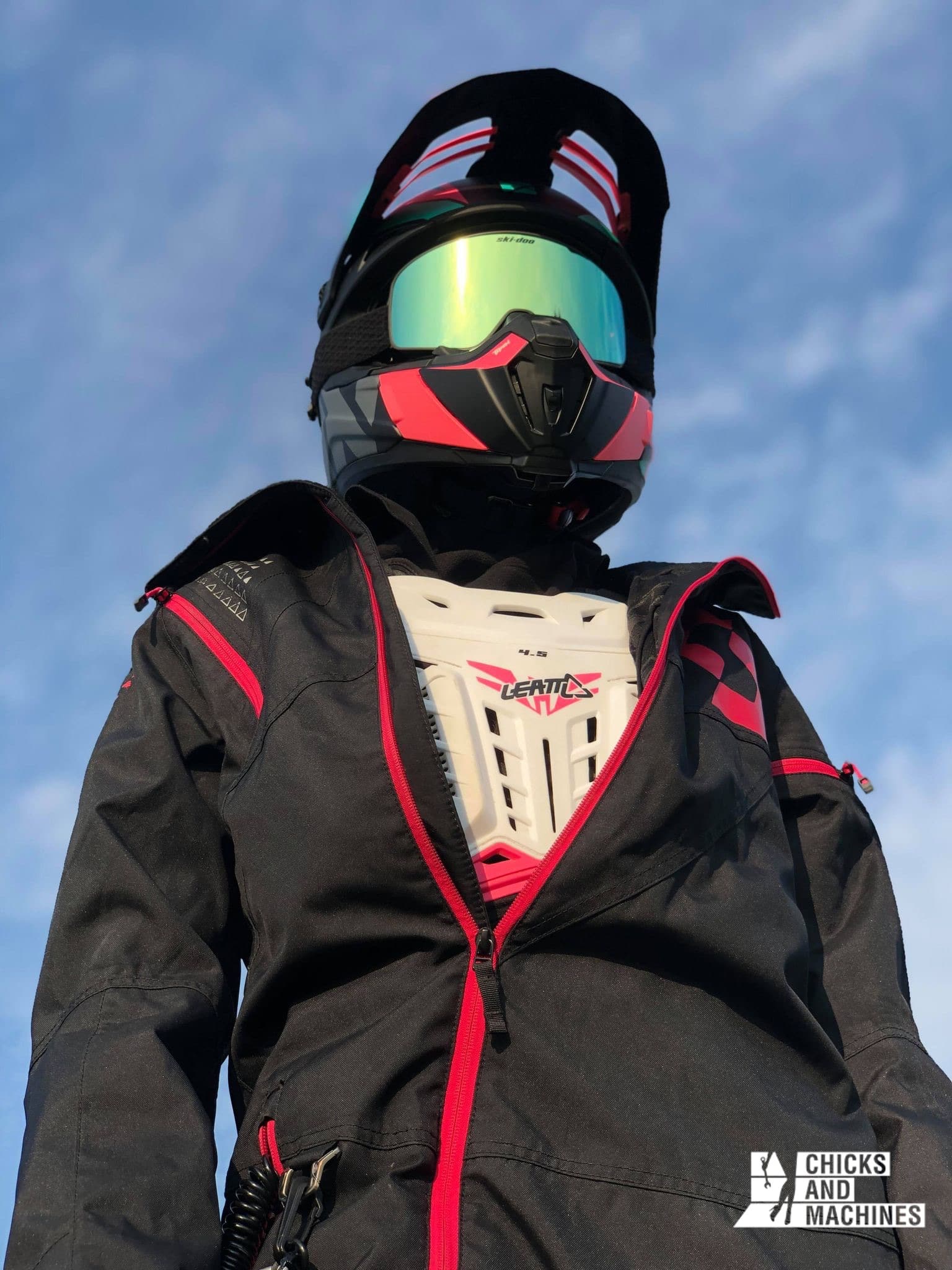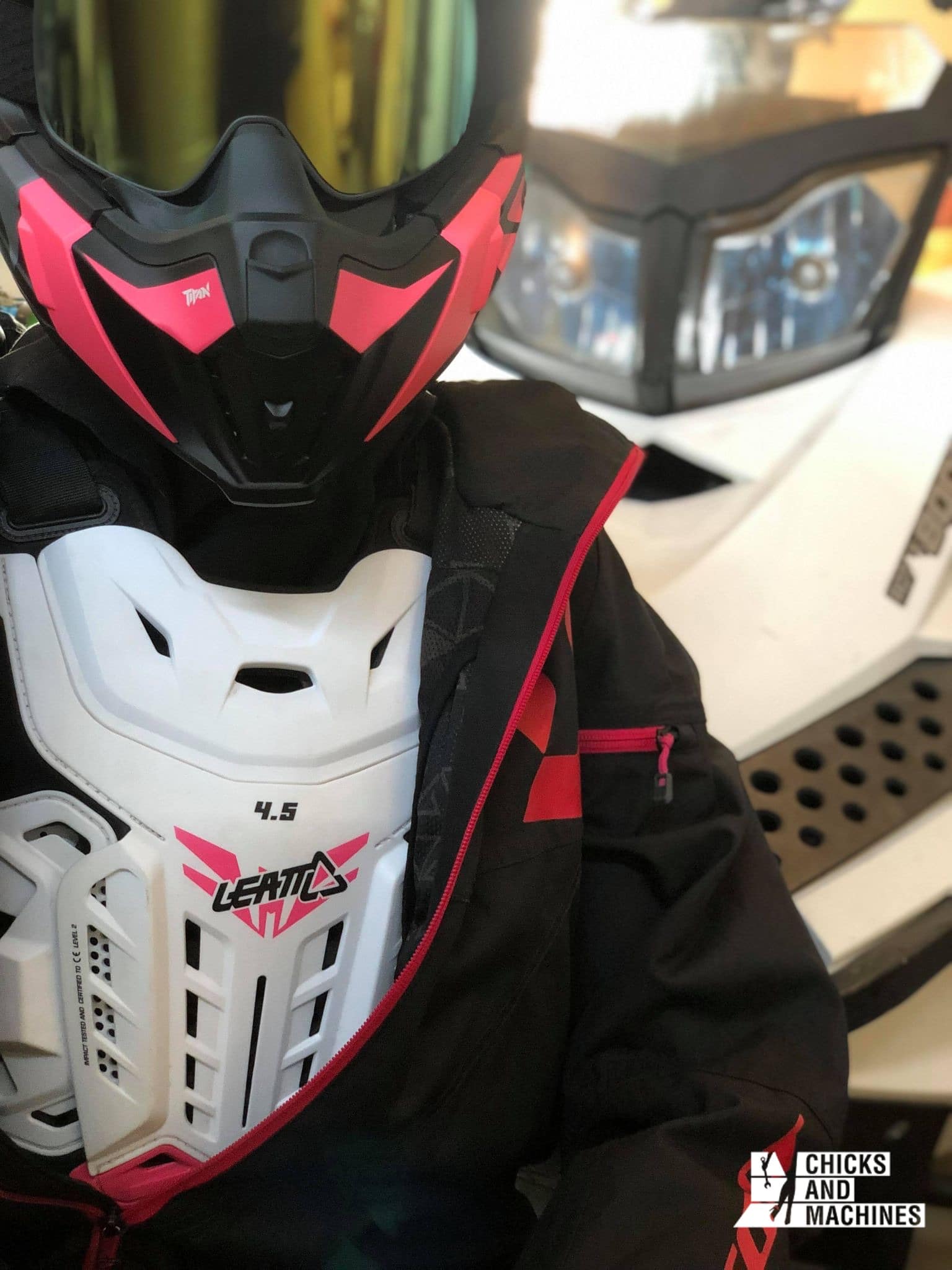 In short, my opinion on this product in a few words would be :
freedom of movement
safety
innovation
It's pretty amazing how light it is when worn with clothing designed specifically for motocross. I'm really looking forward to taking full advantage of it and testing it to its full capacity this summer. I'm pretty sure that after all is said and done, you too will want to experience the wonderful Leatt products.
Thank you Leatt for making me try this product and making us experience this kind of ride !
I invite you to read these articles on other protection gear:
Lisa-Marie 🙂