Ski-Doo 2024 and Lynx 2024: Everything you should know!
On February 20, at 7:30 p.m., the famous 2024 BRP CLUB was held live from Houston, Texas. Like every February, the Quebec giant unveiled its new models from the Ski-Doo, Lynx and sometimes Can-Am lines. Once again this year, BRP went the extra mile.
After a few difficult years in terms of supply, the machine is back at full capacity and does not intend to slow down. In fact, the company is 5 times bigger than it was at this time in 2010. There's a reason that NASDAQ named it "Strategy Brand of the year 2022", a prestigious title for publicly traded companies.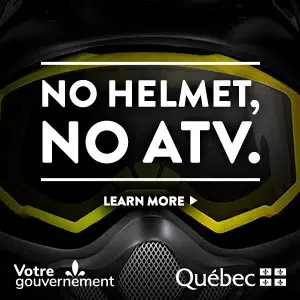 With its numerous acquisitions and the construction of two new factories in Mexico, BRP never stops innovating and pushing the limits. When you have a 33% market share in the power sports world, you have no choice but to keep raising the bar.
Strap on your helmet, because this is going to be one hell of a ride!
It was the first time that a LYNX unveiling was held in North America (due to the pandemic) and Scandinavian dealers came to celebrate the best-selling snowmobile brand in Europe.
The LYNX Shredder is now offered on the Radien 2 platform, which was designed to make it easier for the rider to move around off-trail. The vehicle is therefore narrower, with extruded steps and a shorter tunnel. Its name says it all: it literally shreds snow!
Available for all track lengths with the most powerful two-stroke engine on the market: the ROTAX 850 E-Tech Turbo R capable of 180 horsepower.
A new LFS front suspension is also available for the DS model that allows for a 34-inch ski gap. This narrow gap allows for better manoeuvrability without unnecessary effort.
Equipped with a 10.25-inch LED screen, it's easy to connect your cell phone and use the improved BRP GO! application. It is available in shades of red (predominant color at LYNX), black and a little white.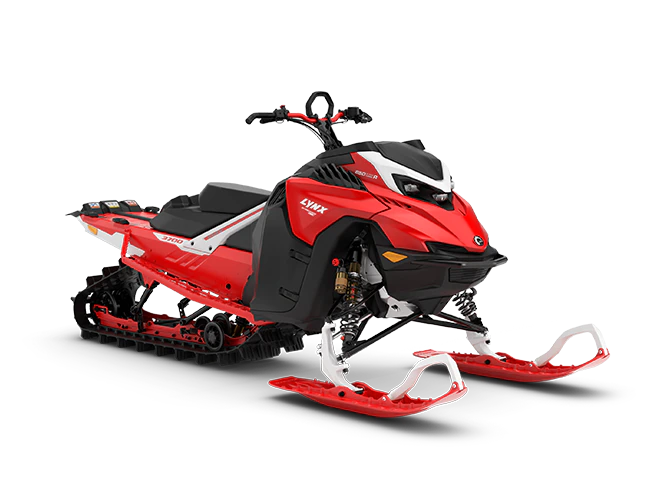 In terms of accessories, we are spoiled with the new ADVEX helmet fitted with an integrated communication system. This one was conceived in order to survive the winter conditions. It has an autonomy of 8 hours and allows you to talk to up to 24 different people, up to -18 degrees Celsius.
This system is compatible with SENA systems using MESH 2.0 technology. It is possible to add the E-Linq accessory exclusive to LYNX and connect the helmet to the snowmobile to be able to talk freely without worrying about the battery life. The helmet is available with or without an electrically heated visor and is fitted with an anti-fog system in both versions.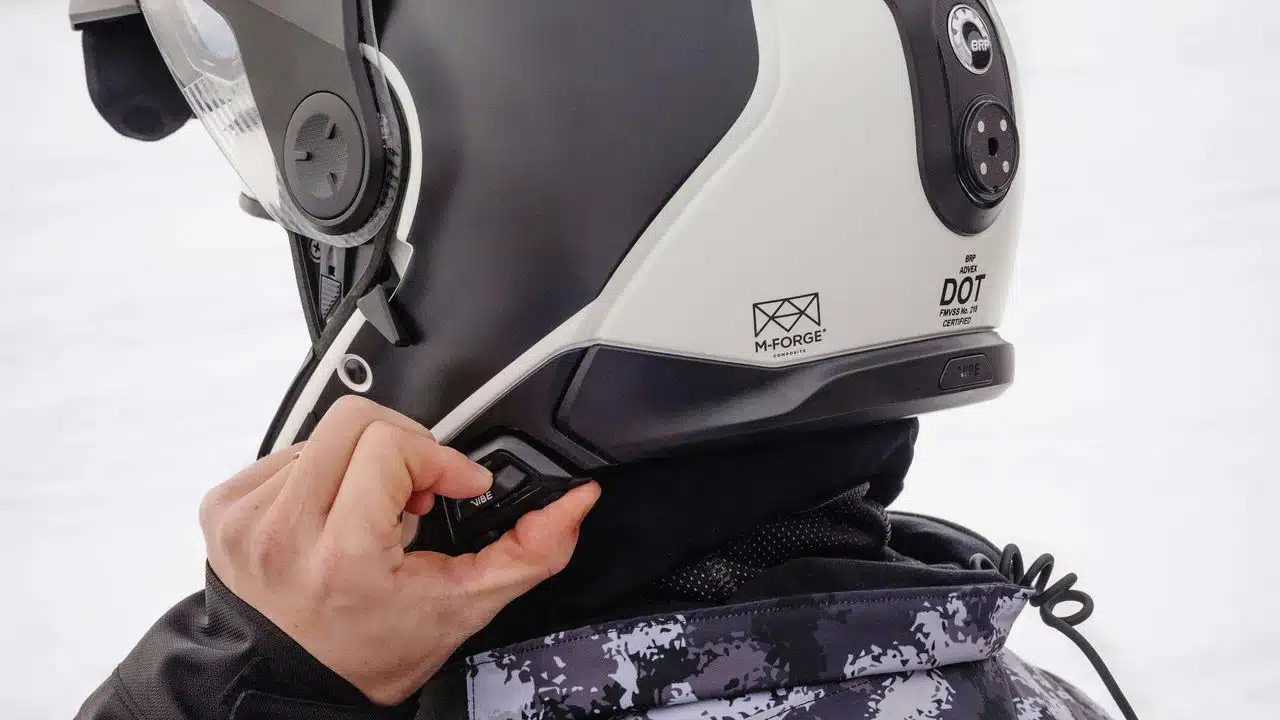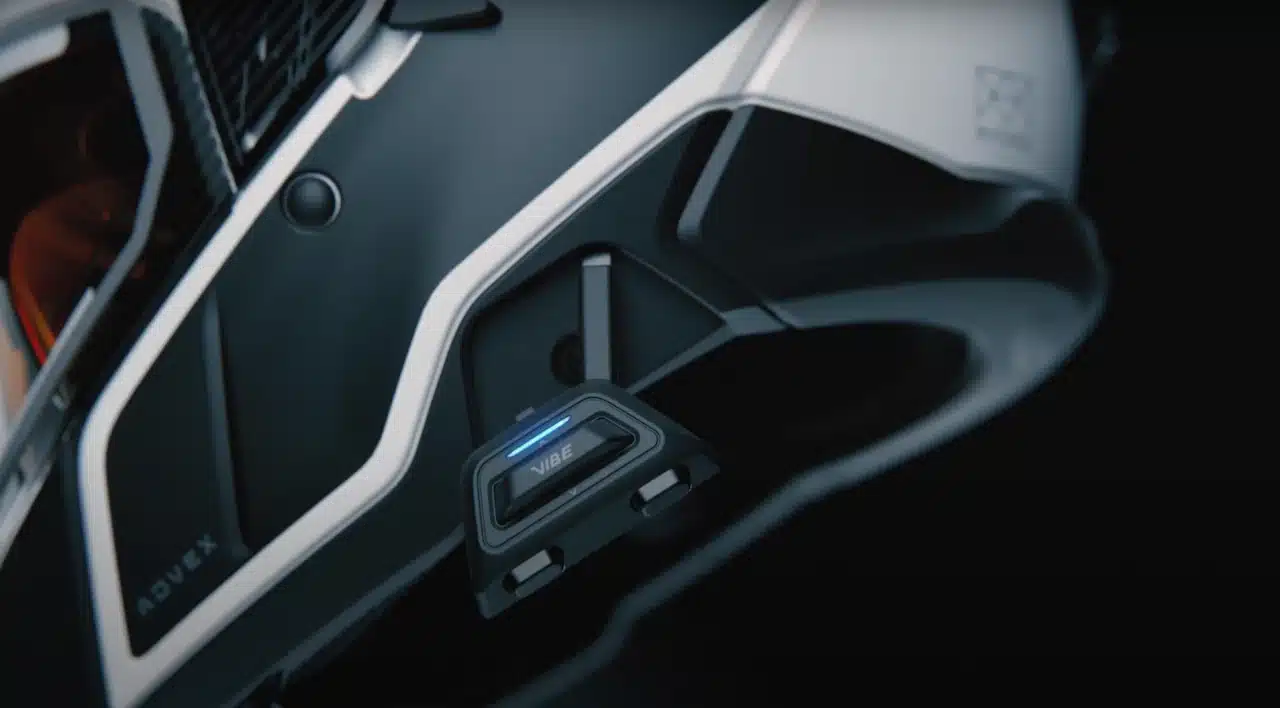 That Ski-Doo feeling
The moment we all look forward to, right?
Our national champion, Megan Brodeur, was pleased to present the new products of the year. Not surprisingly, the REV GEN-5 platform became part of the Backcountry family. Fans will be treated to a more refined machine that is even more maneuverable, more responsive and offers unparalleled performance in this segment.
What about the new colors? A nice combination of mint green and crush orange for the XRS and a sand and wine red for the X model. Note that once again, these models are only available in spring fever order (ends March 31, 2023). I suggest you don't wait too long to get your hands on one of these jewels!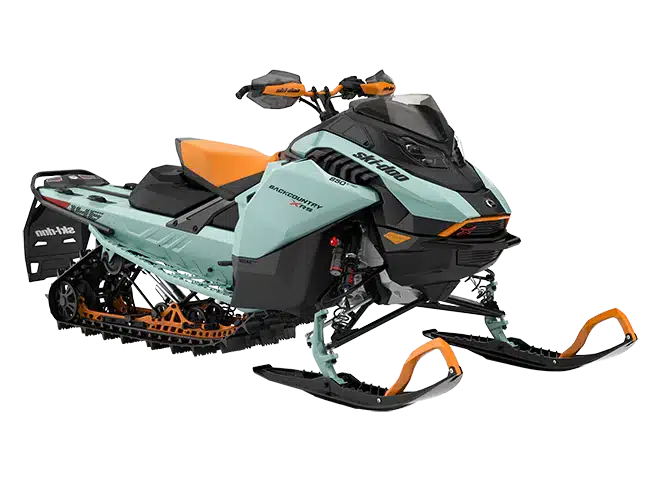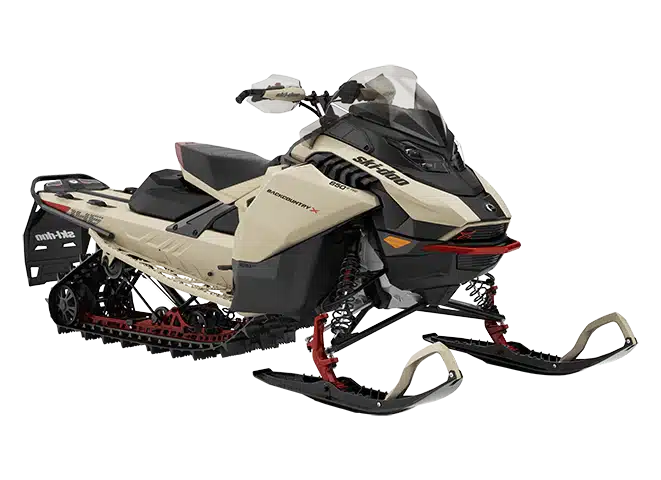 The big news is the MXZ, more precisely the MXZ X-RS with competition package.
A little jewel, more powerful, lighter and more efficient, ready for the race thanks to its Launch Control. With its ROTAX E-Tec 850 Turbo R engine with water injection system and its 180 horsepower, it is a real bomb!
We're talking about the most powerful trail sled in its class. This is the first time that an engine of this size has been associated with a machine that is used exclusively for trails. It also comes with a high-performance four-piston brake caliper and an adjustable lever for optimal control. Note that this model comes with an E-TEC SHOT starter as standard. Of course, the color scheme honors its origins with the timeless yellow and black of Ski-Doo.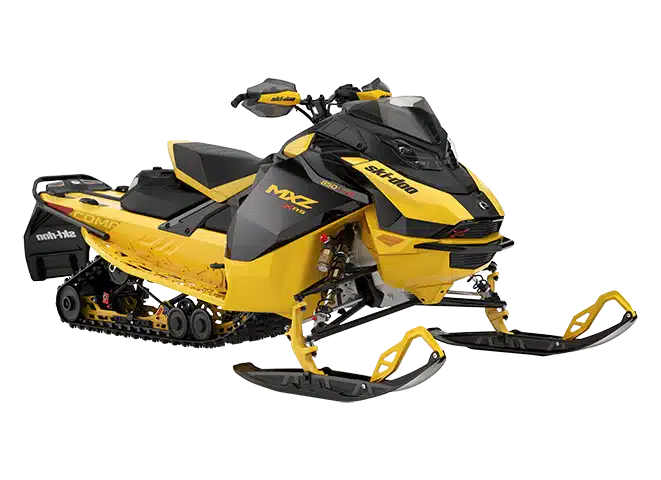 We also got to see the unveiling of the very first 100% electric snowmobile models.
The Ski-Doo Grand Touring and the Lynx Adventure. Both have about 50 km of autonomy, they are less intimidating and easier to use than a gas snowmobile. Unfortunately, they will not be available to regular customers since they are, for now, only intended for short guided tours in BRP Experience centers.
Remember that the Quebec manufacturer wants to have a zero-emission model in every product family in the very near future.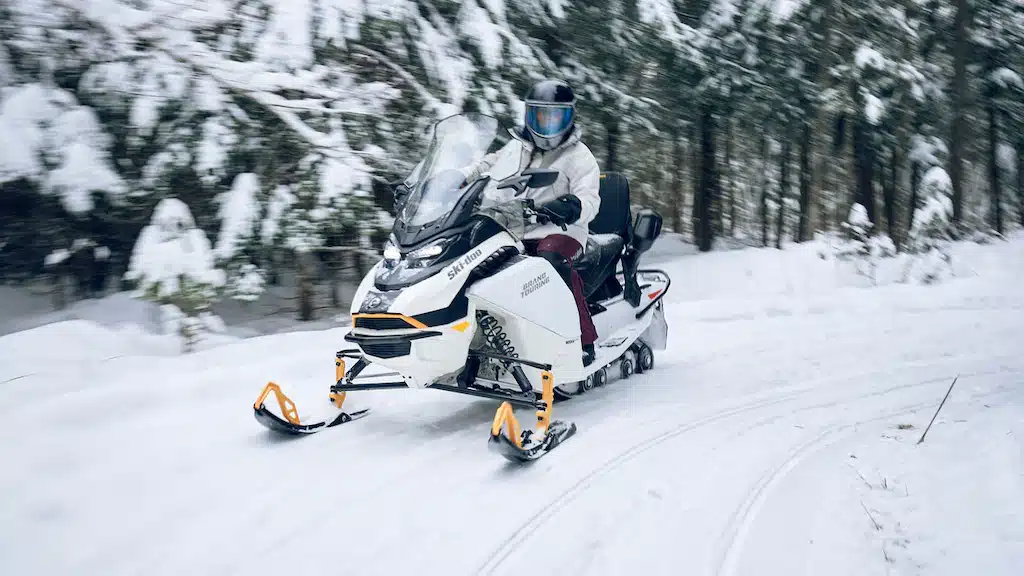 In conclusion
The manufacturer whose logo is on one out of every three machines sold worldwide has once again done its homework right. After enjoying a record year in terms of sales and profit, the BRP design team had a challenge to meet in order to show its customers that it was not going to sit on its laurels. Do you think they succeeded?
We invite you to visit the manufacturer's website to learn more about the new models and the complete list of specifications for each one or to visit a BRP dealer for more information.
See you soon!
Gab xx